Wellness vacations in Portugal
"Wellbeing," says Andrew Winter, with the tone of someone who knows exactly how many ways the word can be interpreted. "What we're talking about is: where do we feel well?"
For Andrew and Vonetta, that "where" is Vale de Moses in the Serra da Estrela of central Portugal. They run some of our best-reviewed
wellness retreats in Portugal
, offering a blend of yoga, forest bathing, massage, acupuncture, Ayurvedic-inspired food, and comfy and accessible cottages and tents for snoozing in.
Most importantly, they offer space.
"Health and wellbeing isn't down to the individual," says Andrew. "We've been part of the industry that has sold it like you can become empowered to be well. But what we're really seeing in the bigger picture is that our health is dependent on the health of our environment."

If you're looking for space in nature, Portugal is where you'll find it. For every busy beach on the Algarve, there are many empty, wild beaches – often right next door.

Portuguese environments are varied. Vale de Moses is a steep valley filled with forests, streams and orchards. Other wellness vacations head for the ocean, pairing
yoga with surfing on the Algarve
and Alentejo coasts, where wind and sun power the houses you'll stay in. Or you can choose to approach wellness via
a yoga retreat
in a farmhouse in Costa Vicentina Natural Park.
The owners of these retreats are vocal champions of the environment and communities they live in. Rather than silently hiding themselves away, hoping for the bare minimum environmental impact, they're positively impacting their surroundings, with tree planting and biodiversity projects and commitment to renewable energies – including renewing yours.
A particularly Portuguese remedy
It's no accident that wellness retreats base themselves in nature. "Where nature is in abundance, we feel healthier," says Andrew. "When nature is thriving, we thrive."

In Vonetta and Andrew's case, their environment is Vale de Moses – a forested valley 20 minutes' winding drive north of Oleiros. Waking up here is an easy transition. Instead of a blaring alarm and traffic, you'll hear birdsong and rustling leaves. The day unfolds as you do. You might emerge from your room with a cup of the local brew (literally local, brewed from eucalyptus leaves plucked from the forest around you), before wandering along forest paths towards your morning yoga practise. The afternoon is yours: for hiking, forest meditation, swimming – or doing nothing.

It's quiet in this neck of the woods. About 40,000 people have left the area in the last 40 years – a migration towards cities that affects much of southern Europe, but especially Portugal.

"It's left vast amounts of forest and space untouched by people," says Andrew. "Unmanaged and wild. The space that exists here becomes really precious to those who are seeking a place to find themselves."
Despite the shrinking rural towns, the retreats are closely connected to the people that remain. Many of the staff are local. You're encouraged to explore footpaths and villages – perhaps visiting a café that hasn't changed a jot in 50 years for a glass of port. And if your hosts aren't Portuguese, they've learned to live and farm here thanks to the welcome wisdom of their neighbours.

The ageing populations in Portugal's mountain and coastal communities have lived self-sufficiently for generations. Houses are built from local wood and clay. Farmers keep small orchards and trade within a few kilometres of their vegetable terraces. Water comes from the springs that they can see from their windows.

"The relationship with the earth is in their blood," says Andrew. "If you don't look after the earth, you don't eat. If you don't look after the waters, you don't drink. They've experienced the wisdom of the plants for healing and it's being lost because their children have gone to cities… There's a lot of loss and sadness, which means there's quite a lot of empathy."
The rise of wellness retreats in Portugal
There's been a rapid increase in the number of wellness retreats in Portugal over the last 20 years. As with many wellness retreats all over the world: people find a therapeutic space and feel compelled to share it.

Vonetta and Andrew left their city lives almost 15 years ago for a year-long ramble around Europe in a motorhome with their two children and dog. "There was a sense of frustration that our life in London wasn't healthy even though we were doing well in it," says Andrew, "so we went to look for space."

About six months into their journey, the family discovered an abandoned farm in Vale de Moses – a valley that shared the same name as their family dog. Fate! The family moved into the farm in 2007 and opened a wellness retreat after five years of restoration work.
Our top Portugal Vacation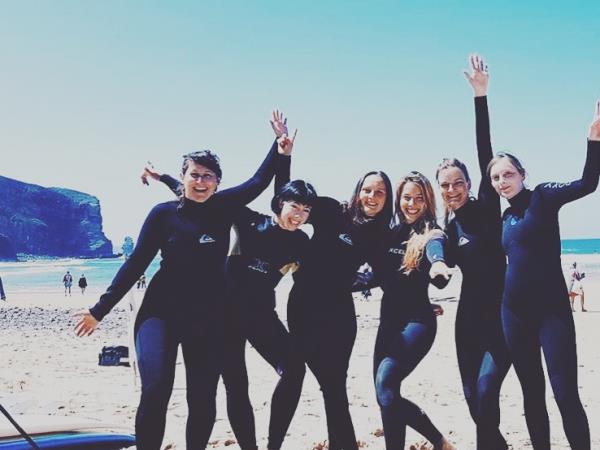 Nourish yourself with yoga, surf and deliciously healthy food
From
€

895

to

€

1425
7 days
ex flights
Small group travel:
2023: 24 Jun, 15 Jul, 2 Sep, 7 Oct
If you'd like to chat about Portugal or need help finding a vacation to suit you we're very happy to help.

What are wellness vacations in Portugal like?
Inclusive activities & treatments
Movement is an important part of wellness retreats. What kind of movement that is depends on the people who host the retreat – for instance, whether they practise yoga, tai chi or Pilates.

Whichever it is, inclusivity is key. "Warm, open and kind," is how Andrew describes Vonetta's approach to yoga. "We don't want people to feel like they're not good enough, capable enough, or knowledgeable enough."

The day starts with a morning class, but after that your schedule is up to you. Surf and yoga vacations offer the chance to launch yourself into the waves from the coppery beaches of the Algarve. Health consultations give you nutrition advice and cooking classes with enthusiastic chefs show you how to put those ideas into action. Forest bathing, stargazing and mud baths immerse you in the beauty of the mountains. At least one massage or acupuncture session is often included, removing the barrier to trying a therapy that some think isn't for them.

"You don't have to be anyone else but who you are," says Andrew. "You're not a problem that needs fixing or solving. The trees aren't judging you and telling you that you need to be a better version of yourself."

In fact, you don't have to do anything at all. Your itinerary is very much a suggestion, so you can stay in the retreat and pop by classes and workshops when it suits you.
Tasty & nourishing food
On wellness vacations in isolated settings, your three meals a day are cooked by in-house chefs using vegetables and herbs from the garden. Retreats closer to villages or towns might leave dinner up to you, so you can choose to eat out in the evening.

"You have to eat well," says Andrew. "That's been a really important part of our retreats over the years. Really good, freshly made food that is diverse and nutritious… When we're eating food grown in stressed conditions, the stress of those plants enters our body."

That's a common belief amongst many who offer wellness vacations in Portugal. Vegetarian and vegan food is the mainstay and takes advantage of home-grown produce such as mushrooms, strawberries and nuts. Other ingredients are bought from farmers who work as organically as possible – as they have done for generations.

"People go on retreat to seek peace and healing. The food they eat is medicine," says Andrew, whose menu is inspired by Ayurvedic methods. "The horrendous fact is that the food we're collectively eating has 80 percent less minerals than it did 100 years ago because the soil it's been grown in has been abused with chemicals and massive machinery – and we eat that.

"It's really important that we offer this diverse food that tends towards seasonal ingredients that are being grown in the area and that is digested easily… Our tables are always full of colour with beautifully prepared dishes that are really tasty."
Comfy & conscious accommodation
Where you lay your head is just as important as the food, movement classes and treatments. The best accommodation is camouflaged to its surroundings. Stone riverside cottages are built from Portuguese clay and wood. Bell tents emerge from the forest, with only thin material between you and the wildlife. (Don't worry, the Iberian lynx is pretty rare in these parts.) Or you might stay in self catering apartments stitched together from recycled surf boards. Wi-Fi zones mean you can choose to watch Netflix or go for a complete digital detox – whichever is best for you.

We would like to thank Visit Portugal for commissioning this page.