Things to see & do in Sintra, Portugal
Once a favoured retreat from Lisbon and Cascais for Portuguese royalty, the nobility and the artistic set for centuries on account of its cool Atlantic microclimate, Sintra is a wonderfully attractive little town dotted with prestigious monuments including some of Portugal's most glamorous palaces. A UNESCO World Heritage Site, it is perhaps best known for the extravagantly colourful Pena Palace and the charming, cobbled main street that is lined with traditional restaurants, cafes and shops.

Beyond the most famous sights there are many other landmarks such as the atmospheric Quinta da Regaleira estate and the Capuchin Convent that are worth seeking out. And, further afield beyond the town of Sintra itself you have superb walking trails and a fantastic range of relaxing activities to enjoy including yoga, kayaking, wine tasting and mountain biking, not to mention some of Portugal's most dramatically beautiful beaches within the Sintra-Cascais Natural Park.

To fully do Sintra justice then, allow yourself several days to explore it. That's easily done if you stay at a rural guesthouse on the outskirts of the natural park, giving you the opportunity to get into Sintra town nice and early and also enjoy a very peaceful atmosphere you don't get in either Lisbon or Cascais. You don't even need a hire car, as most accommodations can be very flexible when it comes to helping you get around.
Our Portugal Vacations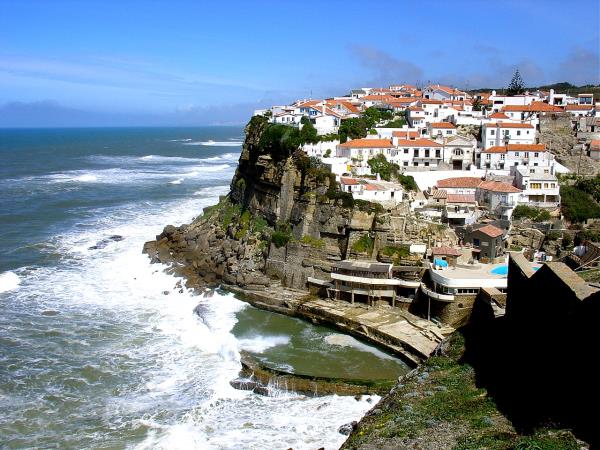 Cycle beautiful coastal scenery around Lisbon
From
€

1045

to

€

1215
6 days
ex flights
Pena Palace
Sintra's most famous landmark, certainly its most eye-catching, the vibrantly colourful Pena Palace was built in the 19th century Romanticist style, and is set within attractive grounds on a hill. The palace is a UNESCO World Heritage Site and one of the Seven Wonders of Portugal, but it does get very busy, so aim to see it earlier in the day before the big tour groups arrive in mid-afternoon.
Beaches
Everyone knows Portugal has some of the best beaches in Europe but most people assume they're all down south in the Algarve. Actually the 'Portuguese Riviera', just west of Lisbon, has several stunners. Guinco is renowned for its waves, and if you want to try some surfing this is the place. Praia da Adraga is another local favourite, a sandy cove surrounded by high cliffs, while little known Praia da Ursa can be reached only on foot and as such sees far fewer people.
Quinta da Regaleira
The fascinating gardens of this historic estate just outside Sintra town are steeped in mystery, with a number of features to explore including manmade lakes you cross by stepping stones, waterfalls, caves and most notable of all, a couple of deep wells linked to the Tarot. The larger of the two, with its spiral staircase, is like something drawn straight from the pages of a fantasy novel.
Castle of the Moors
This 8th century Moorish castle with its imposing battlements overlooks Sintra from a hilltop vantage point. The castle is mostly in ruins now, but a pleasant place to wander all the same, and offers many excellent viewpoints. You can walk up to the castle from Sintra on a fairly steep route that takes around an hour.
Cabo da Roca
Cabo da Roca is the westernmost point of the European mainland and until the 14th century when Portuguese explorers led by Henry the Navigator and Vasco da Gama began their incredible Age of Discovery, many believed it to be the edge of the world. A lighthouse marks the windswept headland, which is a popular spot for a photo opportunity.
Our top Portugal Vacation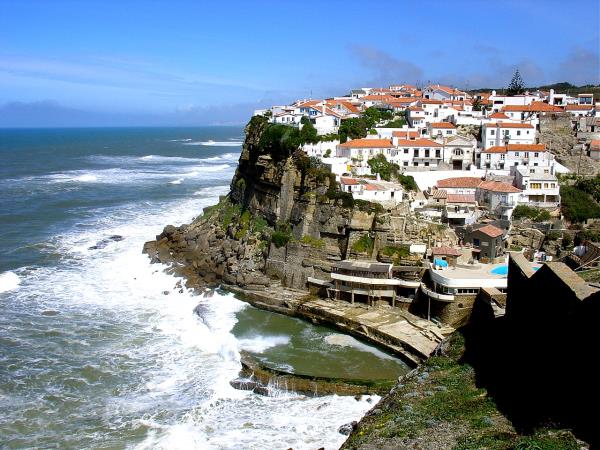 Cycle beautiful coastal scenery around Lisbon
From
€

1045

to

€

1215
6 days
ex flights
Tailor made:
This trip can be tailor made throughout the year to suit your requirements
If you'd like to chat about Portugal or need help finding a vacation to suit you we're very happy to help.

Hiring a car can be useful for exploring Sintra-Cascais Natural Park and further afield, but it's not necessary. The public transport system in this area is inexpensive and reliable, and to visit the historic town of Sintra itself you're much better off either taking the bus in, or requesting lifts from your accommodation provider, as traffic gets very heavy. Lisbon and Cascais are within easy reach and going car-free is also an inspiration to get out and about on the many hiking trails around Sintra – ask your hosts for their recommendations and maps.
Sintra town is just ridiculously busy in summer. There are so many cars and tour buses that if you don't arrive first thing it can take a long time just to get in, let alone find a place to park, if you're driving. If you are visiting in summer then, stay just on the outside of the park so you can get in early but also explore the winder Sintra-Cascais Natural Park in a far more relaxed fashion.

The winter on this part of the coast gets pretty damp and windy too; Sintra's climate is quite distinct to that of Lisbon, and indeed resorts just a little further along the coast, usually a few degrees cooler. Which leaves spring and autumn as the best time to visit Sintra, when the vegetation is at its most lush, the weather is usually fine for walking, mountain biking or kayaking. Other activities such as wine tasting or yoga that are available in this area can of course be done year round.