Walking vacations in Portugal
Portugal is something of an unsung hero for walking breaks in Europe, but it's no surprise that once someone does discover it they tend to become a firm devotee. For one thing the terrain here is ideal for casual walkers: forgiving and perfectly manageable even if you've only recently broken in your boots. Daily walks are between 10km and 20km, and timings are generous, ensuring you can soak up the surf 'n' turf scenery and local culture as you go along. The country is best known for its beaches and golf courses, but
walking vacations in Portugal
take you into areas that traditionally see few visitors, so you can expect a hearty welcome.
What does a Portugal walking vacation entail?
Portugal walking vacations are a mix of small group tours, where you'll be walking with up to 16 or so others, and tailor made trips that will have a basic structure but give you plenty of flexibility over your dates, the types of accommodation used, and routes. Some trips are accompanied by guides, others are not but might as well be, given the level of support you receive from maps to comprehensive route notes and daily transfers to trailheads.
You'll typically be based in one place, making day treks instead of walking point-to-point, but in some regions, certainly Madeira and the Azores, you will change locations every couple of nights allowing for diverse scenery. Accommodation tends to be rural hotels and guesthouses, and if you are moving around then there will be the option to have your luggage transferred between them.
Most of these walking vacations run all year round, especially those in northern Portugal and Sintra, which are usually several degrees cooler than Lisbon and the south. But in the Algarve and neighbouring Alentejo you'll probably want to avoid July and August, which can be swelteringly hot and full of tourists. Spring and autumn are far more satisfying seasons for walking. The Azores and
Madeira
of course are a totally different story, with generally mild climates but unpredictable weather.
Where to walk in Portugal
Sintra
The wooded hills and rugged coastline of Sintra National Park, just outside Lisbon, are crisscrossed with magnificent walking trails, and accommodation providers in the park can supply you with excellent recommendations and directions. The historic town itself is a hugely popular daytrip, but stay in the wider park and you've got the perfect position from which to explore the palaces and also get out and about in the fresh Atlantic breeze.
The Azores
This isolated, volcanic archipelago is justly famed for its incredible marine life, especially the whales and dolphins that gather in the deep waters for the plankton blooms each spring. On Pico Island you can walk trails around the coast where you might see a Blue whale breach the waves, climb Mount Pico, the highest peak in the
Azores
, or admire the unique, UNESCO-protected vineyards. Faial is known as 'the blue island' for the hydrangeas that carpet it in summer, and has a stunning walk around its volcanic crater. These are generally small group tours, during which you'll walk around 10km a day over moderate terrain with a guide.
Madeira
A vast network of irrigation channels called levadas runs across this verdant, volcanic island, forming handy footpaths that can be followed through laurel forest, past villages and tumbling waterfalls. The Balcony Walk between two mountain peaks is famed for its stunning views, and as is that along the exposed São Lourenço Peninsula. Madeira's pristine natural beauty and usually gentle gradients make it a renowned walking destination, and there is even the option to watch dolphins and whales here.
The Portugal Way
One of the most popular Camino de Santiago routes, the
Portugal Way
can depart from Lisbon or Porto to Santiago de Compostela. Hike inland across beautiful Portuguese and Spanish countryside, or take the Atlantic/Galician coastal route, with both options meeting in the Spanish town of Redondela. If you can manage around 24km a day over generally quite easygoing terrain (at least in comparison to other Camino routes) then you can walk comfortably from Porto in a two-week vacation.
Douro Valley
The Douro Valley is among Portugal's premier wine regions, with gentle trails twisting through pretty valleys, over medieval bridges, by vast waterfalls and terraced vineyards. Walking between a succession of luxurious hotels you can meet top winemakers, taste the wonderfully refreshing local speciality Vinho Verde, and of course spend some time in Porto, home of port wine, perhaps taking a boat trip on the river and touring some cellars.
Peneda-Geres National Park
This UNESCO Biosphere Reserve is one of Europe's last great bastions of nature. You'll never tire of waking up to the Tolkien-esque landscapes here of towering mountains, juxtaposed with plunging river valleys where eagles soar, and forests harbouring wolves and wild horses. It's best suited to more experienced walkers, with some quite steep ascents and descents involved.
The Algarve
Escape the well worn tourist traps by heading into the eastern
Algarve
, one of Europe's most renowned bird watching destinations, where rural Portuguese life goes on much as it has for centuries and where you're never far from a gorgeous sea view. Expect average daily walks of around 16km and generally flat terrain around lakes, nature reserves, salt pans and fragrant pine forests.
Alentejo
The big draw of the
Alentejo region
is the Rota Vicentina, a 400km network of trails of which the Fisherman's Way is the best known. The idyllic rural landscapes here, practically unchanged in centuries, are simply made for self guided walks but you can also take a more coastal direction, remembering that the sand can make it a little harder going in places. Walk in Alentejo to sample some of Portugal's most distinctive traditional culture and food.
Our top Portugal Vacation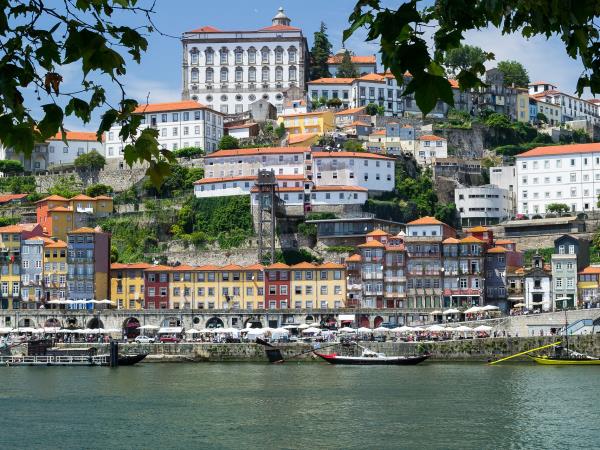 The scenic alternative to the classic Portuguese Way
From
€

875

to

€

1025
8 days
ex flights
Tailor made:
This trip can be tailor made throughout the year to suit your requirements
If you'd like to chat about Portugal or need help finding a vacation to suit you we're very happy to help.

"Dramatic cliff top scenery with rare aromatic plants growing in the sandy soil round the paths. Watching surfers in the beautiful bays and fishermen perched precariously on the cliffs. Unspoiled countryside and forests inland. The fantastic non-light polluted night sky at one of the places we stayed; we saw the milky way and a shooting star. The warmth of the local people. Other walkers we met en route from many different countries. Very good locally produced food." – Denise Anne in a review of her Alentejo self guided walking vacation

"We went in February and did not pack over-trousers and regretted it. It is cold in the mountains and any cloud coming over the Island has to climb 1800m, so will deposit a full load of rain on you. We walked on one day in heavy rain from start to finish and were soaked through. Our assumption that we would be warm as we were on a subtropical island was wrong. Come prepared for bad weather and then you will be able to enjoy it more if the weather is good! Our tour leader did very well to choose walks that we could do in inclement weather conditions, he was attentive and ensured the experience was fun and memorable." – Gabrielle Lorenz in a review of her Madeira walking vacation

Dramatic cliff top scenery with rare aromatic plants growing in the sandy soil round the paths. Watching surfers in the beautiful bays and fishermen perched precariously on the cliffs.