Whether you're perusing the menus in Lisbon or exploring the vineyards of Douro, Portuguese food and drink tells a few thousand years' worth of history. Iberian ingredients mix with spices and sweets plucked from a 600-year-long empire that stretched from South America to the Indian Ocean.

With wines and recipes changing from region to region, the choice seems overwhelming. But you won't be exploring menus alone – Portuguese food is made to be shared. Even if you travel solo, you won't be short of people to guide you through menus and there are always welcoming tables to dine at.

Hosts at guest houses stock the larder with freshly baked bread, cured meats and cheese, while chefs at quintas cook up small plates called petiscos (we dare you to call it tapas) using olive oil grown in the silvery groves on their doorsteps. They'll be very happy to take you for a spin around their farm.

You ask me what to avoid… Well, you can always avoid drinking a glass of our excellent
vinho verde
or avoid tasting our delicious mountain sausages.

– João Pedro Serôdio, from our partner Quinta Lamosa
The best vacations to Portugal immerse you thoroughly in one region, so you'll get to know its specialities well, cooked by local people – whether that's a family
bacalhau
recipe, a vegan take on the fabled Portuguese custard tart, or
wine tasting in Porto and the Douro Valley
. Great gastronomy is everywhere.
Take our tour through some of the best food and drink in Portugal to find out more.
Our Portugal Vacations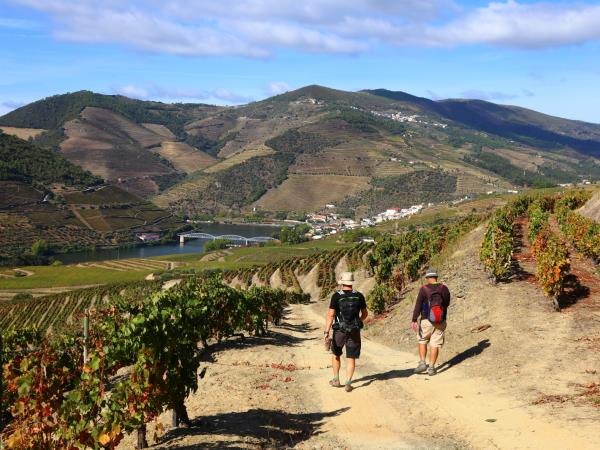 Walking in Douro Valley through astonishingly landscape
From
€

1090

to

€

1190
8 days
ex flights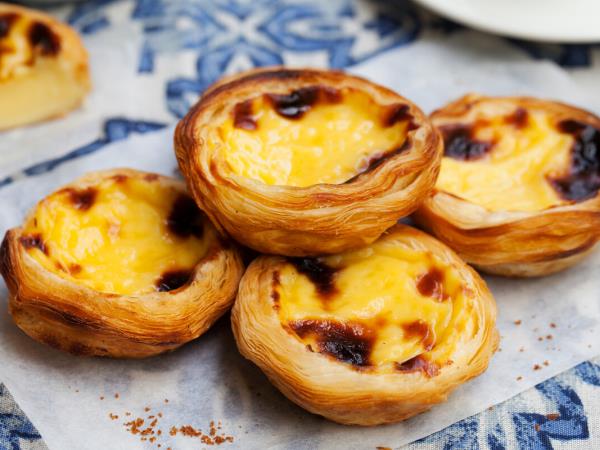 Discover the food & culture of Portugal
From
US $

2820

to

US $

2840
8 days
ex flights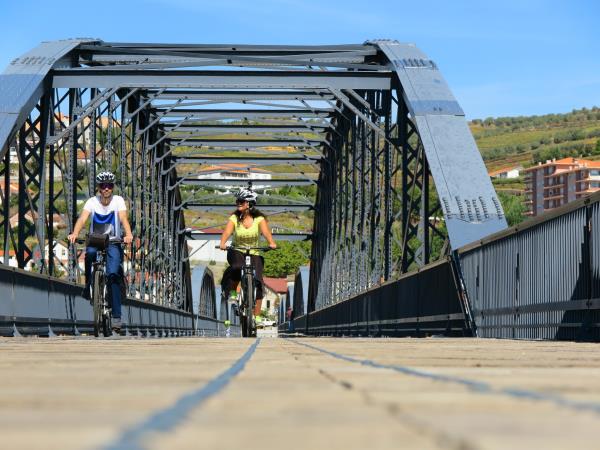 Experience the magic of the Douro Valley on this tour
From
€

1275

to

€

1315
7 days
ex flights
Traditional Portuguese food
Olive oil
What is a main dish without a generous glug of olive oil? Nothing, if you ask the Portuguese. Olive trees have coated these hillsides since at least the Bronze Age, but they were only cultivated as precious crops when the Romans and Visigoths arrived. The Umayyad
(Omíada)
empire that ruled much of the Mediterranean from the 8th to the 13th centuries gave the Portuguese the word for this ubiquitous ingredient:
azeite,
from
az-zait,
Arabic for olive juice.
These days, you'll see long stripes of farmed olive trees along Portugal's eastern edge. Cycling vacations wheel through the
Douro Valley
, where some of the best olive oil in the world is produced. Working
quinta
estates welcome guests for the night, offering the chance to taste the olives at their freshest – alongside a platter of cheese and a decanter of Douro port.
Bread
Bread is paired with most meals in Portugal. It usually turns up in a basket before your main meal, joined with plenty of olive oil for dipping. But it often tastes best with breakfast, where it's served in extra-thick slices of toast (torrada) covered in butter.

Broa de milho is a heavy cornbread. Broa is a Germanic word, so the recipe is thought to have arrived with the Visigoths who reigned in the Iberian Peninsula from the mid-400s to the early 700s. Pão de Mafra comes from near Lisbon – a rye bread with soft insides and a crunchy crust. Bolo ferradura, meanwhile, is a celebratory bread. You'll see it at markets, flavoured with fennel and lemon. The horseshoe shape recalls its days as the food of honour at weddings.

Whichever you try, most Portuguese breads have one thing in common: they're very chewy and much more filling than loaves from elsewhere in Europe. Bolo de caco, the Madeiran bread, is one of the exceptions – a bun made from sweet potatoes and slathered in garlic butter.
Seafood
Portugal has long been a fishing nation, with over 900km of coastline on the mainland and flags planted on Atlantic archipelagos Azores and Madeira. Seafood appears on every menu, even in the interior; nowhere is too far from the ocean.
Responsible Travel writer, Rob Perkins, especially loved the seafood when he lived in Portugal. He says: "Nothing beats a plate of king prawns, octopus salad or clams with garlicky toast and a cold bottle of beer on the beach. Except if you have them all on the same table. And it's said they have a different
bacalhau
recipe for every day of the year."
Bacalhau
is
codfish
– usually salted and dried just as it was in the 16th century, when Portuguese sailors brought the technique back from Newfoundland in Canada.
Bacalhau
recipes are simple, with cod often barbecued, baked or fried. The most popular version,
bacalhau à brás,
is chopped up and mixed with potatoes, eggs, onions, olives, garlic and herbs. Other recipes douse the cod in a cream sauce or pile them up in fish cakes or fritters.
Lucifer's fingers
(percebes)
are notorious. The people who harvest these gnarled, finger-like barnacles in the south-west of the country are said to have
one of the most dangerous jobs in Portugal
, dicing with the crashing Atlantic to hand-pick them from rocky tide pools and caves while tethered with ropes. As such, Lucifer's fingers are considered a delicacy, sold for up to €100 a plate at fancy restaurants in the cities.
Portuguese fish stew
(caldeirada)
is much more down to earth. Anything caught that day is thrown into the mix, from prawns and mussels to squid and fish. It's named after the pot it's ladled from, usually shared with family and friends around the table.
Grilled sardines
(sardinhas assadas)
are another easy favourite; you'll smell them being barbecued on the beach less than a mile away from where they were caught throughout the summer. They're most famously eaten in Lisbon during the fiery celebrations of the Feast of St Anthony over 12-13 June.
Meat dishes
People in the northern and rural regions of Portugal rely on a meat-based diet. There are whole restaurants dedicated to leitão (roasted piglet), especially in central Portugal, where it's served with potatoes or crisps. Bifana is a marinaded pork sandwich in a papo seco bread roll that's the pride of Lisbon. There are a variety of Portuguese sausages too, including chouriço (along the lines of the Spanish chorizo) and the more garlicky linguiça.

Frango assado com piri piri is the most well-known meat dish outside Portugal – better known as piri piri chicken. The piri piri pepper is from Mozambique, grown and traded during Portugal's 500-year-long occupation of southern and western Africa. Piri piri chicken recipes as we know them (barbecued chicken doused in a pepper sauce) were first cooked up in the Algarve.
Vegetarian & vegan dishes
Vegetarians and vegans can have a challenging time in Portugal – especially in the northern and rural regions, where fishing and farming inform the menus.
But don't worry – many of our vacations make sure you don't have to stick to Lisbon, Porto and Braga to find amazing animal-free dishes. Some – especially our
yoga and wellness retreats
– go above and beyond, working with expert chefs who only create plant-based menus inspired by their own vegetable gardens and the farms around them.
Fruit and vegetables come into their own in Portuguese markets. Expect a rainbow of fresh tomatoes, oranges, kale and strawberries. Sweet, bright yellow loquats
(nêspera)
are one of the first fruits of the year, busting into colour all over gardens in spring, and thought to have been brought back from China or Japan during Portugal's spice trading days.
Nibbles are easy for vegetarians – plates of
pickled sliced carrots, fresh olives, bread and olive oil, and salted lupini beans
(tremoços). Caldo verde
is the ubiquitous
green soup
. Seasonal vegetables like kale, carrots, onions and potatoes are tossed in, before being served as a light broth starter. (Be careful to check the stock used and ask for it without sausage, which is sometimes thrown in as a grand finale.) Or try a
bean stew
using regional favourites like
tarrestre
grown slowly between the cornfields of Peneda-Gerês National Park in the north.
And for dessert...
Portuguese desserts use a vast range of spices, including cloves, cumin, nutmeg, pepper, vanilla and cardamom. These flavours all tell the tale of Portugal's interests in the spice trade. Over the centuries, this grew into the establishment of sugar and cocoa plantations in colonies like Cape Verde, Madeira and the Azores – all fuelled by slave labour until the 1870s, when slavery was abolished in the Portuguese colonies… before being swiftly replaced with forced labour.

Cinnamon, in particular, is sprinkled in almost every Portuguese dessert. When the growing empire gradually took control of Sri Lanka during the 16th and 17th centuries, it also commanded the treasured cinnamon trade. The spice flavours almost every Portuguese dessert, including the famous pastel de nata – or the Portuguese custard tart, a flaky puff pastry filled with caramelised cinnamon custard. Don't be fooled by the queues at the famous Pastéis de Belém in Lisbon; the neighbouring bakeries make the tarts just as well.

Arroz doce is a traditional Portuguese comfort food – a rich and creamy rice pudding with lemon zest and sprinkled with cinnamon. Cream-filled doughnuts are a great pick-me-up. You'll smell them sizzling everywhere from markets to beach food stalls. Meanwhile, salame de chocolate is a more-delicious-than-it-sounds chocolate salami.

Sweet almond cakes and tortes line the shelves of every pastelaria. The pale pink and white blossoms of almond trees are the first sign of spring across the Douro and Algarve countryside in February and March. Or go in September to see farmworkers with long poles whacking the ripe almonds to the ground for harvest.
Our top Portugal Vacation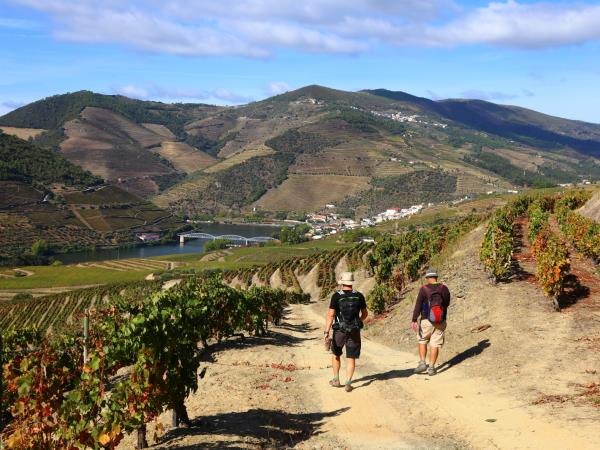 Walking in Douro Valley through astonishingly landscape
From
€

1090

to

€

1190
8 days
ex flights
Tailor made:
This trip can be tailor made throughout the year to suit your requirements
If you'd like to chat about Portugal or need help finding a vacation to suit you we're very happy to help.

Vinho verde
It's not easy being green wine. In the past, they've been dismissed as being cheap and cheerful, thanks to their light, easy-drinking nature and slight spritz. They're not actually green either, just named that way for the young grapes used. You'll be won over though as soon as you take a sip in the sunshine amongst the vineyards in the north-westerly Minho province, where this biggest wine region in Portugal stretches out.
Douro
Formed in 1716, Douro is one of the oldest protected wine regions in the world after Italy's Chianti and Hungary's Tokaj. The granite mountains and sheltered river valley form a unique microclimate ideal for producing port – usually served as an aperitif in Portugal. It's red, sweet and fortified, with servings small but mighty.
Douro is also full of small-scale winemakers. There's something particularly impressive about the way vineyards cling to the vertiginous sides of the Douro Valley. The grapes here are high in harsh tannins, so winemakers are dab hands at keeping things fruity and turning them into excellent table wines. Some wine tasting tours
pair Douro with a hop over the Spanish border
, so you can compare tipples.
Alentejo
The Romans left sandal prints all over Alentejo, scattering behind them temples in Evora and the ghosts of mosaiced villas in the sunburned countryside. They also left behind their distinctive techniques for winemaking, with some vineyards still using clay pots for storage.

Sizzling summers have traditionally resulted in some distinctive but not exactly swiggable Alentejo reds. Newer vineyards have been popping up since the 1990s, however, blending native grapes like Touriga Franca with Cabernet Sauvignon to get a fruity blend that's easy to sip alongside a bowl of lamb stew.

Seeing the cork oak trees that provide the stoppers in your wine bottles is as fascinating as visiting the vineyards. A farmer can take you for a tour through the trees, pointing out the trunks stripped of thick layers of bark. Amazingly, it doesn't damage the tree – the year of the harvest is painted on the trunk and the famers come back in nine years, when the bark has grown back.
Madeira
Madeira wine was created by chance in the 16th century, when the Portuguese Empire was pushing across the Indian Ocean, occupying parts of India and Malaysia for trading opportunities. When a ship returned to Madeira with a rare unopened cask of fortified wine, islanders cracked it open and discovered that it had aged at sea into a delicious dessert wine, thanks to the heating and cooling of the casks during the long voyage.

We would like to thank Visit Portugal for commissioning this page.