Tucking into the street food of Rajasthan is one of the highlights of any vacation here. Practically every street corner has alfresco chefs cooking up culinary delights over seemingly inexhaustible single burner gas stoves. Blackened wok-type pans and simmering silver cauldrons balance precariously as a cornucopia of colourful curry sauces is ladled out onto rice, kachori (fried dumplings), samosas and rotis. Nearby, wooden carts are piled high with bananas, pomegranates, grapes, and sweet treats like nut brittle or savoury snacks such as bhujia (the yellow sticks that you find in a bag of Bombay mix).
A lack of water in the arid Rajasthani plains has led to the food that you'll find today; don't expect an abundance of vegetables. Cow milk, ghee (clarified butter), gram or millet flour, rice, nuts and dried spices – turmeric, cumin, coriander, fennel seeds – flavour many of the region's favourite dishes. This is food that's been designed for drought conditions; it's built to last without the aid of additives. However, although meat can be found – particularly chicken and mutton (often meaning goat) – there's actually no real reason to pursue a carnivorous crusade. Paneer (white cheese), lentils and aloo (potatoes) make for more than adequate meat substitutes and provide the all-important karma points.
We've picked a few of our favourite Rajasthan street food snacks, treats and meals. Be brave and ask questions when looking at a menu or contemplating whether to join a queue of hungry punters –there's more to life than chicken tikka masala.
Mirch pakora
This classic, fried street food looks formidable, but it's basically just a large, sweet chilli fried in batter and served with a medium hot sauce. Pakoras (fried fritters) can be found alongside samosas at any number of vendors and hole-in-the-wall outlets.
Bikaneri bhujia
These little yellow sticks are an ideal grab-and-go savoury snack to scoff when you're on the move. Made from dried beans, gram flour (besan) and spices, bags of bhujia are available all over Rajasthan some pre-weighed and wrapped, others overflowing from wholesale sacks.
Jalebi & imarti
These palm-sized sweet treats are very popular at family gatherings and events, and best eaten while still crispy. Jalebi are thinner and sweeter than imarti, but they're very similar in taste and design. Basically, they may come in different swirls and circular shapes but they're both bright yellow and consist of shallow-fried flour batter that's soaked in syrup – yum!
Our top Rajasthan Vacation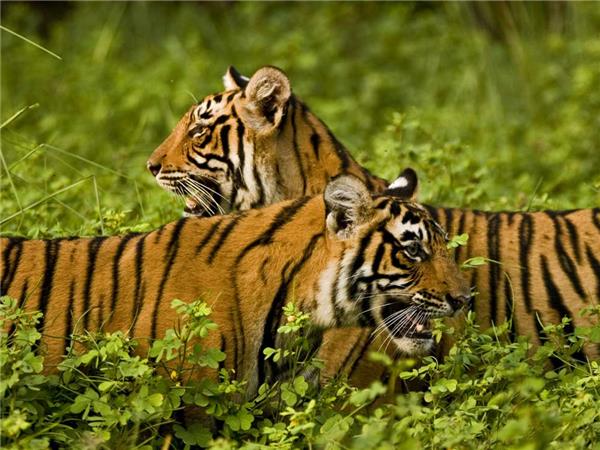 Discover the evocative northern province of Rajasthan
From
US $

1304

to

US $

1815
15 days
ex flights
Small group travel:
2022: 19 Dec, 20 Dec, 24 Dec
2023: 17 Jan, 22 Jan, 24 Jan, 3 Feb, 5 Feb, 14 Feb, 17 Feb, 19 Feb, 23 Feb, 26 Feb, 3 Mar, 4 Mar, 6 Mar, 7 Mar, 9 Mar, 11 Mar, 14 Mar, 17 Mar, 19 Mar, 24 Mar, 7 Apr, 14 Apr, 18 Apr, 24 Apr, 28 Apr, 7 May, 19 May, 4 Jun, 13 Jun, 18 Jun, 22 Jun, 2 Jul, 9 Jul, 13 Jul, 16 Jul, 23 Jul, 4 Aug, 11 Aug, 17 Aug, 22 Aug, 29 Aug, 5 Sep, 12 Sep, 19 Sep, 22 Sep, 28 Sep, 29 Sep, 1 Oct, 3 Oct, 5 Oct, 6 Oct ...
If you'd like to chat about Rajasthan or need help finding a vacation to suit you we're very happy to help.

Pyaaj kachori
You'll find kachori all over India but it's the pyaaj (onion) kachori that's a firm favourite in Rajasthan. Similar in size and look – but not taste – to an English Eccles cake, pyaaj kachori are sold everywhere and anywhere. However, they're definitely best bought fresh from a street food vendor and served with a sweet and sour saunth chutney or spicy chilli sauce.
Daal
Although daal (stewed dried lentils, peas and beans) is regularly doled out on street corners there's something extra special about having it served in a little silver bucket whilst seated on a roof terrace overlooking the Ganges. Often accompanied by rice, rotis, naan bread and baati (hard baked bread rolls), daal is a South Asian mainstay and a filling and nutritious meal with or without the silver service.
Panipuri
These lovely little light and airy hollow dumplings take literally seconds to cook and even less time to devour. Crispy, savoury and stuffed with a combination of tamarind chutney, chilli sauce, potatoes, onions and chickpeas, panipuri are kind of like an Indian vol-au-vent or even a Yorkshire pudding and can be found stacked up high on virtually every street corner.
Chai
You can't go to Rajasthan without being offered a cup of chai (tea). It doesn't matter where you are: on the train, outside the bank, in the park; a chai seller will offer you a paper cup the size of a shot glass that will be filled with hot water, sugar and a tea bag or instant mix. Masala chai, in this writer's opinion, is the tastiest variety but it requires extra sugar to avoid a bitter taste.
Lassi
Available as sweet or salty – although god knows why as the salty version tastes like seawater – many travelers swear by the adage: a lassi a day keeps Delhi belly away. Although, to be fair, Imodium works with a lot more consistency. This delicious natural pro biotic yoghurt drink is blimmin' lovely and akin to a smoothie. Definitely best without ice. Beware bhang lassis unless you fancy an afternoon freak out.