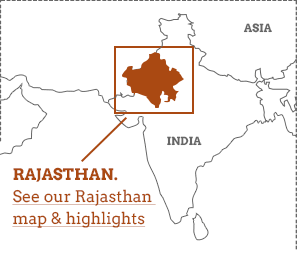 Some people say that Rajasthan is like walking onto a movie set. It is, in fact, like walking into a giant movie studio, with lots of different themes, players, props and dialogue. At first it's surreal, seeing ornate Mughal palaces one minute, desert the next. Ancient pink forts alongside contemporary chic, luxury trains followed by camel trains. Consequently it covers all genres with comedy, dramatic, arthouse and adventurous moments all in a day. You will look on in awe at the temples and multicoloured cities, vibrant markets and elegantly dressed people, feasts and festivals, right up until credits roll.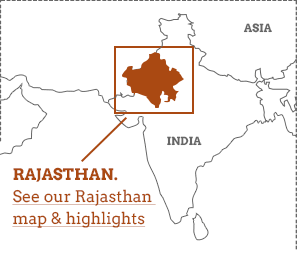 Arriving into Rajasthan by sleeper train was the perfect way to wake up to all its vibrancy, taking in its verdant hills and rubbing your eyes to make sure that palace wasn't a dream

Our Rajasthan travel guide hopes to share just a few of these worthy credits. If there was an Oscar for locations, Rajasthan would win again and again.
Rajasthan is...
regal, regaling and will always give you a right royal welcome
Rajasthan isn't...
about beaches. It's a desert state, but far from arid. Your thirst for culture will always be quenched.
What we rate & what we don't
National parks
Famous for Ranthambore, there are other beauties not to be missed in Rajasthan. With far fewer tourists, Keoladeo is an artificial wetland dating back to the 1700s and an ornithological orgy, to use the technical term. And Sariska is home to leopard, jungle cats, hyena, chowsingha and sambar deer and ancient archaeology. And last, but not least, Desert National Park, which protects vast swathes of the Thar.
Going grassroots
The palaces are out of this world, but you can also swap chauffeur for cycle and have one foot firmly planted in the grass roots of Rajasthan when visiting, for example, indigenous Bishnoi desert dwellers, or dining and staying with homestay owners. Tailor made trips in Rajasthan are not all silver and silks; there are plenty of gems to be found in real Rajasthan too.
Desert towns
Regal, colourful cities are what many people seek out, but the desert gateway towns of Jaisalmer and Bikaner are spectacular too. The former is home to an ancient fortified city, constructed of sandstone and so merging magically with the desert landscapes. The latter has fewer tourists but still vibrant with the compulsory fort, camel safaris and two stunning temples: the Jain Bhandasar, and Hindu Lakshminath.
Shekhavati
A region once brimming with aristocrats, the fading glamour of their havelis (mansion houses) are a sight to behold in this desert region. Tumbleweed blows through courtyards boasting stunning murals, colonnades and obsolete opulence. Some are being restored, others are simply there to be photographed and figure out how these places came to be. Check out the eco-glamping gorgeousness at Mandawa too.
Jodhpur
A colourful stop on Rajasthan's multicoloured magic carpet, this time blue. The mammoth Mehrangarh Fort oversees the city like a lion overseeing its pride, the ancient, blue houses seeming to worship at its feet. Delve deeper to discover markets bursting with every colour of the rainbow. Jodhpur is also gateway to the Thar Desert where villages are home to contrasting desert dwellers, the Bishnoi and Bhil.
Ranthambore National Park
Bang in the middle of this desert state is a wild array of tropical forest, with ruined temples popping up at sporadic points and the eyes of fauna such as nilgai, sambar, jungle cats and, of course, the great Bengal tiger all watching the goings on in their precious habitats. It is a very special place and somewhere to spend a few days if possible, not just a 'been there, done that' scenario.
Heritage hotels
Heritage heaven, Rajasthan boasts some of the world's most luxurious, but not always astronomical, sleeps. Stay in beautifully restored forts or former Raj's palaces, boasting fine Rajput or Mughal architecture. Overlook Lake Pichola in a beaux arts palace in Udaipur, a 19th century former home of the Maharaja of Jaipur or a symmetrical beauty in Bikaner. Heritage hotels are places to immerse yourself in class and opulence.
Jaisalmer Fort
The gateway to the great Thar Desert, this sandstone fort looks like it could be washed away in a storm, if there was such a thing. But in fact, this fort, a UNESCO World Heritage Site inside the eponymous ancient city, has stood the test of time since 1156 when it was built by Rajput ruler Rawal Jaisal, after whom it was named. It is now home to hotels, markets and a lot of camels.
Pushkar camel fair
It may have been a real working tradition in times gone by, but it is now just a tourist trap, and an animal trap, with camels and elephants being abused, dressed up, made to race and generally whooped up into a frenzy simply to keep tourists happy. Not a happy sight at all. And while we are at it, the Brahma Temple is not great either, with more pushy hawkers than cultural highlights.
Riding elephants
It may seem magnificent but often the animals are severely mistreated in order to perform or conform, with mahouts, or elephant trainers, shackling them or using a bull hook to tame them. The Amber Palace in Jaipur is just horrific for this, with over 150 elephants carrying tourists up and down the hill. Similarly, elephant polo wouldn't be one of our favourites. Read our
'Elephants in tourism'
guide for more details.
Disrespecting culture
Especially when it comes to dress sense. For women, in particular, showing bare legs, shoulders and wearing low cut tops are a faux pas. And always cover your head in places of worship. Please also practise responsible photography. Rajasthan is so stunningly beautiful, it is hard to keep the cameras at bay; but always ask before you snap.
Only eyes for a tiger
Sometimes people want to head to the state with the sole mission of seeing a tiger in Ranthambore. And they are extraordinary, but don't forget there are Asian lions and sloth bears in Rajasthan too – as well as leopard, elephants, buffalo, rhino, monkeys, wolves and a veritable fiesta of birdlife.
Our top Rajasthan Vacation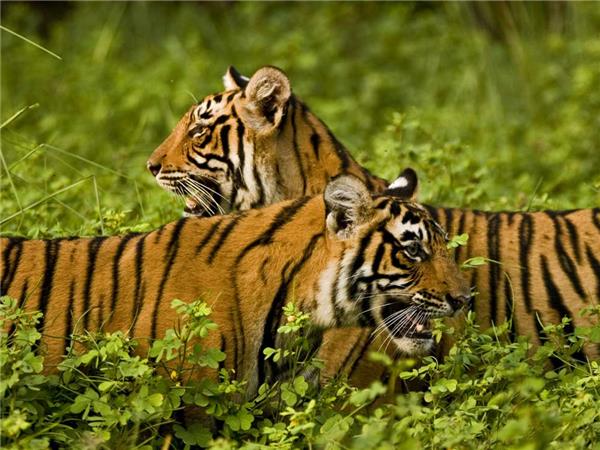 Discover the evocative northern province of Rajasthan
From
US $

1298

to

US $

1955
15 days
ex flights
Small group travel:
2023: 17 Feb, 19 Feb, 23 Feb, 2 Mar, 3 Mar, 4 Mar, 6 Mar, 7 Mar, 9 Mar, 11 Mar, 14 Mar, 17 Mar, 19 Mar, 7 Apr, 14 Apr, 18 Apr, 24 Apr, 28 Apr, 7 May, 19 May, 4 Jun, 22 Jun, 2 Jul, 9 Jul, 13 Jul, 16 Jul, 23 Jul, 4 Aug, 11 Aug, 22 Aug, 29 Aug, 5 Sep, 12 Sep, 15 Sep, 19 Sep, 22 Sep, 28 Sep, 29 Sep, 1 Oct, 3 Oct, 5 Oct, 6 Oct, 8 Oct, 9 Oct, 10 Oct, 12 Oct, 13 Oct, 15 Oct, 17 Oct, 19 Oct, 20 Oct, 22 Oct, 23 Oct, 24 Oct, 26 Oct, 27 Oct ...
If you'd like to chat about Rajasthan or need help finding a vacation to suit you we're very happy to help.

Eating & drinking
A main staple is dal baati chura, lentil dal served with ground wheat and unleavened bread, or baati.
Ker sangria is made by sautéing two desert ingredients, the ker berry and the sangria bean, with a lot of spices.
Onion kachori is deep fried bread full of onion and spices often served for breakfast. Good morning Rajasthan!
The Rajasthani tooth is sweet – check out the mawa kachori nutty pastry of Jodhpur, rasogullas or syrupy dumplings from Bikaner or feni noodles with more syrup found just about everywhere.

I never knew that Nigella was edible until I went to Rajasthan, and discovered this spicy little number infused throughout my mango pickle.

People & language
Hindi is the main language, although Rajasthani is also used throughout the state, particularly among the older generations. 'Namaste' is the common Hindi greeting for hello; however 'Ram, Ram' is often used in Rajasthan instead. The more formal and traditional 'Khamaghani' is Rasjasthani for 'many greetings', and is often accompanied by a bow.

Aap keise hain? (Hindi)= How are you?

Dhanyavad (Hindi) = thank you, although not used commonly in India, as kindness is seen as a given. And indeed it is given. Over and over.

Kripya (Hindi) = Please
Gifts & shopping
Check out splendid textiles designed by hand using wooden blocks.
Engraved metal, from brass to silver, jewellery to jewellery boxes is beautifully traditional.
The state's famous blue pottery, made with quartz is influenced by past Persian artistic styles.
Kites are big in Rajasthan, and you will often find them in the markets. Especially in Jaipur.
Mojris are very typical Rajasthani leather slippers.

In Rajasthan there is an expression
"atithi Devo Bhava"
, meaning 'the guest is next to the God'. I would rather reverse the concept and say that, to me, the Rajasthani people were just like angels.

How much does it cost?
Tourist composite ticket to cultural sites of Jaipur: £5

Autorickshaw around Jaipur for a day: £4-£5

Bottle of Rajasthan's own Bullet beer: £3-4

Glass of milky thandai drink: £0.25 - £0.50

Meal in luxury restaurant: £10

Street food lunch: £1.50-2.50
A brief history of Rajasthan
We travel to Rajasthan for history, and boy, do we get history. About 5,000 years of it, in fact, with Rajasthan relishing its heritage that has seen the ancient Maurya Empire, Rajput clans taking control as early as 700 AD, Mughals stepping in around 1200 AD until their decline in the 18th century, when the Maratha Empire made its mark. It is a complex state, with empires and epics that were lived out in the desert and mountains, leaving palaces and temples which we fawn over today as tourists. Below we skirt over the basics like a trailer for the full Bollywood movie which is, in fact, more like a 20-series box set than a one off tale.
Read more