Best time to visit Rajasthan

Culture vultures take flight. Rajasthan International Folk Festival in Jodhpur every October in the Mehrangar Fort & January's Jaipur festival are feasts to prey on.

The best time to visit Rajasthan is October to March as days are sunny, not too humid, with cooler nights. The desert influences start doing their damndest in April, May and June when temps soar, although this brings tigers out in search of water, so great for safaris. Monsoon is July to September when even Ranthambore NP closes. October-November is festival time, with Diwali, the Pushkar and Nagaur Camel Fairs. Or March, when Holi brings its famous colour throwing fests.
Rajasthan, month by month
Ranthambore National Park is closed during the monsoon months, which are July, August and September. Pushkar is well known for its camel fair, usually in November. But it is also a great place to celebrate Holi, the festival of colours, in March. The Phool Sagar Lake is a place of beauty in Bundi, but particularly in September when it becomes covered in a sea of lotus flowers. Bundi also has a stunning cultural festival in November. If you can time your visit to the state for the Rajasthan International Folk Festival in Jodhpur in October, it is music for the soul. Although the climate is best for traveling between October and March, if you are in the Thar Desert, temperatures really dip during December, January and February. So you need your layers out there. When hiking in the Aravalli Hills, you will find an array of orchids in May. While the rest of Rajasthan is scorching in June, and most tourists avoid it, one exception is Mount Abu, the state's highest peak and place of pilgrimage in the Aravalli Hills. People come here for the cooler temperatures in May and June before the monsoon as well as their summer festival. April is boiling in Rajasthan and most tourists avoid it. However, if you are there, the Mewar Festival in Udaipur is full of historic processions and pageantry. And prettiness. This is Rajasthan, after all. Prettiness is its middle name.
Our top Rajasthan Vacation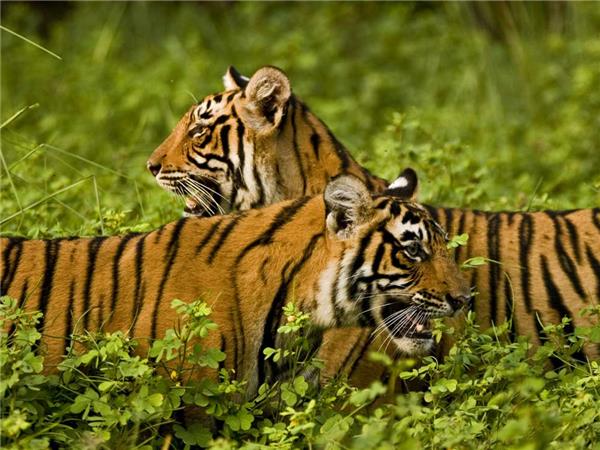 Discover the evocative northern province of Rajasthan
From
US $

1298

to

US $

1955
15 days
ex flights
Small group travel:
2023: 17 Feb, 19 Feb, 23 Feb, 2 Mar, 3 Mar, 4 Mar, 6 Mar, 7 Mar, 9 Mar, 11 Mar, 14 Mar, 17 Mar, 19 Mar, 7 Apr, 14 Apr, 18 Apr, 24 Apr, 28 Apr, 7 May, 19 May, 4 Jun, 22 Jun, 2 Jul, 9 Jul, 13 Jul, 16 Jul, 23 Jul, 4 Aug, 11 Aug, 22 Aug, 29 Aug, 5 Sep, 12 Sep, 19 Sep, 22 Sep, 28 Sep, 29 Sep, 1 Oct, 3 Oct, 5 Oct, 6 Oct, 8 Oct, 9 Oct, 10 Oct, 12 Oct, 13 Oct, 15 Oct, 17 Oct, 19 Oct, 20 Oct, 22 Oct, 23 Oct, 24 Oct, 26 Oct, 27 Oct, 29 Oct ...
If you'd like to chat about Rajasthan or need help finding a vacation to suit you we're very happy to help.

Responsible Travel recommends
Andrew Appleyard from our supplier, Exodus, shares his best time to go to Rajasthan: "I do love it after the monsoon season. It is incredibly green and beautiful. Tigers are hard enough to spot anyway, but the birdlife is just absolutely phenomenal in October. April is also brilliant in Ranthambore, although it is incredibly hot and dry. The advantage is that the wildlife all conglomerates around the water holes, but of course all the vehicles then too."
Shanane Davis, Director of our supplier, True Luxury Tours, specialising in Rajasthan: "In the mountain regions I think May and September are the best months, with orchids in May, and alpine flowers in September"
Bhupesh, a tour leader with our supplier Intrepid Travel: "I just completed a tour a month ago and I wasn't aware of it beforehand but there was a festival happening called Bundi festival (November). There was a procession piling out onto the street, so we went out to witness it. There were loads of camels and horses and people in traditional colourful dress… we then proceeded to the stadium where there were a whole host of events happening. There was a turban tying contest, and a race where you balance an earthenware pot on your head and race for 50 metres-odd."
Gangaur
This is one of the most important festivals in Rajasthan and a celebration of spring and marital bliss. Many women fast during this time, decorate their hands and feet with Mehndi or myrtle paste, and unmarried women join colourful processions, singing and carrying pots on their heads with a lit lamp inside. As you do.