Rajasthan photography vacations
"Rajasthan might be the most iconic India tourism destination of them all. You get the biggest turbans here, the most beautiful saris, colourful cities like Jaipur and Jodhpur, the famous camel fair in Pushkar..." Geraldine Westrupp, of our specialist operator Wild Photography Vacations, speaks with the authority born of many years' experience organising
photography tours in India's largest state
– tours that reflect the special access only those with longstanding local connections can enjoy.
This is the 'Land of Kings', of desert cities and holy lakes, opulent royal palaces and marbled temples, bazaars that can feel like a sensory riot, eagles soaring high over ancient forts, and sand dunes that host a great pageant of camels, acrobats and religious pilgrims. For any photographer Rajasthan would provide endless inspiration – beautifully crafted wooden doors, for instance, are to be found everywhere. But when accompanied by experienced tour leaders who double as tutors, and local guides expert at identifying lesser-known locations and communities, a trip here immerses you in cultures and landscapes that escape most other visitors.
Rajasthan is in northwest India, on the border with Pakistan. It is a massive state to travel around, but a well-organised photography itinerary minimises the long journeys involved between key destinations, such as a train from Delhi to Jaipur, and a flight back from Udaipur to the capital at the end. That leaves you more time to spend buried in your viewfinder, and you can expect to come away with a veritable banquet of images that will be a joy to digest when you get home.
Our Rajasthan Vacations
Incredible Rajasthan palaces and The Pushkar Camel Fair
From
£

4100

to

£

4200
14 days
ex flights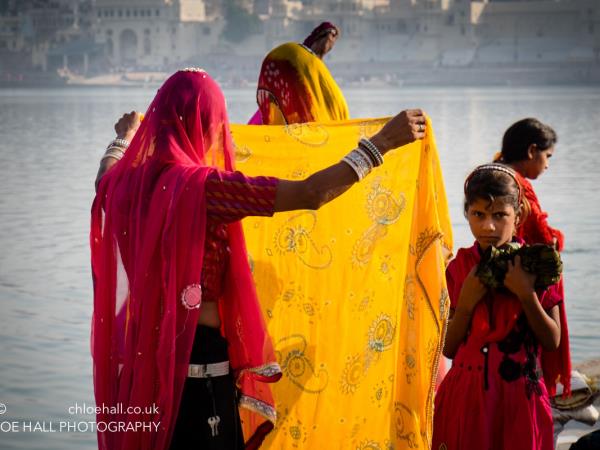 Street photography tour to the most colourful state of India
From
US $

4000

to

US $

4100
14 days
ex flights
Photography subjects
"The train from Delhi to Jaipur is an incredible opportunity for photography," says Geraldine Westrupp. "Not so much the journey itself, but the magnificent Victorian station in Delhi, which is one of the biggest and oldest in India. We arrive an hour before departure, and our luggage is sent on ahead so we are free to capture the crowds, the porters and so on. It's a real eye opener; all life takes place here."

And then there is Jaipur itself, a key stop-off on the Golden Triangle route. The buildings of 'the Pink City' take on dreamy crimson hues at sunset and sunrise, and between them the cobbled backstreets teem with life. A morning might take you to a bustling market where women in their saris come to barter with white-turbaned stallholders stood behind heaped piles of vegetables and fragrant flowers. In the afternoon you might seek unique viewpoints around the Amber Fort or Jaipur Palace. Then there is the Panna Meena stepwell – a superb example of these intricate stone-clad structures where women and children congregate to fill ceramic and copper water pots while catching up on the latest news. "We'll often set up shoots with models here," says Geraldine. "That way our photographers can take their time, and the women earn a fair wage."

Pushkar sits on the edge of the Thar Desert. Whitewashed temples are scattered around a lake where pilgrims and orange-robed sadhus (holy men) come to bathe. Some Rajasthan photography tours are timed to coincide with the camel fair in early November. True, it's a tourist trap, and there are some serious issues with animal welfare – please don't take an elephant ride here, for example. But the camel fair is also an epic spectacle for photographers, with thousands of pilgrims descending over the sand dunes to the lakeshore in company with traders and their livestock, acrobats and musicians and, it is believed, the entire 33-million-strong pantheon of Hindu gods, all making for an extraordinary tableau.
Jodhpur is 'the Blue City', where for centuries the buildings have been painted cooling shades of blue to counter the hot sun. Like Jaipur this is a vividly beautiful city to wander, especially around the serpentine streets of the old town with their Brahmin residences and tiny temples. Eagles patrol on columns of air above the imposing Mehrangarh Fort, while Jodhpur's bazaars are delightfully aromatic – expect an intoxicating blend of samosas and fried sweets, incense and flowers. Jodhpur is a superb place to purchase traditional handicrafts and support local artisans, or photograph them at work in the streets and workshops. Textiles printed using wooden blocks, marble carvings and glass bangles are abundant in the bazaars.
The approach to Ranakpur is glorious, through the lush forested Aravalli hills. This village is known for its 15th-century Jain temple, which contains some of the world's most impressive marblework, but it's a fantastic spot for landscape photography too. Kumbhalgarh Fort is a popular vantage point for sunrise, and your guides may also lead you around nearby villages where you can observe potters at their labours. They are usually more than happy to be your subjects, as these places see relatively few visitors, so tours here offer a useful source of income.
Classic sunset shots can be had over Lake Pichola in Udaipur, where people often get around by boat, earning it the nickname of 'India's Venice'. The labyrinthine backstreets here are full of life, leading you to temples, palaces, bazaars and havelis. Taj Mahal, eat your heart out: Udaipur must be the most romantic setting in all of India.
Our top Rajasthan Vacation
Incredible Rajasthan palaces and The Pushkar Camel Fair
From
£

4100

to

£

4200
14 days
ex flights
Small group travel:
2023: 19 Nov
2024: 31 Oct
If you'd like to chat about Rajasthan or need help finding a vacation to suit you we're very happy to help.

Rajasthan photography trips last for around two weeks, allowing you to really take your time for an immersive experience. Arriving and departing from Delhi, they could easily be combined with a tiger-watching tour in Ranthambore National Park, which is 400km and a manageable train ride south of the capital.

These are small group tours limited to 12 or so participants, so that everyone can enjoy sufficient one-on-one time with the photography tutor leading the trip. You'll also be accompanied by local guides that the operator has known and worked with for years – experts in tracking down less-visited locations, or unique viewpoints of the busier landmarks.

You don't need any experience to take part – these trips are fine for beginners – and nor do you need a camera as tutors are just as comfortable teaching smartphone photography. Parts of India are extremely poor, and Rajasthan is no exception, which can prove challenging for first-time visitors. It's also important to be respectful when shooting portraits, but as Geraldine Westrupp explains, that's part and parcel of traveling here: "All Indian locations can be sensitive when it comes to photography, so as well as teaching our travelers technique we also teach them the right ways to behave in places like this, such as covering up in places of worship. People will often ask for money for photos and it's down to you how you respond."
And it's important to point out that these itineraries have been crafted through years of experience, ensuring that a) long transfers are kept to a minimum and b) with a few exceptions, major tourist areas are avoided. You'll spend a lot of time in remote, less-visited communities where the vacation company has established deep roots with local people, such as by financially supporting women and children in their education. That can mean special access to authentic ways of life most tours would miss.
The choice of accommodations used, similarly, is influenced by the operators' knowledge of each destination. They are uniformly well-positioned, but set just back enough from major cultural areas to enjoy a serene atmosphere. "Yes, the accommodations we use are very special," agrees Geraldine, "we stay in some beautiful and comfortable havelis, which are old Raj forts and palaces."
After a day in the field, evenings will often be occupied with review sessions, or workshops on topics such as editing. Supportive feedback combined with expert guidance can result in rapid progression over just a few days.
When to go on a photography vacation in Rajasthan
Trips normally operate in November, aiming to coincide with the famous Pushkar camel fair. At this time of year you can expect sunny days with lower humidity and cool nights, and very comfortable temperatures ranging from 11°C to 28°C.