Ba'kelalan & the Lun Bawang community
It is not only special places but also people that we celebrate within the responsible tourism movement, and so it is striking to us that the indigenous Lun Bawang people of Sarawak translate their name literally as People of the Place. And what a place, their homelands a central pinnacle of the state, located right in the middle of the Central Highlands, and poised on the far northern borders like glistening ancient jewels in this state's crown.
There are in fact nine cultural gems where the Lun Bawang live, together known as Ba'kelalan, and where they maintain their rich culture and heritage, from hill rice growing to bamboo instrument making. This collection of nine villages is in the Meligan Highlands, which rise to 910m above sea level and is where, over the years, the Lun Bawang people have used the land creatively and wisely to keep their communities in good health.

Over the years, producing rice in paddy fields and, unusually, on hillsides, has been central to the Lun Bawang's livelihoods. Indeed, the rice harvest is the community's most full-on festival, and takes place in Lawas, Sarawak's northernmost town, during the first weekend of June. If you are in Sarawak at this time, head north, and revel with the Lun Bawang as bamboo instrument bands gather from all over the region, Lun Bawang food is everywhere and the all around 'giving' culture that is innate to the Lun Bawang people adds much sparkle to this Sarawak culture fest.

Pineapple growing is also a big feature at Long Semadoah, one of the nine villages, and highland salt production is also a thriving community endeavour. A more surprising aspect of Lun Bawang rural life that you will come across in Ba'kelalan is that of apple growing. Delightfully incongruous in a world of paddies and pickled fish, the Lun Bawang have successfully been growing apples here since the 1990s, with planting and harvesting adapted to the climate and terrain, including an artificial wintering when the leaves are removed.
The tourism scene in the Ba'kelalan region is also looking rosy, with homestays, birding and hiking trips slowly becoming part of the local economy. Their highlands remain very much untouched and so eco explorers have a wealth of mountain jungle to discover with expert local guides. Spiritual pilgrimages are a growing feature, for example, up to Mount Murud summit. Considered a sacred mountain by Lun Bawang people, now predominantly Christian, its peak is certainly heading towards the heavens at 2,423m. Local people congregate for an annual pilgrimage up to one of its plateaus, where there is a church camp that can sleep 1,500 people.
Our top trip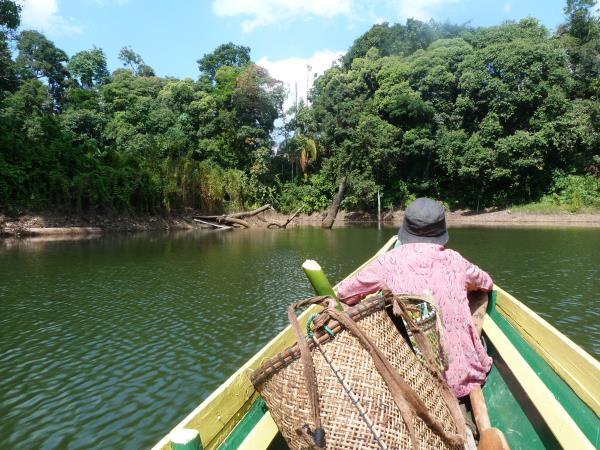 A unique experience in the untouched, beautiful Sarawak.
From
£

998
8 days
ex flights
Tailor made:
Everything is tweak-able, giving you the freedom to build a unique and personal trip for your chosen date. Upgrade your accommodation for all - or just part - of your trip, slow down the pace with few extra nights here and there or add a few more active adventures along the way
If you'd like to chat about Sarawak or need help finding a vacation to suit you we're very happy to help.

For everyday tourists, however, this is not a summit to be tackled alone, and tourists must always have an expert guide to lead the way. There are also responsible tourism adventure companies that will guide you up the challenging route to the summit, whether you are religious or not, or on the annual pilgrimage or not. Because for many, of course, nature is the only sort of nirvana they seek. Seek and they will find, with treats such as the endangered nepenthes murudensis pitcher plant, a carnivorous species that is endemic to the montane habitat of this particular summit.
Getting to Ba'kelalan is still somewhat of an adventure for travelers, who have several options. They can fly to Miri or Lawas and then do some fairly tough driving in definite four wheel drive terrain. Another way is via the cross-border route from Kota Kinabalu in Sabah to Lawas, followed by another 4WD foray. However, with the Lun Bawang on the case, ever committed to sharing and developing their ecotourism products and culture, they will no doubt manage to grow their necessary infrastructure with time. These guys can grow apples in the jungle after all. The Lun Bawang are a people who know what they are doing with their place, and they are doing it just beautifully.

Responsible Travel would like to thank the Sarawak tourist board for their sponsorship of this guide