Best time to visit Sarawak

The only thing warmer than Sarawak's year round climate is the unforced friendliness of its impossibly welcoming locals

A truly tropical state, the temperature in Sarawak hovers between 27-32°C year-round, with frequent rains replenishing its verdant jungles. Those here to hike the rainforest trails, or watch for wildlife should be aware that they will be doing so in hot weather with very little breeze. Apr-Sept are drier months of the year, and generally considered the best time to visit Sarawak, but showers can occur at any time. Thankfully, the whole of Sarawak is sheltered from the worst of SE Asia's weather.
November to January are the wettest and least settled months, this is not the best time to visit Sarawak unless you're happy to be wet, and particularly if you're planning to hike. Stef Studley, from our supplier Regent Vacations, shares her advice on when to visit Sarawak: "There are issues with accessing certain areas during the wet season (November, December, January and February), certainly to the Bako National Park, which isn't recommended then because it's tricky to get into on the boats." However, if you are on a budget, then the wetter months may well be the best time to visit Sarawak. As well as the likelihood of cheaper flights, accommodation and tours, its incredible National Parks will be much quieter, plus the unpredictable weather means you may just get lucky with a dry spell! Rainfall significantly decreases in Sarawak during March. Apart from during the wet monsoon season, there isn't really any other clear-cut seasons in Sarawak; it's tropical and hovers at around 27-30°C, which is lovely and warm and only adds to the jungle flavour! April, May, June, July, August and September are drier in Sarawak, but the entire region is sheltered from the worst of SE Asia's weather anyway. During October, Sarawak sees an increase in rainfall, particularly in the coastal areas of Kuching, Damai Beach and Bako National Park, but head south to Batang Ai and Gunung Mulu National Park and you'll find much drier climes. Rainy and with an ever-present possibility of thunderstorms, November is an exciting time in Sarawak if you don't mind a bit of rain – most thunderstorms occur in the late afternoon or evenings, giving you a spectacular show as they do! This time of year is temperamental, but crowds deplete massively and national parks, wildlife sanctuaries, jungle lodges and caves are even more appealing without the hordes. Keep an eye out for local vacations and festivals. Malaysian Borneo's harvest festival and Sarawak's Rainforest Music Festival are both held in July, and while this is a wonderful time to experience the region, be aware that you may need to book early to secure a room. It's Rhythm not rain that fills the rainforest in August, when the world renowned Rainforest World Music Festival takes over the Sarawak Cultural Village for three days when global artists unite under one big cultural canopy.
Our top trip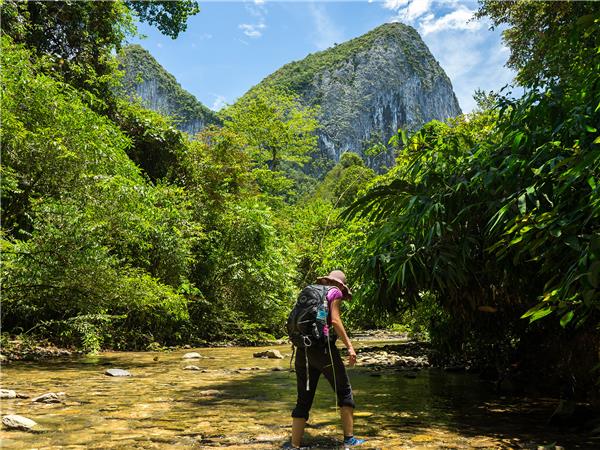 Encounter orangutans and hike through virgin rainforest
From
US $

1962

to

US $

2165
10 days
ex flights
Small group travel:
2024: 29 Feb, 14 Mar, 21 Mar, 28 Mar, 18 Apr, 25 Apr, 2 May, 30 May, 6 Jun, 13 Jun, 20 Jun, 27 Jun, 4 Jul, 7 Jul, 11 Jul, 18 Jul, 25 Jul, 1 Aug, 15 Aug, 22 Aug, 29 Aug, 5 Sep, 12 Sep, 19 Sep, 10 Oct, 17 Oct, 31 Oct, 14 Nov, 28 Nov
2025: 27 Feb, 6 Mar, 13 Mar, 20 Mar, 27 Mar, 3 Apr, 10 Apr, 17 Apr, 24 Apr, 1 May, 15 May, 22 May, 5 Jun, 12 Jun, 19 Jun, 26 Jun, 3 Jul, 10 Jul, 17 Jul, 24 Jul, 7 Aug, 14 Aug, 21 Aug, 26 Aug ...
If you'd like to chat about Sarawak or need help finding a vacation to suit you we're very happy to help.

What happens when in Sarawak
Harriet Whitmarsh, from our supplier The Great Traveler, shares her opinion on the best time to visit Sarawak: "The temperature in Sarawak is consistent and sits between 27 and 31 year-round, but November to February is the monsoon season, so rain is heavier, though the whole of Sarawak is subject to rainforest conditions, so it can rain at any given time. Outside of November and February, rain is a lot less frequent and it's a lot lighter, but there is a high chance that it will rain at some point during your stay and when it does it will be a proper tropical rainforest shower, but almost instantly the clouds seem to part, the sun comes out, and it's over as quick as it began. Apart from the monsoon, there isn't really another distinctive season and the whole length of Sarawak plus most of Borneo is predictable like that."


Festivals & events in Sarawak
Rainforest World Music Festival
.
This jungle boogie takes place every year during the first half of July. Gorge yourself on local Dayak delicacies, wander round welcoming longhouses, and dance til dawn to sets played by all sorts of world music artists including, of course, headline act 'Tarika', who are seriously big Malaysia way. At the end of the three-day shindig no one has slept and everyone is filthy: it could almost be Glasto.

Responsible Travel would like to thank the Sarawak tourist board for their sponsorship of this guide