If you wanted to visit every national park in Sarawak, you'd need 30 days. And that would give you only one day in each because in this, the largest state in Malaysian Borneo, there are actually 30 national parks, in an area of land the size of England. Where we have 10, by the way, although in fairness not all of Sarawak's national parks are open to the public. Those that are, however, open up one big biodiverse bonanza. An explosion of ecological exquisiteness. The secret is, of course, working out how to create the best pic'n'mix possible in what feels, to nature lovers, like being a child in the best sweetshop ever. So working from north to south, here are some of our favourites.
Gunung Mulu National Park
Gunung Mulu National Park leads the way in geological glories; a land of limestone where dramatic gorges, jagged peaks and one of the world's largest cave systems take center stage. Deer Cave became famous when David Attenborough featured the bat population there; up to three million bats fly out en masse at dusk in search of food, one of Sarawak's greatest wildlife experiences. The cave itself is 2km long and the largest such passage in the world, accessible along a boardwalk that takes you through tropical swamps, rainforest, and rugged limestone terrain all the way to this cave as well as the nearby Lang's Cave, where spotlit stalactites and stalagmites are stunning sights.
When hiking in Gunung Mulu, you will be guided by official national park guides along one of three main trails. The two- to three-day Pinnacles Summit Trail starts with a boat trip down the Melinau River, then leads along a trail to a campsite near its eponymous gorge and, after a night's rest, through ancient moss covered forest, up limestone rocky outcrops to a viewpoint from which you can take in the jagged jungle spikes that lend the trail its name. This is indeed the pinnacle of many a trekker's trip through Sarawak.
Other hikers may hone in on the Headhunters' Trail which follows the cheery historical route of the Kayan people who went on headhunting trips up the Melinau River, then dragged their longboats through thick forest to the Terikan River, all in search of heads of people in the Limbang area. Nowadays, thankfully, there is no headhunting, but there are plenty of longboat trips as well as overnight stays in a traditional longhouse; your head left happily intact.
Niah National Park
Heading further south, a lesser known but historically hugely important national park is Niah; excavations have revealed human remains here that date back 40,000 years. These are the oldest remains to have been found in Southeast Asia, and although many of the archaeological treasures are now in the Sarawak Museum, there is evidence of ancient life still to be seen throughout the park. Such as at the Painted Cave where wall paintings dating back to the Iron Age depict 'death ships' journeying into the afterlife. You can also see a replica of a 40,000 year old skull in the Niah Archaelogical Museum, located within the park.

Niah also protects a maze of limestone cave systems where guided rainforest walks lead you to their gigantic entrances. This is the moment when you are glad you packed raingear, from head to toe, as you explore this subterranean world of bats and swiflets, both of which exit the caves at dusk in what looks like choreographed clouds. There have been issues around the conservation of swiflets, however, their unique nests sought after for the Chinese delicacy: birds nest soup. Delicacies come at a high price, and have therefore provided a significant income to local people over the years. But things are changing, and the national park has put in place a conservation programme educating local people on this issue in Gua Perintah cave area.

Treks in this park can be a day long, or many people opt to delve deeper by spending a night locally in one of the community's welcoming long houses.
Our top Sarawak Vacation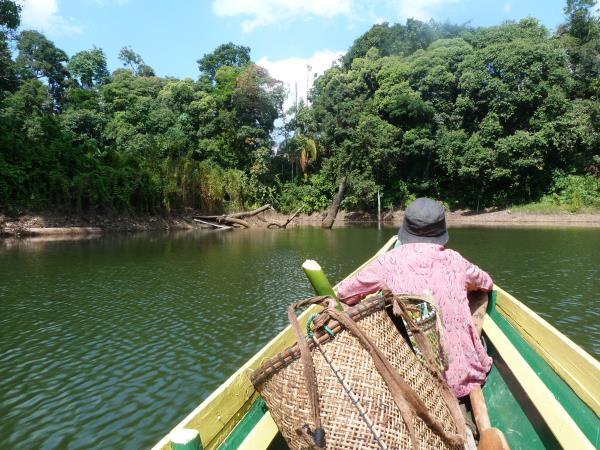 A unique experience in the untouched, beautiful Sarawak.
From
£

998
8 days
ex flights
Tailor made:
Everything is tweak-able, giving you the freedom to build a unique and personal trip for your chosen date. Upgrade your accommodation for all - or just part - of your trip, slow down the pace with few extra nights here and there or add a few more active adventures along the way
If you'd like to chat about Sarawak or need help finding a vacation to suit you we're very happy to help.

Gunung Gading National Park
If you love both jungle and elevation, then southwestern Sarawak's Gunung Gading is, in all senses of the word, uplifting. With four mountain peaks, trails most certainly ascend, but the natural wonders of waterfalls and mountain streams, where bathing is hard to resist, beckon keen hikers up to the jungle rich heights. Hiking is only possible in small groups led by national park guides, which will be coordinated by your tour operator. Unlike many of Sarawak's national parks, these trails are manageable in a daytrip, albeit starting early morning for one of the finest wake up workouts you could hope for. It is also easily accessible, just two hours' drive from Kuching.

Gunung Gading is most famous among fans of flora for its prolific Rafflesia, the largest flower in the world, yet one which remains a mystery to many. With no roots, leaves or stem, this red beauty grows on a vine, or tetrastigma, the buds taking nine months to open, and then may only last a few days. The good news, and again part of its mystery, is that there is no specific flowering season. However, rangers know the progress of each Rafflesia in the park, so you can be guided to them quite easily along board walks. The best time to see Rafflesia, however, tends to be during the wet season, between November and February.
Bako National Park
Gazetted in 1957, this is Sarawak's oldest national park and so its wildlife has been wonderfully preserved while at the same time being a little more habituated to human presence, meaning creatures can be more visible. And the park's most famous dwellers, the pendulum-faced proboscis monkeys are definitely worth seeing. Easily done too, because Bako is only 37km from the state's capital city, Kuching, stretching along the Muara Tebas peninsula , where eclectic habitats of marshy wetlands, littoral and rainforest provide homes not only to the proboscis monkey, but also long-tailed macaques, flying lemurs, pangolins, silvery latung (or langur), wild boar and deer. Popular walking trails include Telok Delima, Telok Paku and Telok Assam where dawn and dusk are the best time to catch sight of their lively residents.
Kubah National Park
You shouldn't miss Kubah National Park, and indeed nor can you miss it; its dramatic centerpiece of three peaks, Gunung Serapi, Gunung Selang and Gunung Sendok dominating the landscape just over 20km from Kuching. This giant, tri-peak limestone largesse is the first call to wilderness that visitors are tempted to follow, and follow they should. Walking trails take you into these slopes of the wider Serapi range, where streams have segued into splendid waterfalls as soft limestone has been eroded over the centuries. The rainforests are home to multiple species of palms, orchids and ferns, as well as wildlife ranging from bearded pigs to giant squirrels.
Miri-Sibuti Coral Reefs National Park
This is Sarawak's submarine beauty, with coral reefs stretching along the coast between Bintulu town and Miri. A much celebrated scuba location, there are close to 40 dive sites boasting over 800 species of hard and soft coral, and marine life from barracuda to batfish, sea horses to sharks all thriving among the giant clams, anenomes and Gorgonia sea fans, to name but a few. Diving conditions are perfect between late March and November, when visibility ranges between 10-30m. So, after exploring the tropical jungles up above, you can spend days immersing yourself in Sarawak's sub-aqua ones too.
Batang Ai National Park
Further east and south, Batang Ai is much celebrated in the world of responsible tourism because of its exemplary, community-led conservation by the Iban tribe.

They are the ancestral stewards of the park, but also of its most celebrated primate, the orangutan, which the Iban have conserved for over 400 years, as long as they have been known to inhabit these rainforests. The Iban consider it taboo to endanger or kill an orangutan, as they believe they carry the souls of their ancestors and loved ones who have passed on. They work in successful community partnerships with the park management authorities for the region's sustainability and, of course, to protect the precious primate of their homelands. Batang Ai is one of the leading spots where tourists can go to volunteer with orangutan conservation projects. Read more about Batang Ai in detail here.

Responsible Travel would like to thank the Sarawak tourist board for their sponsorship of this guide