Rajang river basin, Sarawak
In Sarawak, the Iban tribal people will often measure their longhouses by the number of doors. The single-storey structures, some dating back to the 18th century and usually standing on stilts, serve as shared living quarters for multiple families and also as communal spaces. Each family has its own door for entry, and some longhouses can have 30 or more doors. Another family arrived into the community? No problem, just add an extension, and another doorway.

These simple wooden homes offer Iban people a feeling of togetherness and security. A tour of one of them to learn about tribal life, perhaps an opportunity to sleep over, is a major highlight of Sarawak vacations. The remote Batang Ai longhouse, which can only be reached by boat, is a popular overnight visit from the capital, Kuching. Now, Kuching, and the national parks around it, tends to be the focus of most Sarawak vacations, and you're already pretty far off the beaten tourism track when you get to Malaysian Borneo. But just a six-hour drive (or five-hour ferry) northeast of Kuching brings you to Sibu, gateway to the Rajang river basin, with its many small riverine towns, and an area that is both culturally distinct and far less-visited. The Ulu Sarikei longhouse here, an 85km drive from Sibu, is much more accessible than those that require a river transfer, and offers an engaging experience staying on a rural farm that is significantly different to what you'll find at the more well-known longhouses further west.
Sibu
Set 60km inland from the South China Sea, on a bend of the Rajang River (Batang Rajang), Sibu was settled by
James Brooke
in 1862 and, not long after, large numbers of Chinese migrants were invited to come from Fuzhou to develop farmland. In fact, Sibu is known as the 'Swan City' because it reminded these early settlers of the Swan River in Fuzhou.
Sibu, about a third the size of Kuching, has grown plump with trade along the busy working river, and is also home to significant Malay and Iban populations. Here, you'll find the tallest building in Sarawak, and the largest indoor market in all Malaysia. This latter features on the Sibu Heritage Trail, along with the 19th-century Al-Qadim mosque and the Lau King Howe Hospital Memorial Museum. Guided tours are a good way to get your bearings. The seven-storey Guanyin Pagoda is worth a visit too – climb to the top for lovely waterfront views. There's also an esplanade walkway next to the muddy river that offers romantic views of fishing boats and timber barges plying their trade.
If you're arriving in Sibu before heading into the interior then it's worth spending a while here, if only to taste some of the best street food in Sarawak at the
night market
. Due to the proximity to the coast, the seafood is predictably excellent and it's often barbecued, alongside pork and chicken. Satay food is a specialty in Sibu, and you'll also find cakes, dumplings and pancakes to finish things off.
July sees the town transformed by the 10-day Borneo Cultural Festival, with musical and dance performances from the Chinese, Iban and Malay communities, a cultural village, demonstrations of Chinese calligraphy and dragon dancing, and lanterns taking flight. This is also the warmest month of the year, when it can reach 33°C. But it's still a very comfortable 22°C in December and January.
Mukah
160km north of Sibu, Mukah is the heartland of the Melanau (river dwelling) people. It's a two-hour drive, or you can get most of the way by speedboat via Dalat, passing through the only manmade canal in Sarawak, where you'll see sedate scenes of kampong (village) life on both banks.
Much of Melanau cuisine centers on sago, a palm starch not dissimilar to tapioca, which is used to make a range of delicacies ranging from porridge to fish crackers and stews of coconut, spices and anchovies. Those with a more adventurous palate might also try sago grubs, which are steamed, grilled or fried, and sometimes eaten raw. A visit to a sago processing factory is a common feature of itineraries in the Rajang river basin. Another is a guided tour of a Melanau kampong to see the burial poles, which were historical totems used when a member of tribal nobility had died, and also for rather gruesome human sacrifices.
The
Lamin Dana
, located just inland, showcases Melanau cultural heritage. Through homestays and by the sale of traditional arts and crafts it helps support many families. Visiting here is a chance to pick up some original souvenirs and also to learn about Melanau 'tall houses', as opposed to longhouses. They are rarely built or inhabited today, but have an interesting story behind them. Because coastal villages would be vulnerable to pirates and intertribal attacks, the Melanau chose to build upwards, using stilts for protection, as well as better ventilation and hygiene. Unmarried men slept on the lower floors, married couples and unmarried women above them.
In April the Kaul Festival takes place along the coast, the most significant event on the Melanau calendar. As well as marking the end of the monsoon season, it's used to appease the spirits of sea, land and forest in the hope of good harvests. The most impressive event is the tibow, a giant bamboo swing that young men of the villages leap onto one by one until they fall into a heap.
Our top Sarawak Vacation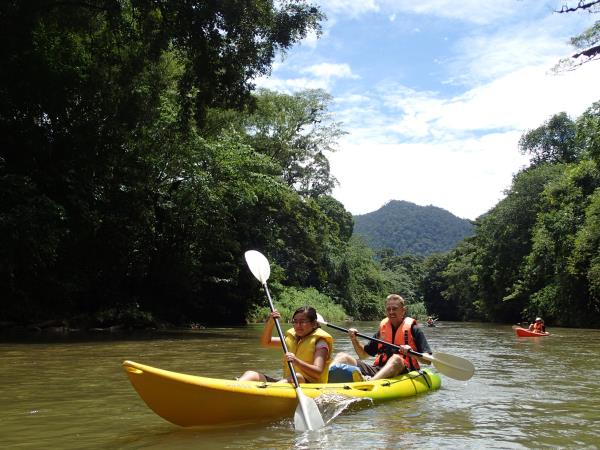 An action-packed vacation got the whole family to enjoy!
From
£

995
9 days
ex flights
Tailor made:
Everything is tweak-able, giving you the freedom to build a unique and personal trip for your chosen date. Upgrade your accommodation for all - or just part - of your trip, slow down the pace with few extra nights here and there or add a few more active adventures along the way.
If you'd like to chat about Sarawak or need help finding a vacation to suit you we're very happy to help.

Ulu Sarikei longhouse
85km and an easy drive from Sibu, the
Iban longhouse at Ulu Sarikei
is one of the most popular visits in the Rajang river basin. Accommodating some 300 people making up 45 families, the longhouse is uniquely decorated with 'tinsel' made up of recycled plastic waste. The amount of it on display is a stark reminder of the need to minimise plastic when traveling to remote places such as this, where there are few ways of dealing with it effectively.
Staying here overnight, you can learn how to tap rubber (5am starts required!), or farm pepper, and enjoy a morning bath in the river. You might also spend a day by a waterfall, where Iban head hunters are said to have sharpened their blades on the rocks. Picnics are provided, with barbecued bamboo chicken a favourite dish.

Responsible Travel would like to thank the Sarawak tourist board for their sponsorship of this guide