Things to see & do in Kuching, Sarawak
The first thing you're probably going to notice about Kuching is the amazing number of cat statues everywhere you look. Indeed, towards the end of the 10km drive in from the airport you'll pass a giant white one, five metres tall, with its paw outstretched. The reason is that Kuching means 'cat' in the Malay language, and there was once a belief that that's how the city got its name. While there are more likely explanations, cats have become the symbol of the city – there's even a museum dedicated to them. If you find that little nugget of knowledge interesting then keep reading, because it's just the tip of the iceberg when it comes to this unique place.

Kuching, the state capital of Sarawak, Malaysia, has a wonderfully romantic history. Its modern origins begin with the Brooke dynasty, the White Rajahs, who over the course of a century gradually expanded the kingdom of Sarawak while protecting the indigenous tribes and their ways of life from the worst excesses of capitalism. Today the legacy of the Brookes can be explored through many well-preserved architectural landmarks across Kuching, including the Old Courthouse, Fort Margherita and the stunning Astana palace.
The city is compact and easily walkable, with narrow, bustling streets where flamboyant Chinese temples brush up against grand mosques, traditional wooden houses on stilts, colonial-era architecture and shops selling a myriad of exotic curios. There are precious few high rise buildings spoiling the skyline, and a multiracial population allows for a distinctive, diverse range of cultures with a welcoming approach to visitors.
Divided into north and south by the sinuous Sarawak River, Kuching is ideally located for exploring both the coast and the interior with its ancient rainforests – no doubt part of the reason why the ambitious adventurer James Brooke decided to base himself here. Ferries and traditional wooden tambangs transport you across the river, and a cruise is one of the best ways to orient yourself on arrival.
The Waterfront
Kuching has a sterling reputation as a foodie destination, and the restored waterfront area on the river's south bank is without doubt the best place in the city to whet your appetite. The esplanade, around a kilometre long, is lined with food stalls serving Malaysian, Chinese and Indian delicacies, while several historic buildings such as the offices of the Sarawak Steamship Company have been elegantly incorporated into the renovation.
Heritage trail
There are Kuching heritage trails on both banks of the river taking you around many of the city's key landmarks. On the north bank, easily reached by wooden tambang, you can explore tranquil kampongs (villages), and the scenic gardens of the Astana, a palace built by the second of the Brooke rajahs for his wife and which now acts as the official governor's residence. Nearby, colonial-era Fort Margherita was constructed to defend the river from pirate attacks, and now houses the renowned Brooke Gallery which showcases a wealth of historic documents and artefacts from Sarawak in the mid 19th century onwards. Notable sights on the south bank include the Brooke Memorial, the Round Tower, and the Kuching Mosque, best seen at sunset, when the light gleams from its golden cupolas.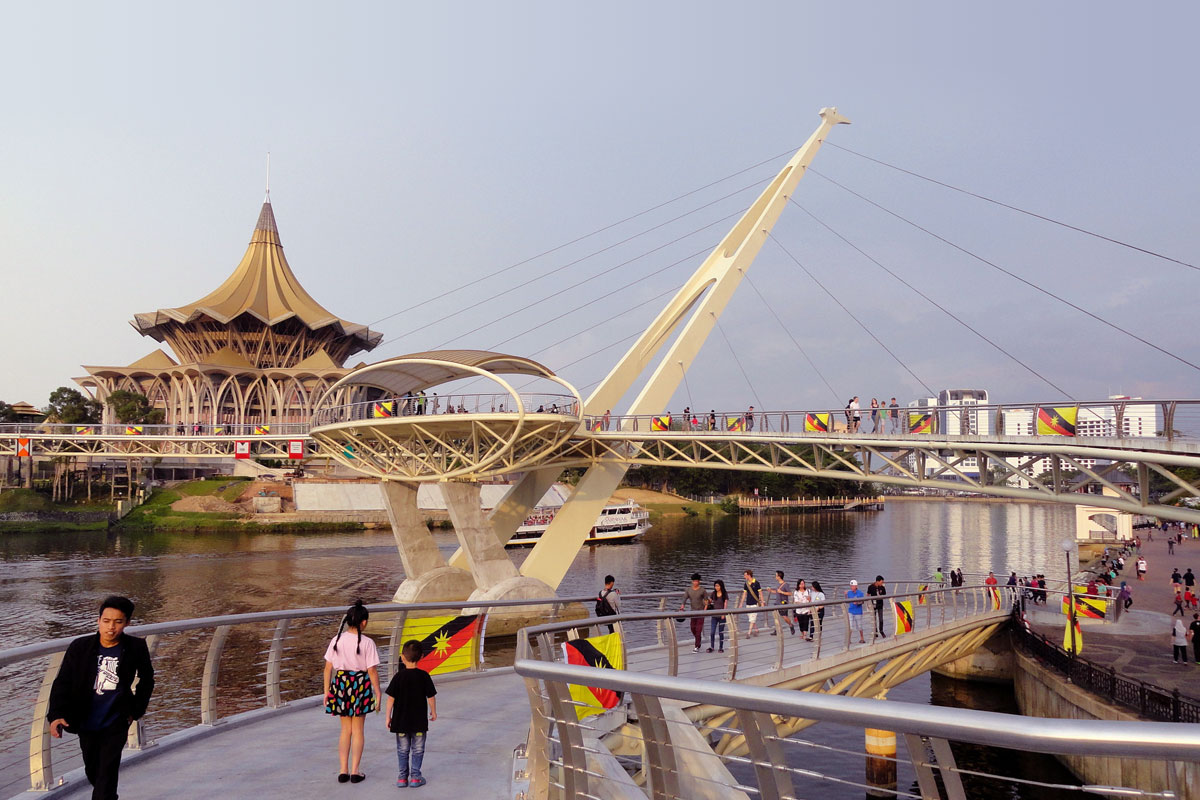 Darul Hana Pedestrian Bridge
With a distinctive S-shaped design inspired by the Sarawak River, this is the only pedestrian river connecting north and south Kuching. The city's boatmen worried about a loss of trade when it was first mooted, but the S-shape means walking across takes longer than going by tambang, and the bridge is more of a tourist attraction. It's best observed by night, when the bridge is illuminated beautifully by LED bulbs.
Chinatown
Chinese migration to Sarawak was encouraged by Charles Brooke, the second White Rajah, in the 1870s, to boost the agricultural sector. The backstreets of Kuching's Chinatown are an enthralling labyrinth of temples guarded by dragons, the aroma of incense drifting from their doors; coffee shops, busy handicraft workshops, and irresistible streetfood stalls. Parallel to the waterfront is the Main Bazaar, not actually a bazaar but the oldest street in Kuching, where you'll see some lovely 19th century Chinese townhouses as well as many shops selling antiques and handicrafts. The Chinese History Museum tracing immigration to Kuching and Sarawak in the Brooke era is a fascinating place to while away a few hours too.
Our top Sarawak Vacation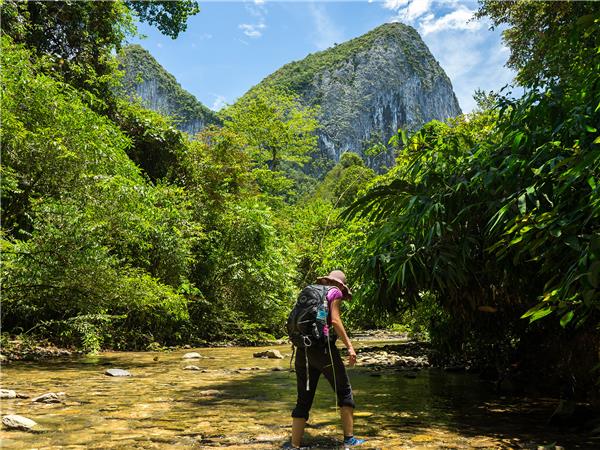 Encounter orangutans and hike through virgin rainforest
From
US $

1930

to

US $

2250
10 days
ex flights
Small group travel:
2023: 6 Apr, 13 Apr, 20 Apr, 15 Jun, 22 Jun, 29 Jun, 4 Jul, 6 Jul, 13 Jul, 20 Jul, 27 Jul, 3 Aug, 10 Aug, 17 Aug, 24 Aug, 31 Aug, 7 Sep, 14 Sep, 21 Sep, 5 Oct, 19 Oct, 26 Oct, 16 Nov
2024: 29 Feb, 14 Mar, 21 Mar, 28 Mar, 4 Apr, 11 Apr, 18 Apr, 25 Apr, 2 May, 16 May, 30 May, 6 Jun, 13 Jun, 20 Jun, 27 Jun, 4 Jul, 7 Jul, 11 Jul, 18 Jul, 25 Jul, 1 Aug, 15 Aug, 22 Aug, 29 Aug, 5 Sep, 19 Sep, 26 Sep, 10 Oct, 17 Oct, 31 Oct ...
If you'd like to chat about Sarawak or need help finding a vacation to suit you we're very happy to help.

Meet the orangutans
Semenggoh Nature Reserve, just a short drive from Kuching and a very popular daytrip, is home to a thriving population of orangutans that, orphaned or rescued from captivity, have been taught to successfully survive in the wild. They have total freedom of movement, but they've also developed a liking for the easy food supply available to them whenever they return to the center. Morning and afternoon feeding sessions are the best time to see these amazing orange-haired apes up-close. Orangutans are only found in the wild in Indonesia and Borneo, and they are critically endangered, so by visiting the center you are directly helping in their conservation.
Kuching Wetlands National Park
An attractive landscape of mangroves threaded with water channels, the Kuching Wetlands National Park, 15km from Kuching itself, has to be explored by boat. The complex ecosystems at work here support a broad diversity of wildlife, including Irrawaddy dolphins, crocodiles, fireflies, several species of monkeys including the nosy proboscis monkey, and many species of bird.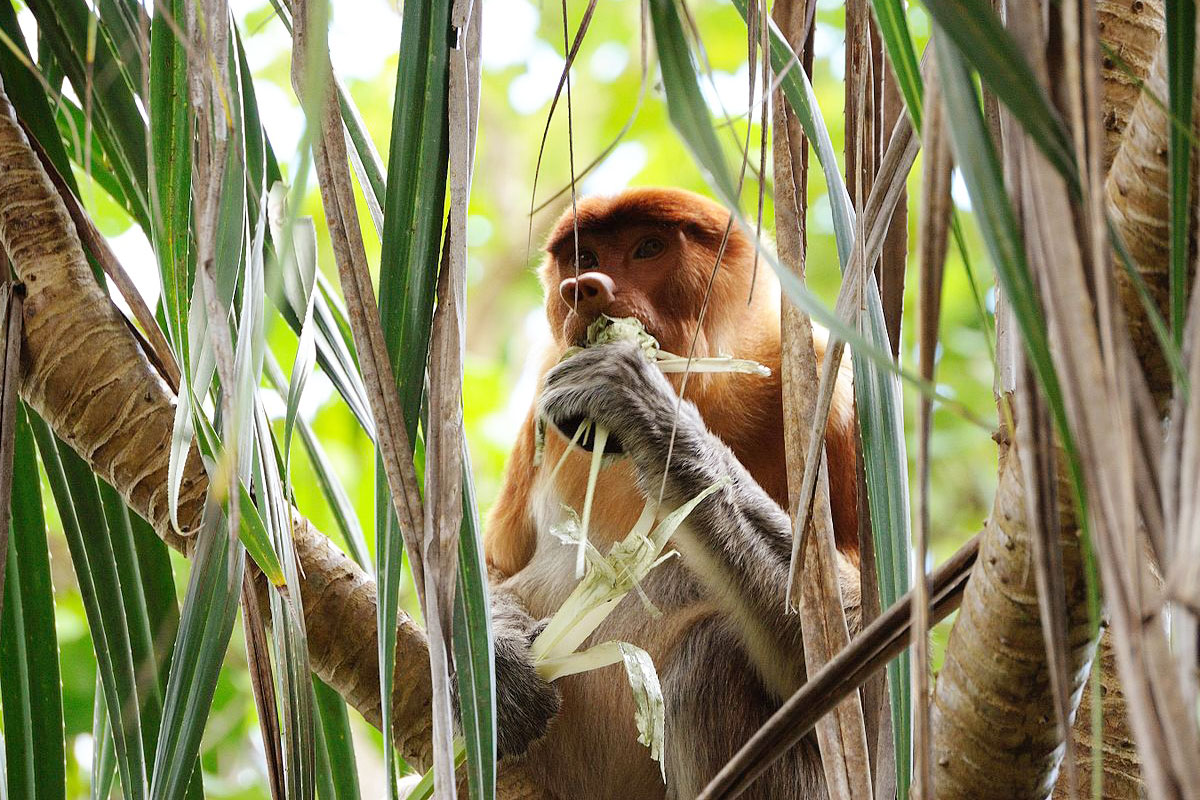 Bako National Park
Sarawak's oldest national park is reached by boat, but traversed on foot, with several excellent walking trails taking you through habitats such as sandy beaches studded with towering sea stacks, rolling hills, mangrove dramatic cliffs, dense jungle and mangrove swamps. There is a significant number of proboscis monkeys here – not difficult to identify thanks to their large noses, as well as macaques and Bornean bearded pigs. It's impossible to say which of Sarawak's many national parks and nature reserves is the most outstandingly beautiful, but Bako must surely be in the running, and it's nearness to Kuching makes it a must-visit.
Sarawak Museum
Set within an impressive building designed to resemble a Normandy townhouse, the Sarawak Museum boasts a superb collections of ethnographic artefacts including models of boats and longhouses from the various ethnic groups in the state, traditional musical instruments, and examples of traps used for hunting and fishing. The museum is currently closed, replaced by the
Urang Sarawak exhibition
in the Sarawak Art Museum, but a new building is scheduled to house the collection across the road from 2020, and will be one of the largest in Southeast Asia.

Responsible Travel would like to thank the Sarawak tourist board for their sponsorship of this guide