Weather advice
Harriet Whitmarsh, from our supplier, The Great Projects shares her tips on coping with rain showers: "The weather in Sarawak is predictable in terms of temperature, but it can be unpredictable in terms of rainfall – the likelihood is that you will experience a short, sharp shower at some point during your visit. You can easily take cover in the main towns, as the craft shops and stalls there are covered, but it's also handy to pack a small umbrella because when the rain does come down it comes down heavily. It's handy to have a good waterproof jacket with a hood for rainforest and national park trails and I'd also recommend taking a cover for your backpack. I always take small sealable plastic bags to put my phone and money in because if it rains when you're trekking your backpack can get wet in places even with a cover on"
Responsible souvenir advice
Stef Studley, from our supplier, Regent Vacations shares her advice on how to buy souvenirs responsibly: "Avoid buying any animal products that are obviously endangered – things like turtle shells and crocodile skins. There is bit of a hidden market for this type of 'souvenir' in Sarawak and there's a big Chinese population, so traditional Chinese medicine has entered the conscience of the State. If tourists show an interest in these products and are willing to pay money for them, the demand will be met with supply, which is never a good thing where animals – endangered or not – are concerned. Stick to buying local handicrafts like woven baskets and bracelets."
Food advice
Harriet Whitmarsh, from our supplier, The Great Projects shares her tips on eating in Sarawak: "The most popular food in Sarawak is 'roti canai' – an Indian flatbread served with daal, different kinds of curries or mixed sambal with lots of chili. The defining flavours are oyster sauce, sesame and soy and they eat a lot of laksa too, which is a broth is made with a paste of sambal, sour tamarind, galangal, lemongrass, herbs and spices, chicken stock and coconut milk. My favourite thing to eat in Sarawak is what we call 'morning glory' here and that they call 'kangkong'; it's a leafy green fern and Kuching is the absolute best place to eat it. They cook it in sesame and soy and it's delicious - you can eat it as a dish in itself easily and things like bean curd are readily available too, so it's very easy to be a vegetarian."
Itinerary advice
Stef Studley, from our supplier Regent Vacations shares her advice on choosing the right Sarawak itinerary: "Trekking between lodges in the Batang Ai National Park to help with the orangutan nesting research is a very interesting itinerary for people that want to be a bit more involved with Sarawak's wildlife, but the accommodation is basic. The other thing that not everyone knows about is staying overnight in Bako National Park; historically, the problem has been that the accommodation in Bako was beyond terrible, but they've just built some new accommodation that is a lot better. If you stay overnight, you get so much more time because you don't have to work with the sea tides to get in and out of the park and you can do early morning and night walks – there is so much wildlife to see and it's all much more active at dawn and dusk."
Our top Sarawak Vacation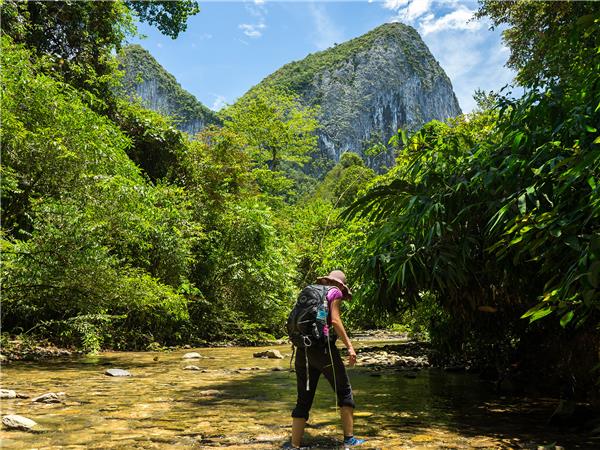 Encounter orangutans and hike through virgin rainforest
From
US $

1748

to

US $

2290
10 days
ex flights
Small group travel:
2023: 15 Jun, 22 Jun, 29 Jun, 6 Jul, 13 Jul, 20 Jul, 27 Jul, 3 Aug, 10 Aug, 17 Aug, 24 Aug, 31 Aug, 7 Sep, 14 Sep, 21 Sep, 5 Oct, 19 Oct, 26 Oct, 16 Nov
2024: 29 Feb, 14 Mar, 21 Mar, 28 Mar, 4 Apr, 11 Apr, 18 Apr, 25 Apr, 2 May, 16 May, 30 May, 6 Jun, 13 Jun, 20 Jun, 27 Jun, 4 Jul, 7 Jul, 11 Jul, 18 Jul, 25 Jul, 1 Aug, 15 Aug, 22 Aug, 29 Aug, 5 Sep, 19 Sep, 26 Sep, 10 Oct, 17 Oct, 31 Oct, 14 Nov, 28 Nov
If you'd like to chat about Sarawak or need help finding a vacation to suit you we're very happy to help.

Health & safety in Sarawak
HEALTH
Several vaccinations are advised before traveling to Sarawak; consult your GP or travel clinic six to eight weeks before departure to ensure you have time to complete all the series of injections.
Malaria is also present, so you will need to bring anti-malarial medication. Wearing long sleeves and trousers is also advised, as well as insect repellent. This also protects against dengue fever. Remember, malaria can develop up to a year after exposure, so keep an eye out for any symptoms.
Citronella is the favoured repellent for many travelers. However, this should be avoided as it attracts hornets – giant wasps with an extraordinarily painful sting.
Tap water is unsafe to drink also be wary of ice in drinks and unpeeled fruit and vegetables.
Avoid eating bushmeat such as monkeys or bats as these are often carriers of diseases – as well as often being inadvisable for environmental reasons.
Leeches are present in the lowland jungles. These are more unpleasant than dangerous, but you can buy 'leech socks', which are effective at stopping them, and keep your trousers tucked into your socks or boots.
Sarawak is hot and humid, especially in the jungle, so keep well hydrated at all times.
It's advisable to bring a basic first aid kit and medication for sickness and diarrhea.
If you need to be hospitalised, travel to the mainland may be necessary, so be sure you have comprehensive travel insurance that covers medical evacuation.
Forest fires in neighbouring Indonesian Borneo cause serious air pollution which is getting more and more dangerous each year; 2015's fires were described as a "crime against humanity". Travelers with respiratory problems should exercise precautions, and all travelers are advised to check with their vacation company on the severity of the smog in Sarawak - and ask if face masks are available when in the worst affected areas.
Visit the CDC website for up to date health information on Malaysia
SAFETY
Sarawak in general is a very safe destination with relatively low crime rates. Tourists should exercise the usual precautions – not walking alone at night, not leaving valuables such as cameras and smart phones on display, using registered taxis, etc. There have been cases of bag snatching from roadsides when walking around towns and cities keep your bag on the opposite side of your body to the road and keep your passport and money in a concealed belt. Traffic accidents are not uncommon.Only ever travel with your trusted tour guide and group. Malaysia is largely conservative, Muslim country, and you should dress modestly, particularly in rural areas,to avoid causing offence. Homosexuality is not widely accepted and homosexual acts are illegal in Malaysia, so same-sex couples are advised to act discretely in public.
Sarawak tips from our travelers
At Responsible Travel, we think the best people to advise our travelers are often... other travelers. They always return from our tours with packing tips, weather reports, ideas about what to do - and opinions about what not to.

We have selected some of the most useful Sarawak travel tips that our guests have provided over the years to help you make the very most of your vacation - and the space inside your suitcase.

Listen to the guides for guidance and information about the animals. Respect the fact that you're a guest in the home of a variety of wild animals

The infrastructure and facilities are a lot more westernised than I was expecting, don't go too overboard on packing lots of thing you don't think you can buy. - Kirsty Howland

Take an open mind and enjoy every moment. - Michelle Blois

Take lots of memory for your camera as there will be lots of things to photograph. - Antony Stanton

Be prepared to dress for all weathers from heavy rain to bright sunshine. - Claire Onody

Talk to the local people - they have so much passion and many stories to tell.

To get the best out of everything it's important to be prompt and prepared. The organisation was very good, so put any cares or concerns to one side and sit back and enjoy. - Jonathan Reed-Lethbridge

It says you'll get an adventure and you do. Don't expect your home comforts here. - Penny Earle

Be as mentally, physically and emotionally healthy as you can so you can put 100% effort into your adventure - it is priceless. - Sherryn Page

Many animals are high up and difficult to see. We knew exactly what we were going to and thought the experience was unbelievable, but some people hadn't expected this and were disappointed. - Gillian Slater

Responsible Travel would like to thank the Sarawak tourist board for their sponsorship of this guide