Nelson Mandela & the Rainbow Nation
Often referred to by his Xhosa clan name, Madiba, Nelson Mandela is remembered with deep respect within South Africa, where he is often described as the Father of the Nation. His 27 long years in prison for opposing apartheid and his presidency of the first multiracial government in South Africa, after free elections in 1994, are the striking and exceptional chapters of his long life. There was more to this man, though. Before the global statesman figure of later life, was the young lawyer who became a political activist, the anti apartheid revolutionary and the communist sympathiser.
Our South Africa Vacations
Mandela trained as a lawyer and, while working in Johannesburg after qualifying, he became involved in African nationalist politics, joining the ANC in 1943 and co-founding its Youth League in 1944. When apartheid was established in 1948 by the white-only government, the ANC committed themselves to overthrowing it. Mandela's course was set.

During the 1950s, Mandela was arrested many times for seditious activities and was even unsuccessfully prosecuted for treason in 1956. He was initially committed to non violent protest, but he was influenced by Marxism and, in secret, joined the banned South African Communist Party. He went on to found the militant Umkhonto we Sizwe, the armed wing of the ANC, in 1961 and led a sabotage campaign against the government. "When a man is denied the right to live the life he believes in, he has no choice but become an outlaw," Mandela said. In 1962 he was arrested and sentenced to life imprisonment for conspiring to overthrow the state.
Mandela went on to serve 27 years in prison, 18 of them on Robben Island off Cape Town. During the 1980s he gained worldwide fame and attention, as the embodiment of the anti-apartheid struggle in South Africa and, globally, as an icon for anyone who believed in social equality. (The insanely catchy Free Nelson Mandela by The Special AKA came out in 1984 – bet you're humming it to yourself now.) Global interest in him and his incarceration, and the fear of racial civil war in South Africa lead to President FW de Klerk releasing him from prison in 1990. This writer can still remember watching the emotional footage of him walking slowly towards cheering crowds, his then wife Winnie at his side, on a tiny TV in a student flat in Bath, UK.

Mandela then worked with de Klerk to end apartheid, which resulted in the 1994 election, a multi racial contest that saw victory for the ANC and Mandela elected as the first black president of South Africa. During his presidency, Mandela placed emphasis on reconciliation between the country's social groups and dismantling apartheid. He said: "As I walked out the door toward the gate that would lead to my freedom, I knew if I didn't leave my hatred and bitterness behind, I'd still be in prison." He declined a second presidential term, and in 1999 was succeeded by his deputy, Thabo Mbeki.
By the time of his death in 2013, aged 95, Mandela was a much venerated figure both internationally and in South Africa. He was and still is regarded as an icon of social equality by many, the founding father of South Africa and a modern democratic hero. Throughout his later life he was garlanded with honours, including the Nobel Peace Prize, and his name has become synonymous with social justice, bequeathed to everything from housing estates to student unions bars.

Of course, in reality, his legacy isn't entirely simple. For much of his life he was viewed as a dangerous communist terrorist by the right. Margaret Thatcher called the ANC "a typical terrorist organisation". Once president, the far left saw him as a peacemaker too bent on negotiating with the architects of apartheid. Some have even argued that his faintly regal demeanor, and the respect he got for representing his nation on his own, was a tiny bit undemocratic, too.

It's perhaps inevitable that the myth of Mandela obscured the man, and there's not complete consensus on his achievements, but he remains one of the 21st centuries most enigmatic public figures. Let's let him have the last word: "What counts is not the mere fact that we have lived. It is what difference we have made to the lives of others that will determine the significance of the life we lead."
Our top South Africa Vacation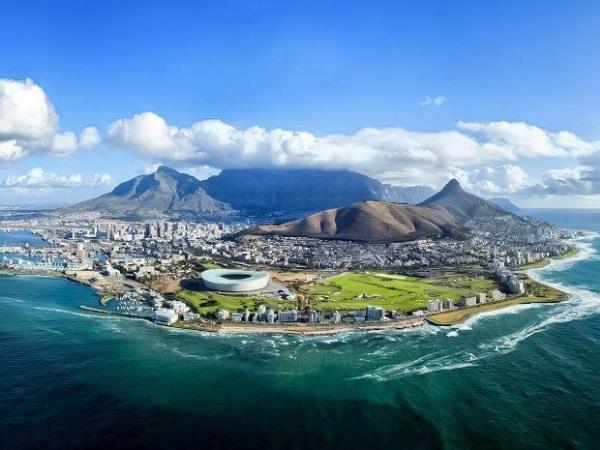 Africa and the Indian Ocean. Cape Town, Safari and Mauritius
From
£

4250
16 days
inc UK flights
Tailor made:
This trip can be tailor made throughout the year to suit your requirements
If you'd like to chat about South Africa or need help finding a vacation to suit you we're very happy to help.

It was Archbishop Desmond Tutu who invented the notion of the Rainbow Nation, which he used to describe post-apartheid South Africa, after the first democratic, multi racial election of 1994. Nelson Mandela then picked up on this colourful image, when he said during his very first month in office: "Each of us is as intimately attached to the soil of this beautiful country as are the famous jacaranda trees of Pretoria and the mimosa trees of the bushveld – a rainbow nation at peace with itself and the world."

It's a powerful image and when first deployed struck a note of optimism many in South Africa were hungry for. Since then, the notion of 'rainbowism' has been much debated. Does the segregation, racism, poverty and crime that still dogs South Africa get 'rainbow washed' by this pervasive image? Does the myth of the rainbow nation actually prevent real progress and reconciliation; a candy coloured national identity disseminated from top down, standing in the way of true national unity?
Certainly anyone traveling to South Africa will be struck by the poverty and deeply entrenched racism that still exists there. It's easy to travel optimistically, full of the Rainbow Nation myth, only to arrive and discover a very different reality. There may be a black president, but on the surface it could appear that Apartheid has not ended at all. Many predict full integration of blacks and whites is at least a generation away. Everywhere you go, whites are customers and blacks are serving. Whites are driving, blacks are walking. You'll find slums on one side of the road, right opposite glossy shopping malls and gated mansions. You'll see black people living in tiny tents on motorway hard shoulders, as white people – and, yes, tourists – cruise past in 4x4s.

The slums on Cape Flats outside affluent Cape Town stretch for mile upon mile, and when you fly into Cape Town and make for the city center, this is what you'll be driving through – perhaps not what you expected for your first taste of South Africa. This is not to say you shouldn't come, but do expect to find a decidedly muddied version of the Rainbow Nation; one that is rarely spoken about on tour itineraries that, unsurprisingly, focus on South Africa's wildlife and natural beauty and not the enduring issue of racial discrimination.