Any trip to Thailand is going to involve food in one way or another. Our top ten Thai dishes feature the all time classics as well as plenty of lesser-known local favourites to tempt your traveling taste buds and help you sort out your tom yam from your som tum – yum yum! Want to know where in Thailand to try tom yam soup and sweet green curries? Fancy finding out how to translate the Thai words for 'stir-fried', 'salad', and 'spicy'? We're here to put you on the path to culinary clarification.
Kaeng khiao wan
Thai sweet green curries have been around for over a century and are commonly thought to have originated from the ancient Ayutthaya heartland in central Thailand. Chicken or fish or tofu combine with green chillies, lemongrass, garlic and coconut cream to form a creamy pea green soup to be served in a bowl accompanied by rice or rotis. 'Kaeng' = soup/curry; 'khiao' = green; 'wan' = sweet.

Where to try: head to Kanchanaburi in west-central Thailand where a cooler climate provides ideal conditions to enjoy a Thai green curry on the banks of the Khwae Noi.
Tom yam soup
Although a steaming bowl of soup can be the last thing that springs to mind in hot weather, there's something about slurping a tom yam soup in Thailand that's totally cool. 'Tom' = the cooking/boiling technique and 'yam' = the herbs and veggies used within a traditional sour and spicy Thai salad. Ingredients include stir-fried veggies and herbs, prawns or chicken or pork, lime juice, lemongrass, fish sauce and red chillies as well as nam prik pao base paste made from chilli, garlic and shallots.

Where to try: Ayutthaya sits on an island at the confluence of three rivers: Chao Phraya, Lopburi and Pa Sak – find a floating restaurant and watch the world float by over a bowl of tom yam soup.
Kaeng phet
This is the red variation of kaeng khiao wan although the translation is slightly deceiving as 'phet' actually means 'spicy' which would indicate that it's hotter than a green curry, which it is not. Grinding red chillies, garlic, dried prawns, shallots, coriander and galangal (a bit like root ginger), and various other herbs and spices, to a paste, provides the base for kaeng phet. Then add the meat or fish or tofu, coconut cream and, perhaps, pumpkin or aubergine, to create a classic Thai red curry.

Where to try: ease your taste buds into Thailand by trying kaeng phet on the streets of Bangkok.
Poh pia tod
Shallow-fried crispy vegetable and meat rolls are a staple street food snack to try in Thailand, especially if you're on the go. However, a far healthier alternative are spring rolls that forgo the frying process in favour of a squidgy and sticky rice paper exterior. Sweet and savoury dipping sauces, such as peanut or soy, give both crispy rolls and spring rolls a bit more bite, and rolling your own is the best way to pack your poh pia tod until it bursts.

Where to try: tuck into a plate of homemade spring rolls and sweet and sour dipping sauce at a beachside restaurant in Hua Hin. Be prepared to order another, and another, and another.
Yam nua
This classic Thai dish is known as a salad (mix) – 'yam' – although don't expect your usual western arrangement of lettuce, toms and cucumbers. Beef – 'nua' – is the main meat of a yam nua and will usually be charcoal-grilled and spiced in strips before being added to a blend of salty, sour and sweet herbs and spices and crunchy veggies. Chillies, lime juice, lemongrass, fish sauce, spring onions and cucumbers are all involved in a yam nua alongside rice and coriander garnish to be served cold.

Where to try: crunch into a yam nua on a floating raft house on Cheow Lan Lake in Khao Sok National Park.
Gai pad med mamuang himaphan
It may sound like a mouthful but this Thai cashew chicken dish is simplicity itself. Although not originally from Thailand – it's migrated south from Sichuan in China – gai pad med: 'gai' = chicken, 'pad' = stir-fried, 'med mamuang himmaphan' = cashew nut, has been adopted by Thai people as real comfort food and is certainly best tried in a Thai family home to taste the love and associated nostalgia. Chillies, spring onions, garlic, chicken and cashew nuts marinated in sweet and sour sauces – simple yet so effective.

Where to try: chomp into a gai pad med mamuang himaphan in a riverside restaurant in the Thai border town of Chiang Khong before crossing into Laos via the Mekong River.
Our Thailand Vacations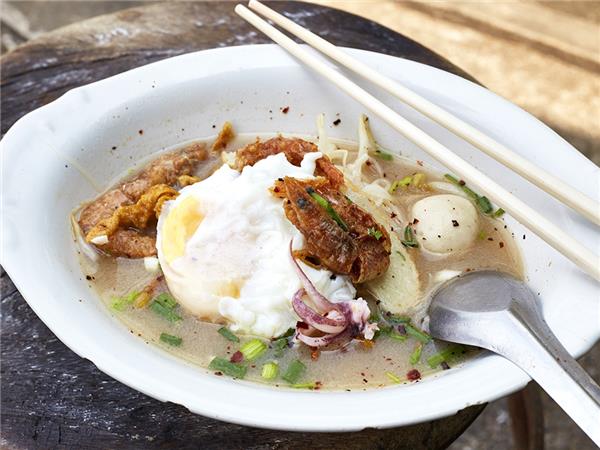 Experience the freshness, tanginess and spiciness of Thailand
From
US $

1186

to

US $

1810
8 days
ex flights
If you'd like to chat about Thailand or need help finding a vacation to suit you we're very happy to help.

Som Tum
Although unripe papaya may not at first appear to be an essential ingredient to add to a dish on our Thai top ten, once you've tucked into a som tum (green papaya) salad you'll be hard pushed to find anything else that offers such a quintessential taste of Thailand. Sour lime juice, hot chillies, sweet palm sugar and the salty savoury combo of fish sauce turn a som tum salad into Thailand in one bite.

Where to try: som tum green papaya salad is thought to have originated from Laos so get as close to the border as possible, Chiang Rai for instance, for your best chance of an authentic som tum – yum yum!
Massaman Curry
This rich and rather mild, by Thai standards, curry, has made its way from being a Muslim mainstay to an international favourite and chicken is still recommended as the most suitable meat of choice when it comes to making a Massaman. Coconut milk, cashews, potatoes, cinnamon, cardamom and star anise help to create a flavoursome and fragrant dish that's traditionally accompanied with rice.

Where to try: ancient Islamic origins in Ayutthaya encourage travelers to try a Massaman in central Thailand although, personally, I discovered it on Koh Samui and it's still one of my all time favourites.
Pad Thai
You can't move for pad Thai in Thailand and, although the recipe is actually thought to have originated in China, it's one of those dishes that's worth comparing to contemporaries in the west. Simply put: pad Thai is stir-fried noodles and nuts however, served on the streets of Thailand it becomes a much more mouth-watering must try meal.

Where to try: at the night market in Chiang Mai or the back streets of Bangkok.
Mango sticky rice
This, for me, has to be one of the finds of my travels in Thailand as not only is sticky rice stupidly tasty but it can also be served sweet or savoury as well as stuffed into a banana leaf for packed lunch in the jungle. As sticky rice doesn't need as much water to cook as other rice it's often steamed before being squidged into shape, sometimes after adding coconut milk for an extra creamy taste.

Where to try: experience this simple taste sensation at Ao Nang Beach overlooking the Andaman on Thailand's southwest coast.