Things to see & do in Bangkok
One night in Bangkok can go by in a whirl of street food stalls, tuk tuk rides and bright lights but once the misty fog of incense clears there's a whole world awaiting travelers who have a free day in the Thai capital. If you're traveling with a small group or on a tailor-made tour you'll be accompanied by a local guide who will be happy to show you the sights and explain more about where to go, and where to avoid. Doing your research first is still the best advice no matter who you're traveling with. From the historic central districts and making the most of the markets, to getting around Bangkok and where to find the city's most impressive wats; if you're wondering what to do and where to go in Bangkok, right here's where you start out on the road to enlightenment.
Bangkok's historic central districts
Rattanakosin Island, within the central Phra Nakhon district, is home to many of Bangkok's most important cultural heritage sites including the Grand Palace, City Pillar Shrine, Wat Pho and Wat Phra Kaew. The large green space of Sanam Luang public park, sits at the center of Rattanakosin Island to provide local Thais with a green lung from where to fly kites and picnic whilst admiring the glittering golden spires of Wat Ratchanatdaram. This is the beating heart of Bangkok where backpackers play pool and purchase knock-off products on the Khao San Road whilst cultural sightseers seek out the National Museum, Pak Khlong Talat flower market and Little India's curry restaurants on Phahurat Road.
An area that used to be part of Phra Nakhon but has now become a district – Bangkok's smallest – in its own right is Samphanthawong. This is Chinatown where up and down the Yaowarat Road you'll find shop houses, noodle, rice and dim sum sellers, and gold jewellers, sitting side by side with Thai and Chinese temples, including the oldest Chinese shrine in Thailand – the Leng Buai Ia Shrine.

Over the water on the west side of the Chao Phraya River, Khlong San is another of Bangkok's historic central districts and features the Princess Mother Memorial Park, close to Phra Pok Klao Bridge, that has an excellent souvenir shop where proceeds go to a number of charitable organisations. Alongside lesser-known temples, such as Wat Anongkharam and Wat Phichaiyat, sit several shimmering skyscrapers that form Chao Phraya's contemporary riverside skyline – worth checking out at dusk from one of Bangkok's many rooftop bars or top floor hotel viewing platforms.
Wats to see in Bangkok
Wat Arun is a beautiful Buddhist temple that sits on the west bank of the Chao Phraya River in Bangkok's Yai district. Recognisable through its porcelain pearl white prangs (spires) surrounding a large stupa-like prang or pagoda, Wat Arun is dedicated to the Hindu god Aruna and features a mix of Hindi and Buddhist iconography within various statues, murals and riverside pavilions.

Opposite Wat Arun, on the other side of the Chao Phraya, is one of the largest and oldest temple complexes in Bangkok, Wat Pho. Considered to be the birthplace of traditional Thai massage and a public center for learning science, literature, Buddhism and Thai medicine, Wat Pho is also home to more than 1000 images of Buddha including a 46m long golden reclining Buddha statue.
Wat Phra Kaew is considered one of Thailand's most sacred Buddhist temples. Sitting on the same side of the river as Wat Arun, Wat Phra Kaew holds some exquisite examples of Thai craftsmanship within its decorative golden exteriors as well as some incredibly scary statues guarding the entrance to the phra ubosot (holy prayer room). This is where you'll also find the famed dark green Emerald Buddha statue that can only be touched by the King of Thailand.

A procession of monks can be found outside Wat Benchamabophit every morning from 6am receiving alms including food, flowers, incense and toiletries. Featured on the back of the five baht coin – the flip side depicts the King, of course – Wat Benchamabophit is also known as the Marble Temple thanks to the many pillars, courtyards and giant singha (lion) statues made entirely out of white Italian marble. Well manicured gardens surround tiered temples with high ornamental gables to create a pocket of peace within Bangkok's Dusit district.
Our top Thailand Vacation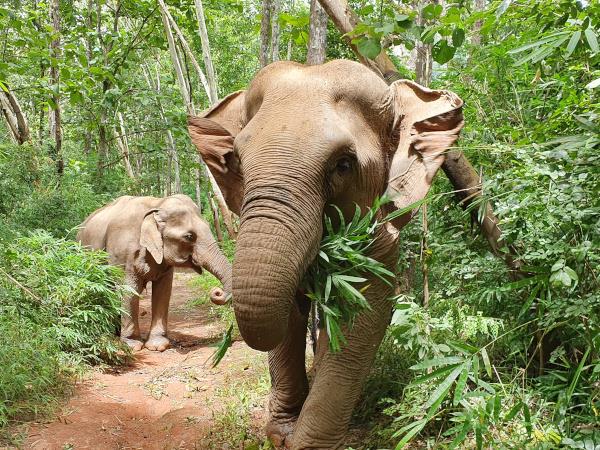 Elephant encounters, jungle treehouses and stunning Thai islands
From
US $

1699
14 days
ex flights
Tailor made:
This trip is only for tailor made departures throughout the year to suit your requirements
If you'd like to chat about Thailand or need help finding a vacation to suit you we're very happy to help.

Where to find markets in Bangkok
All over Thailand you'll find decorative flowers adorning everything from street shrines to royalty. Pak Klong Talat flower market sits just off Chakpet Rd, close to the Memorial Bridge over the Chao Phraya River. It's where wholesalers, travelers and local Thai business owners mingle and meet as street stall sellers sit and thread mountains of phuang malai (jasmine and marigold garlands).
If you're looking for an authentic experience in Bangkok then head to
Klong Toey fresh market
in the morning and simply stand back and watch as locals make the most of rock-bottom prices on meat, seafood and fresh farm produce. Squeamish visitors may wish to hold their nose but if you're looking for real life on Rama IV Road then Klong Toey market's where it's at.
Now if it's a slightly less authentic market you're looking for in Bangkok then a trip down the old
Khao San Road
will probably provide everything you could wish for, and plenty more besides. Cheap 'brand name' clothing, backstreet tailors, pool halls, street food stalls and more backpacker hostels than you can wave a Lonely Planet at; the Khao San Road in the Bang Lamphu area of Phra Nakhon district is a haggler's paradise but not a real representation of a one true Thailand.
Please remember:
all that glitters isn't necessarily gold.
The world's largest market takes place every weekend in Bangkok's Chatuchak district with more than 15,000 stalls selling everything from drinks and food to antiques and furniture. Unfortunately,
Chatuchak Market
has, in the past, been responsible for the sale of illegal animals including birds, turtles and tortoises. If you see anything like this whilst visiting a market in Bangkok, please report it to a registered NGO, such as
Wildlife Friends Foundation Thailand
(WFFT).
How to get around Bangkok
It's very easy to get around Bangkok with the capital's Skytrain (BTS) taking you over the streets and the modern Metro (MRT) system that takes you underground. Maps are available in English and Thai with unlimited travel passes accessing even more affordable fares.

There are also plenty of piers along the Chao Phraya River and corresponding canal waterways where you can hop on and hop off a public river ferry or flag down a water taxi to take you between the banks. Tourist boats and dining cruisers, with running commentary, also exist as do long tail boats and converted rice barges that can be included as part of a small group or tailor-made tour.
Bangkok's yellow and green taxis are owned by the drivers themselves as opposed to the yellow and orange ones which are owned by a company. In general, taxis are handy for longer rides, to the airport for instance, but if you're looking to get somewhere fast there's nothing that beats a tuk tuk ride in Bangkok. These noisy, multicoloured tin cans bedecked in bright lights and 'lucky' jasmine and marigold malai, make a trip to the shops a white-knuckle ride that has to be tried, at least once.

Just be aware: tuk tuk rides in Thailand can be a classic tourist trap. You might get taken to an out of town clothing emporium, a gem factory or anywhere that gives your driver a commission for having delivered an unsuspecting tourist to their door. Just be up front first. Agree a price for a destination before you get in and write it down. Only get into a taxi or a tuk tuk with a meter. Be aware that scams exist all over the world, Bangkok is no different and the disparity of wealth between foreign visitors and local cab drivers is absolutely vast. Tipping is recommended.