Best time to visit Thailand

Thailand's tropical climate means it can be visited year round, but do plan your route according to the weather.

You can still vacation here during the rainy season, but more remote areas may become inaccessible. Sun seekers should also be aware that southern Thailand experiences monsoons – although the good news is that the seasons are staggered on the east and west coasts, so as long as you do your research you'll find a sunny beach somewhere.

In general, the best time to visit Thailand is from November-February. It's dry but not too hot, and you'll be more likely to catch one of Thailand's many vibrant festivals.
When to visit Thailand & when not to
You can pop Thailand into roughly three seasons: wet, hot and warm with the hills of the north getting the biggest variation in temperatures. January and February are mid-way through the cooler season and are often considered the best times to go to Thailand, especially after the Christmas vacations. Things start to heat up over March, April and May so best advice is to head south to the beaches or search for less humid conditions amongst the higher hillsides of the north. Songkran, the Thai New Year festival, takes place in mid-April and although good fun, can lead to travel disruption in rural towns as everything shuts down for almost a week so people can chuck water at each other. As heat turns to wet weather during May, June, July and August, you'll find it rains almost every day but only for about an hour or so which can sometimes be a welcome respite during the late afternoon or early evening. September and October tend to find the worst of the weather and daily deluges are often strong enough to disrupt travel plans, particularly when trekking in more remote areas. The end of the year, November and December, finds temperatures starting to dip and is one of the best times to go trekking in Northern Thailand although it's still advisable to avoid walking too long around the middle of the day.
Best time to visit Thailand
Lesley Schofield, from our supplier All Points East, shares her best time to visit Thailand:
"I like going in the rainy season from May to September. It's quieter, you haven't got enormous coach parties, and it's almost unheard of that it would rain for days on end. You do need to avoid the Andaman Coast as that's affected by monsoons – but you can go to the Gulf of Thailand instead. There are nice islands there, and they're much, much quieter – whereas on Koh Phi Phi on a Thai public vacation in November you can't move! Also, when the rain falls it freshens everything up. Towards the end of the dry season, people get really frustrated. The fields want water, the people are getting fed up with the heat. In the rainy season, everyone's happier!"
Our culture pick: Festival of Light
Not all of Thailand's festivals are wildly hedonistic. The Festival of Light - Loi Krathong – is held to give thanks to the Water Goddess each November. Lotus-shaped craft, draped with flowers and candles, float down the rivers in Sukothai and Chiang Mai in this beautiful, spiritual celebration.
Our top Thailand Vacation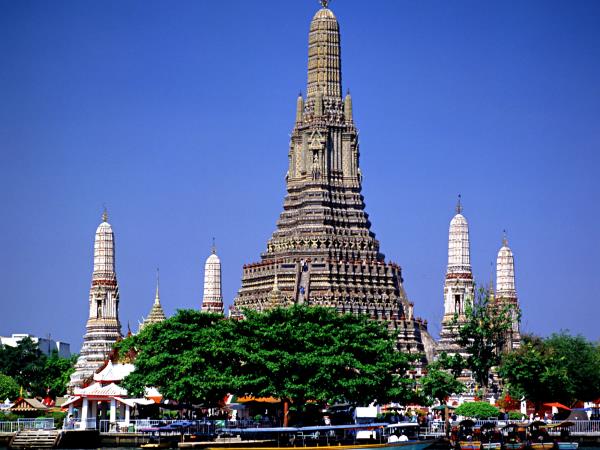 Elephant encounters, jungle treehouses and stunning Thai islands
From £1349 14 days ex flights
Tailor made:
This trip is only for tailor made departures throughout the year to suit your requirements
If you'd like to chat about Thailand or need help finding a vacation to suit you we're very happy to help.

Chiang Mai Flower Festival
Each year on the first weekend of February, Chiang Mai is a riot of colour with flower beds in full bloom, flower vendors setting up shop across the town, and – on the Saturday – the Flower Festival Parade. There are decorated floats, hill tribes in a rainbow of costumes and traditional dancing and music.
Ngan bun bang fai
The Fire Rocket Festival - is a Buddhist event celebrated by the ethnic Lao people of northeastern Thailand at the beginning of the rainy season in May. Elaborately decorated rockets are paraded on oxcarts and floats, leading up to the competition on Sunday, where rockets compete on height, distance and beauty of vapour trails.
Thai New Year
Called songkran - is celebrated countrywide from 13th-15th April, with the biggest festivities in Chiang Mai. Appropriately for the hottest time of year, water throwing – often ice-cold – is popular, and you may get smeared with talc as a blessing. Elders are honoured, and there are music and dance performances.