Our Uganda vacations & safaris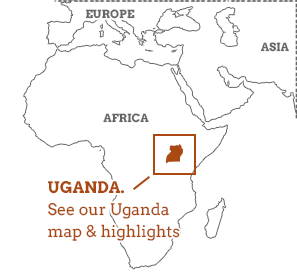 Uganda is a truly spectacular wildlife destination, home to tree-climbing lions, chimpanzees and hippos. But our Uganda vacations also take you trekking into Bwindi Impenetrable National Park for unforgettable encounters with mountain gorillas. Expert local guides provide a deeper understanding of animal behaviours. They also love sharing the odd Swahili phrase, helping you to form more meaningful connections in the communities you visit. From the adventure capital of Jinja to Murchison Falls National Park, and perhaps even over the border for game drives in Kenya's Masai Mara, these vacations are as much about exploring Uganda's culture as its nature.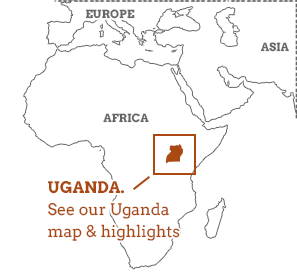 Our top Uganda vacations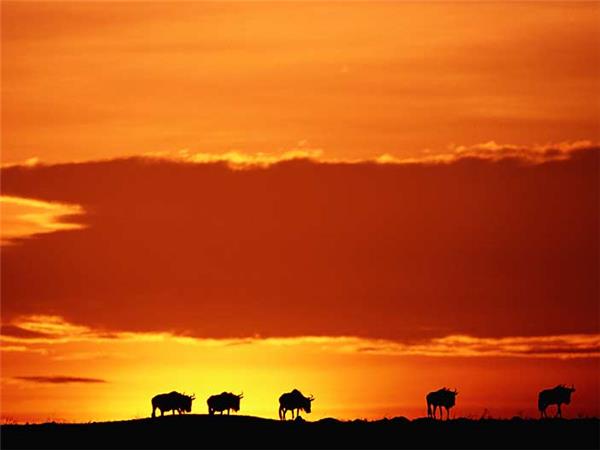 From
US $

6399

to

US $

6579
15 days
ex flights
Superb safari and trip to see gorillas
Small group
2022: 25 Jun, 10 Sep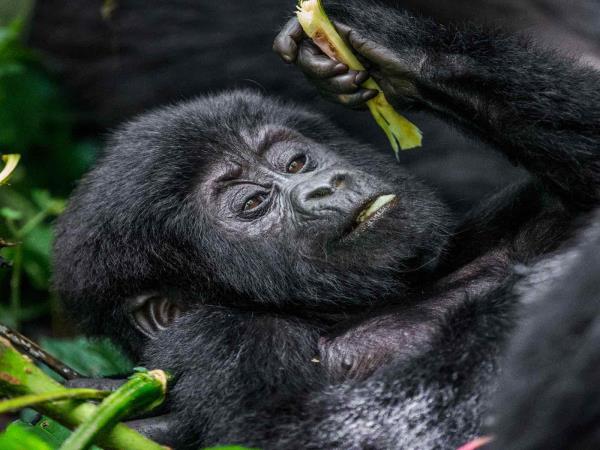 12 days
ex flights
Queen Elizabeth, Bwindi & Murchison Falls National Parks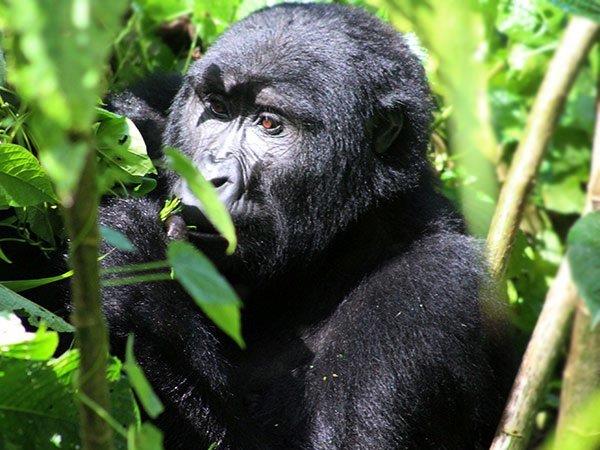 10 days
ex flights
The great Silver back Gorilla & wildlife all in one package!
Small group
2021: 13 Dec, 27 Dec, 28 Dec, 2022: 11 Jan, 25 Jan, 8 Feb, 22 Feb, 8 Mar, 22 Mar, 5 Apr, 19 Apr, 3 May, 17 May, 31 May, 14 Jun, 28 Jun, 12 Jul, 26 Jul, 9 Aug, 23 Aug, 6 Sep, 20 Sep, 4 Oct, 18 Oct, 1 Nov, 15 Nov, 29 Nov, 13 Dec, 27 Dec, 2023: 10 Jan, 24 Jan, 7 Feb, 21 Feb, 7 Mar, 21 Mar, 4 Apr, 18 Apr, 2 May, 16 May, 30 May, 13 Jun, 27 Jun
Map & highlights
There's one clear reason to visit Uganda, and that's the wildlife. And clear as day it will be, with expert guides taking you to track mountain gorillas in Bwindi Impenetrable National Park and lively chimpanzees in Kibale Forest or around Queen Elizabeth National Park. Here in the far west of Uganda you can also find tree-climbing lions among some of the country's finest game-viewing. Bird-lovers, meanwhile, should flock to beautiful, island-pocked Lake Bunyonyi, where it's also safe to swim. Jinja, near Kampala, is base camp for outdoor adventure activities in Uganda, but for trekking, there's nowhere better than the Rwenzori Mountains.
1. Gorilla trekking
Uganda is home to over half of the earth's 800 or so mountain gorillas, and most of these live in the mist-shrouded forests of Bwindi Impenetrable National Park. Tracking one of the 11 habituated families is Uganda's most compelling activity, as a 2-6 hour trek up the steep slopes of the Rift Valley culminates in an eye-to-eye encounter with one of our closest relatives, lasting up to an hour.
2. Jinja
Jinja is Uganda's outdoor adventure center, famed for white water rafting on the thundering source of the Nile. You can also kayak, mountain bike and even bungee jump – or take a more leisurely horseback ride through the lush local scenery. Take a trek through nearby Mabira Forest with a birding guide, or explore pleasant Jinja town, with its Indian-influenced architecture and wonderful daily market.
3. Kibale Forest
70 mammal species, including 13 primates, inhabit this national park – that's the highest concentration of primates in East Africa. A highlight is tracking habituated chimpanzees with a trained guide, looking out for mangabey, colobus and L'Hoest's monkeys along the way. Don't miss the nearby Bigodi Wetlands – a superb community-run conservation area criss-crossed by wooden walkways.
4. Lake Bunyonyi
The "lake of many small birds" – in the local language – is a strikingly beautiful scene, surrounded by bright green, terraced hillsides and filled with the gentle humps of 20 islands. This is a superb spot to relax after a gorilla trek, and is the only safe lake for bathing in Uganda. Canoe, hike, take a birding tour, explore the islands – each with their own histories and legends – or visit local Bakiga and Batwa villages.
5. Queen Elizabeth NP
Queen Elizabeth National Park, flanked by massive mountains and pocked with ancient craters, offers some of Uganda's most compelling game viewing. Four of the Big Five can be seen here, along with thousands of hippos and over 600 species of birds. Cruise along the Kazinga Channel into Lake Edward for a serene safari experience, or head down to Ishasha to encounter tree climbing lions.
6. Rwenzori Mountains
The "Mountains of the Moon" form an impenetrable, rocky chain along Uganda's western edge, perpetually capped with snow, clouds and fog. Walks in the foothills reveal clear streams, lush vegetation and thriving villages; longer expeditions take you through otherworldy Afromontane forest, bamboo and giant heathers, with the option to summit Margherita Peak – Africa's third highest, at 5,109m.