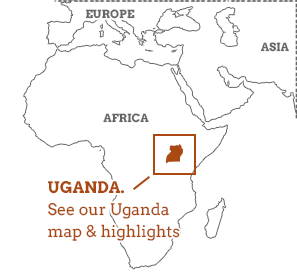 Safe, small and with a perpetually springlike climate, Uganda is a real treat when it comes to African travel. But it packs a lot in for its size. Ten national parks protect over half of the world's mountain gorillas, along with chimpanzees, rare golden monkeys and a classic safari checklist including leopards, lions, elephants and hippos. Over 1,000 species of birds – more than 10 percent of all the world's species – inhabit its mountains, forests, wetlands and the shores of Lake Victoria, the long-sought source of the Nile. The rugged 'Mountains of the Moon' include Africa's third highest peak, complete with equatorial snow.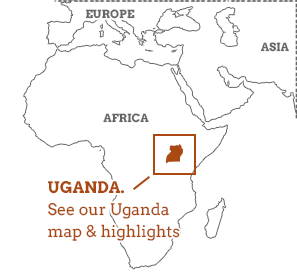 Uganda's national bird is the striking, grey crowned crane. It's characteristics are said to resemble those of the Ugandan people: elegant, loyal, strong – and rather fond of dancing.

Uganda remains very much a tribal nation, and as you travel round this compact country, the music, dance and dress change almost by the hour – there are over 40 recognised languages. But one word you'll hear wherever you are – from guides, waiters, drivers and roadside corn sellers – is "Welcome!" – along with "mzungu!" – a friendly term for "foreigner".
Uganda is...
the pearl of Africa according to Winston Churchill.
Uganda isn't...
dragged down by its turbulent past. The country is friendly, stable and safe – you'll be charmed by the optimism of its people.
WHAT WE RATE & WHAT WE DON'T
Chimp tracking
Chimpanzees inhabit several of Uganda's protected forests, the most popular of which is Kibale – which shelters a total of 13 primate species including some 1,500 chimps. You can also track chimps in Budongo, where they are best seen from Feb-Sep; and the stunning "underground" forest of Kyambura, set in a deep, mist-filled gorge in Queen Elizabeth National Park.
Rwenzori Mountains
The "Mountains of the Moon" form an impenetrable, rocky chain along Uganda's western edge, perpetually capped with snow, clouds and fog. Walks in the foothills reveal clear streams, lush vegetation and thriving villages; longer expeditions take you through otherworldy Afromontane forest, bamboo and giant heathers, with the option to summit Margherita Peak – Africa's third highest, at 5,109m.
Culture
Uganda might lack the big name tribes of other African countries: the statuesque Maasai, for example, or the photogenic Himba. But it's hard not to fall in love with Ugandan culture. Spend an evening being treated to cultural performances at Kampala's Ndere Centre; learn to grind millet, "mingle" porridge over a fire, or play the stringed adungu – and enjoy joyful song and dance in each new region of the country that you visit.
Wheelchair accessible
If you have mobility issues or rely on a wheelchair, that's no obstacle to seeing Uganda's primates. Wheelchair accessible gorilla and chimp tracking tours involve being carried into the forests in a throne chair. You'll have had more comfortable journeys, but rarely such an amazing destination.
Gorilla tracking
Uganda is home to over half of the earth's 850 or so mountain gorillas, and most of these live in the mist-shrouded forests of Bwindi Impenetrable National Park. Tracking one of the 11 habituated families is Uganda's most compelling activity, as a 2-6 hour trek up the steep slopes of the Rift Valley culminates in an eye-to-eye encounter with one of our closest relatives, lasting up to an hour.
Murchison Falls
This waterfall is created by the River Nile squeezing itself through a 7m-wide gap – with all the spray and thunder you would expect. Boat cruises downriver take you past eles and hippos to admire the falls – or trek to the top if you're up for a soaking. The surrounding national park is Uganda's largest, with miles and miles of open savannah to explore, filled with lion, buffalo, elephant and more.
Game drives
Far too many tourists come to Uganda for the gorillas – then fly straight out to see the Big Five in Kenya. Ugandan safaris are set against stunning backdrops of volcanic craters and lakes. Walking, driving and boat safaris are possible in many national parks, and the smaller distances mean you can cover plenty of ground. Four of the Big Five can be seen in the wild – with rhinos present in Ziwa Sanctuary.
Overlanding
Uganda is centrally located, and tucked in between the vast savannah game parks of Tanzania and Kenya, and the gorilla-inhabited forests of Rwanda. East Africa overland tours can combine great apes with traditional safaris and time spent on the beach, exploring how the cultures and landscapes change from country to country. Or for hardcore adventure – travel from Cairo to Cape Town, via Uganda.
Pygmy tours
The Batwa are Uganda's most marginalised community. Evicted from their forest home over two decades ago when it became a national park, the Batwa remain landless and incredibly impoverished. Unscrupulous companies have cashed in on their desperation, offering tasteless "pygmy tours" where they perform on demand. Seek out ethical tours that involve the Batwa at every level to avoid exploitation.
The equator
Every visitor to Uganda (this writer included) has a photo of themselves straddling the equator in the giant concrete "O" that marks the spot. Chances are you'll cross this line at some point, so there's no harm stopping off – but it's not worth spending more than a few minutes here unless you are really keen to visit the touristy souvenir shops, or pay to watch someone pour water down a sink in the name of 'science'.
Orphanage tourism
Every year, well meaning volunteers and tourists descend on Africa to visit orphanages – handing out gifts, singing songs and giving cuddles. It all seems rather lovely – until you start reading up on the
harm
that this type of tourism can cause. If you want to make a difference to children's lives, look into helping out at after school clubs – or healthcare volunteering if you have the necessary skills.
Speed & efficiency
T.I.A.: This is Africa. You'll hear this on your Uganda vacation, as well as numerous mentions of 'Africa Time', prepare yourself for both. Things always work out just fine in Uganda, they just don't always happen on schedule, or even quite as anticipated. The crazy roads take care of that, as do the sudden equatorial downpours, and the 'load shedding' – regular power cuts which are, thankfully, becoming less frequent.
Our top trip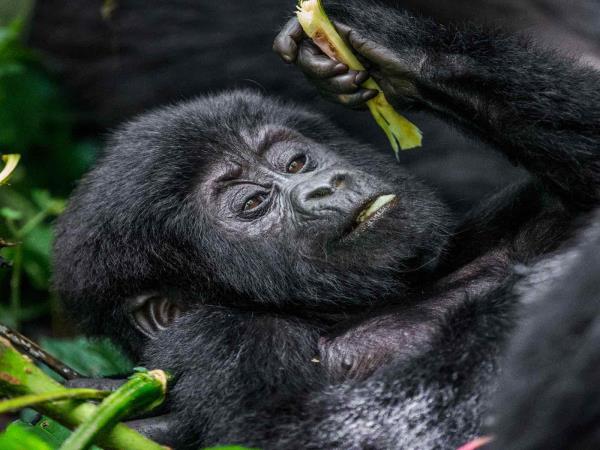 Queen Elizabeth, Bwindi & Murchison Falls National Parks
From
£

5195
12 days
ex flights
Tailor made:
This trip can be tailor made throughout the year to suit your requirements
If you'd like to chat about Uganda or need help finding a vacation to suit you we're very happy to help.

Eating & drinking in Uganda
Carbs are big here – expect traditional dishes to consist of thick, sticky posho (maize flour paste) or matooke (ground plantain) which you use to mop up sauce – often made with peanuts (called g-nuts or groundnuts)

The Indian influence is strong in Uganda – with tasty curry sauces accompanying veg, chicken or goat.

Rolex is the local street food. It's a kind of omelette rolled up in a chapatti – literally 'rolled eggs'.

If someone says they're off for a 'short call', don't expect them to be on the phone – it means they're going to the loo! This is a useful phrase to know.

People & language
Uganda's central location and fertile land have lured many cultures here for centuries: the Bantu to the east, the forest-dwelling Batwa in the south (one of the country's oldest tribes), Indians and Arabs from the coast and the Nilotic Acholi and Karamoja people of the northern deserts. Some 40-60 languages are spoken and many more dialects, with English often a lingua franca for people of different regions to communicate. Luganda is the most common local language; here are a few words to get you started:
"Oli otya?" – How are you? (also used as a greeting)
"Weebale" – Thank you
"Nsanyuse okulaba" – Nice to meet you
"Welaaba" – Goodbye
Gifts & shopping
Coffee is Uganda's number one export. Buy a bag of beans from the excellent Good African Coffee, grown, processed and packaged in Uganda – meaning all income stays in the country.

The craft market in Kampala is a great place for wood carvings, beads, cowhorn and other souvenirs – but much of these are imported. Try and buy from communities on your way around Uganda to support local craftspeople.

Banana Boat has three outlets in Kampala. They source high quality crafts from around the country, including bark cloth crafts, banana fibre mats and handmade paper stationery. They support a number of local initiatives.

Rows of oil drums, aluminium sheets and powerful bulbs are set up during the rainy season to catch grasshoppers, called
nsenene
. Try them deep fried with chilli.

How much does it cost?
500ml bottle of Nile Gold lager in a bar: £2.30
Ugandan lunch in local restaurant: £1.30
Gorilla tracking permit: US$600 (sometimes available for $450 in Apr, May & Nov)
Dinner for two at an international restaurant: £30
Boda boda ride in the city: £1.50
A brief History of Uganda
Uganda's fertile red earth, its lovely climate and its location – on the equator, yet over 1,00m above sea level, in the Great Rift Valley – mean it has lured settlers from across Africa for millennia, with human activity here dating back 50,000 to 100,000 years. Yet despite so many tribes and ethnicities cramming into this rather small country, cultural distinctions remain, and today's visitors will encounter the agricultural descendants of Bantu tribes, the more nomadic, pastoral descendents of Nilotic tribes and the forest-dwelling Batwa pygmies, who have only recently left the gorilla-inhabited forests of the south.
Read more