Come face to face with a gorilla
Visiting one of the 11 habituated families is Uganda's most compelling activity, as a two- to six-hour trek through the rainforest culminates in an eye-to-eye encounter with one of our closest relatives. All tours are regulated through the Uganda Wildlife Authority, so you can be sure that your fee is reinvested into the national park and the gorillas' protection.

Uganda shelters over half of the earth's mountain gorillas, and most of these live in the mist-shrouded Bwindi "Impenetrable" Forest.

Discover Ugandan culture
Visitors to Uganda credit it with being one of the friendliest nations in Africa; no wonder the national slogan is "you're welcome!" Still very much tribal, culture varies widely across the country – which has up to 80 languages and dialects – and music, dance, song and traditions will vary from village to village. In the southwest, phenomenally energetic performers compete to see who can thump their bare feet loudest on the ground, while swinging their arms in joyful dance. Venture into Mgahinga Gorilla National Park with the forest's original inhabitants, the Batwa, who will teach you to harvest honey, make fire and "hunt" antelope with spears, before leading you into their sacred cave. The arid northeast is home to the adungu – a stringed instrument that comes in all sizes. The tiniest fit into the palm of your hand, while the largest is like a double bass. In between, learn to "mingle" dough, grind millet, prepare medicinal plants, and meet a traditional blacksmith.
If you're worried you won't have time to discover it all, book an evening at Kampala's fantastic Ndere Centre, which presents music, dance, costume and folklore from around the country, with entertaining explanations about each region's culture and history.
Our top Uganda Vacation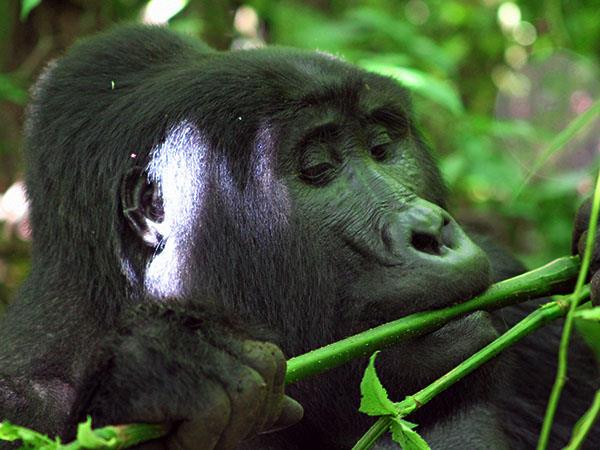 .The Ultimate Primate experience in the Jungle!
From
£

1315
4 days
ex flights
Tailor made
If you'd like to chat about Uganda or need help finding a vacation to suit you we're very happy to help.

Raft the Nile
Rafting is understandably one of Jinja's most popular activities, taking on the Grade III-IV-V rapids as you rush 20km downriver. Less adrenaline-fuelled kayaking trips are also possible, as are treks or mountain bike excursions into the nearby Mabira Forest, where the air is punctuated by the eerie shrieks of tree hyraxes.

Jinja is Uganda's adventure capital. The mighty Nile begins here – in an exhilarating froth of whitewater.

Explore the parks
Uganda's national parks are a well kept secret. Lusher than their Kenyan or Tanzanian counterparts, they have rivers and lakes for boat rides as well as standard game drives. Dented with volcanic craters against a mountain backdrop, Queen Elizabeth National Park's landscapes alone are spectacular.

Take a boat along the park's Kazinga Channel, lined with elephants, buffalo, marabou storks and Nile crocodiles. Further north, the sprawling Murchison Falls National Park is bisected by the River Nile. Lazy cruises take you past wildlife here, too – and close to the base of the falls, where the mighty river squeezes itself through a 7m gap, with thunderous results. Trek to the top of the falls, or spend your days driving through this wild savannah. Mgahinga Gorilla is Uganda's smallest national park – sheltering rare golden monkeys which you can track in the forests on the slopes of volcanoes. And Lake Mburo National Park is a mecca for bird watchers. Early morning walks here can also take you up close to hyena dens.