Wildlife vacations in Uganda play out against a stunning backdrop of volcanoes, crater lakes, fog-filled forests, reed-lined channels and lush savannah. This little country's big on landscapes – and this means its wildlife offering is unexpectedly huge. Mountain gorillas are its most famous inhabitant, of course, and they are what lures many animal lovers here. But the fun doesn't stop when your gorilla safari does. Chimpanzees, baboons, lions, hippos, elephants, warthogs, eagles, jackals, buffalos, rhinos... keep flicking through your field guides, and there are few creatures you won't find snuffling around in Uganda's rainforests, swamps and grasslands.
Safaris here take place on foot, in 4x4s and on river boats, depending on the species you're seeking, and superb lodges and camps ensure you stay well rested in between hilly treks, bumpy road journeys and early morning game drives. From buffalos to bee-eaters, monkeys to mongooses (mongeese? mongoose?), here's our guide to the best of Uganda's wildlife.
Which species will I see in Uganda?
Gorillas
Mountain gorillas need virtually no introduction – this species has put Uganda on Africa's tourist map. Just 1,000 mountain gorillas remain in the world, and over half of these are to be found along Uganda's western edge, in the mist-shrouded forests of Bwindi Impenetrable National Park and the volcanic slopes of Mgahinga Gorilla National Park. Several groups have been habituated, and exceptionally well managed gorilla safaris have raised the funds to ensure their conservation; for this reason, mountain gorilla numbers have risen by around 50 percent in just 10 years. In a group of no more than eight tourists, you can trek, often for several hours, through the forest to spend up to an hour in the company of a habituated family. This really is a once in lifetime encounter.
Chimpanzees
Gorillas are not our only close relative in Uganda. Chimpanzees live in several patches of woodland around the country, including the 'underground forest' of Kyambura Gorge, in Queen Elizabeth National Park and the mahogany forest of Budongo. But the place where you're most guaranteed to see them is Kibale, a rainforest national park which shelters a seriously impressive 13 species of primates, meaning that when you track chimps here on an organised tour, you can look out for red colobus, black and white colobus, L'Hoest's and red tailed monkeys, amongst others. Chimps are far livelier than gorillas, and tracking them through the trees is an energetic adventure, as you follow their shrieks and rustles in the canopy.
Our top Uganda Vacation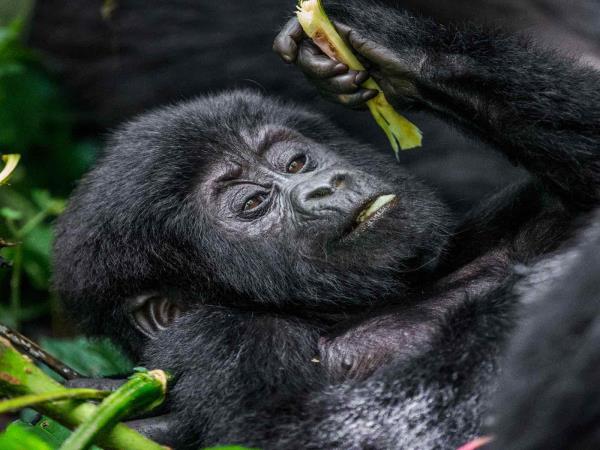 Queen Elizabeth, Bwindi & Murchison Falls National Parks
From
£

5195
12 days
ex flights
Tailor made:
This trip can be tailor made throughout the year to suit your requirements
If you'd like to chat about Uganda or need help finding a vacation to suit you we're very happy to help.

Birds
As a general rule, the more ecosystems, the more bird species – so Uganda is naturally bursting at the seams with avian attractions. Unbelievably for a country the size of the UK, it has over 1,000 bird species – that's almost one in 10 of all the world's bird species. Luckily, it has excellent bird guides to match. Twitchers flock here for the shoebill, a stork-like bird standing over a metre tall with an enormous bill and blue-grey feathers. This prehistoric-looking bird is rarely seen, but the wetlands of Uganda's Murchison Falls National Park are one of the best places in the world to spot it. Other iconic species include the 'dancing' grey-crowned crane (Uganda's national bird), giant kingfishers, African fish eagles, red-throated bee-eaters, great blue turacos, goliath herons and bar-tailed trogons. Look out, too, for weaver bird nests dangling from the trees – extraordinary avian works of art.
Big Five
Many vacations whisk you off to the Kenyan plains after seeing gorillas, to continue your safari there, but there really is no need to leave Uganda to see game. Queen Elizabeth, Murchison Falls and the remote Kidepo Valley National Parks are all home to four of the Big Five: lions, leopards, buffalos and elephants. The latter two are widely seen on river cruises and game drives. In Murchison Falls in particular, it's not uncommon for a herd of elephants to block the road – you might encounter far more elephants than you'd like on safari here!

Lions are rarer, naturally, and well camouflaged, but with an experienced guide there's a decent chance of spotting them lounging in the sandy grass, post-meal, or perhaps sprawled in the branches of a fig tree in Ishasha – one of only two places in Africa where these felines are known to climb trees. Leopard sightings are rarer still, these solitary animals are elusive, nocturnal and supremely well camouflaged to allow them to stalk their prey. You'll be incredibly lucky to glimpse one – hold on to your binoculars!

The fifth member of the Big Five – the black rhino – is extinct in Uganda. Its cousin, the white rhino, was also wiped out here by poachers, but in 2005 six of them were reintroduced into Ziwa Rhino Sanctuary, close to Murchison Falls National Park. Thanks to a successful breeding programme, there are around 20 rhinos here today, and you can track them on foot with a resident ranger.
Other species
As well as the iconic game, there are dozens of other creatures to look out for on a Ugandan safari – some of which can be seen by the roadsides and mooching in front of your lodge. Most abundant of all are hippos, which jam the banks of the Kazinga Channel in Queen Elizabeth National Park – a top spot for a wildlife-packed cruise. In Murchison Falls National Park, they wallow in the waters of the River Nile; you'll hear their deep, creaking barks at night from your camp.
Murchison Falls, the country's largest national park, is also the best place to see Rothschild's giraffes, which stride across the savannah here. In little Lake Mburo National Park, close to Kampala, you can see them alongside zebra. Zebra were heavily hunted in Uganda, and today are only found in Lake Mburo with a small population also in Kidepo Valley, though tours rarely reach this remote park tucked on the South Sudanese border.
Throughout the country you'll find antelope species, including unusual looking, flat-faced hartebeest in Murchison Falls; elegant kob – which appear on Uganda's coat of arms; bushbuck and waterbuck. Rarer are the swamp dwelling sitatunga antelopes, which have adapted to their semi aquatic lifestyles with waterproof coats and wide hooves.
Monkeys & baboons
Any safari-goer in Uganda will quickly learn to watch out for nimble-fingered baboons. These highly intelligent primates can jump through an open car window, grab an unattended packed lunch, and be munching it by the side of the road in 10 seconds flat. You'll soon learn to wind up your windows – and sunroof – when these critters are around.

But these are not the only primates you're likely to have a close encounter with. Vervet monkeys are particularly playful; you may well see them frolicking around your lodge or camp in the national parks – and hear them jumping on the roof of your tent or cabin. Open air showers seem to particularly draw their attention. Black and white colobus monkeys are routinely seen lining the trees by the roadside, with their shaggy, monochrome fur, they're easy to spot and fun to watch. Golden monkeys are considerably rarer; you can track these on special trekking tours in Mgahinga Gorilla National Park, through the bamboo forests that line the slopes of the Virunga Volcanoes.