Things to see & do in Murchison Falls National Park, Uganda
Uganda's largest national park is also its oldest conservation area, and for more than a century it has been visited by British royals (the Queen Mother was a particular fan), Ernest Hemingway (whose survived a plane crash here) and President Theodore Roosevelt (who slaughtered almost 5,000 animals on possibly the most expensive hunting safari of all time). Winston Churchill also visited the park, which may have been what led him to declare Uganda the 'Pearl of Africa', and today's visitors can still see the ruins of former President Idi Amin's lavish hideaway – stone walls that stand guard, hauntingly, over the savannah.
The park is bisected by the River Nile, which picks up momentum as it crashes over rocks until it reaches its dramatic crescendo – jamming itself through an 8m-wide gap in the stone to create the magnificent waterfall that gives the park its name. From here, the waters widen into a smooth, even flow. Gentle cruises up this lower stretch of the river take you past huge herds of grazing buffalo and elephants, while storks and crocs jostle for space at the water's edge. You'll pause a little distance from the base of the falls, whose sheer power transforms it from a cascade of water into a cloud of spray.
Within the park, you're likely to encounter elephants, giraffes, buffalos, baboons, warthogs and Nile crocodiles – and with a Uganda Wildlife Authority ranger in your vehicle, you have a decent chance of spotting lions, too, and perhaps the odd jackal. Amongst the park's more unusual species are the red hartebeest, with their long flat faces, and the shoebill stork – a prehistoric relic and one of the birding world's most sought after species.
History of Murchison Falls National Park
Murchison Falls National Park has fallen in and out of favour. In the early 20th century, sleeping sickness was rife in this region, spread by tsetse flies to both livestock and humans, causing the area to be evacuated. More recently, northeast Uganda was shaken by a brutal civil war which broke out in the 1980s, left hundreds of thousands dead or disappeared, and over a million Ugandans displaced. During the complex conflict, the military battled against rebel groups including the notorious Lord's Resistance Army (LRA).

As the violence continued through the 1990s and early 2000s Murchison Falls National Park was a no go zone, but by the latter half of the decade the LRA had mostly disappeared over the Congolese border and peace talks were taking place. The long period of abandonment, and the lack of widespread farming due to the tsetse flies, meant that the wildlife had been left to thrive, and today, particularly in the lesser-visited northern section of the park, you'll find some of Uganda's largest elephants striding across the wide open landscape.
Murchison Falls National Park highlights
Murchison Falls & Nile cruises
Any vacation to this park will include a tour to the falls themselves, usually via a three-hour river cruise departing from Paraa Lodge and taking you a short distance from the base of the waterfall. You'll be close enough to see the rainbows cast by the spray, but far enough away to stay dry. The journey itself reveals the park's magnificent wildlife, which is drawn to the river to eat, drink and fish. This is one of Uganda's most relaxing and magical wildlife encounters.
You may also be able to arrange a hike to the top of the falls. It's a soggy, 45-minute scramble through the forest up to the viewpoint at the top. The waterfall itself is pretty much obscured from view thanks to the angle and the huge amount of spray – but the roar and the rush of white water leaves you in no doubt that you are in the presence of a particularly powerful cascade.
Budongo Forest
This mahogany forest is just south of Murchison Falls National Park, near the main gateway town of Masindi. It shelters an astonishing 500-600 chimpanzees, and you can track one of three habituated groups alongside Uganda Wildlife Authority guides. There is an excellent network of trails, so this is a much easier trek than tracking gorillas in Bwindi. However, chimps are much more active, so you could be in for a long – and possibly speedy – walk, and 'offroading' may be required. The tall trees mean the chimps can sometimes be found high up in the canopy.
Ziwa Rhino Sanctuary
This sanctuary is just off the main road between Kampala and Murchison Falls National Park; most tours stop here en route. It's a worthy pause, in every sense; Ziwa shelters Uganda's only population of white rhinos, which became extinct here in the wild in 1983 following extensive hunting and poaching. Through careful breeding programmes, the number of rhinos at Ziwa has grown to almost 20, and it's likely you'll encounter babies alongside their extraordinarily large mothers, as well as battle-scarred adult males. White rhinos are not aggressive and have very poor eyesight, so you can track them on foot in the company of a wildlife ranger – if you're lucky, you'll get heart-poundingly close. Your entry fee supports these endangered animals, plus the other species in the sanctuary, including bushbucks, hartebeest and monkeys.
Community tourism
Having endured three decades of violence, local communities remain scarred – there is a whole generation that grew up knowing nothing but war – but the culture in this region is rich, cut off as it has been from the rest of the country. Local women's tourism cooperatives, tour guides, musicians and dancers offer a wonderful insight into Acholi traditions, and offer vital support to communities which are recovering from the years of war, in Uganda's poorest region. Some tours include a visit to a local community or women's group, or there may be fireside performances while you relax back at camp in the evening.
Our top trip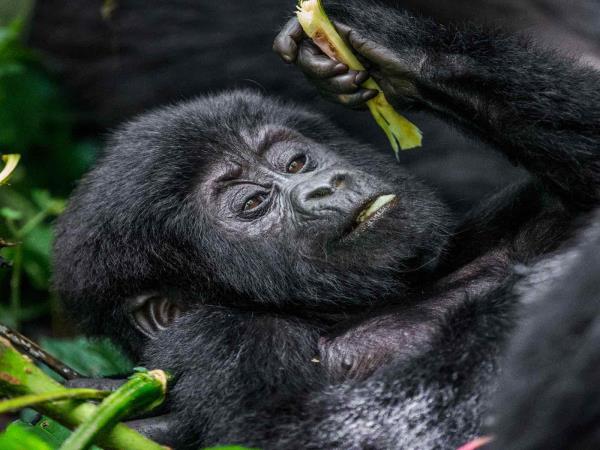 Queen Elizabeth, Bwindi & Murchison Falls National Parks
From
£

5345
12 days
ex flights
Tailor made:
This trip can be tailor made throughout the year to suit your requirements
If you'd like to chat about Uganda or need help finding a vacation to suit you we're very happy to help.

How to visit Murchison Falls
National Park
The main entrance to Murchison Falls National Park is around a five to six hour drive from Kampala in a private vehicle on decent roads. Most Uganda vacations follow an anticlockwise circuit starting and ending in Kampala, and if Murchison Falls is included it's likely to be the first port of call, stopping in at Ziwa Rhino Sanctuary and maybe Budongo Forest on the way.

The park is huge and wildlife is dispersed, so a private driver guide or Uganda Wildlife Authority ranger is essential to help you track down the animals. On organised small group or tailor made tours this will all, of course, be arranged for you – even if the animals themselves can't be guaranteed to appear on demand. While giraffes and elephants may be easy to spot, finding a lion snoozing in the sandy grass is a lot trickier, but these guides are real experts. The park is bisected by the River Nile and a 'car ferry' (basically a floating platform that can carry around eight cars) travels back and forth between the north and south bank several times a day. The Nile Delta is a safari hotspot, as the river widens and fills with papyrus, luring plenty of aquatic birds plus antelopes, giraffes and more. The further north you go, the wilder the park gets, and the fewer other vehicles you'll encounter. It may be harder to see animals up here as they are less habituated to the Jeeps – but it's all the more thrilling when you do.
Tours generally include a Nile River cruise to Murchison Falls; some lodges and tours will also offer a sunset cruise which might not reveal much wildlife, but the sight of a huge African sun setting over the glassy waters of the Nile is truly memorable.
There is a variety of accommodation in and around the park, from community-run cabins and backpacker-friendly tented camps, to a Swahili-style 'fort' and Paraa Lodge, which is something of a national institution, having hosted the Queen Mother in the 1950s. Some accommodations will overlook the river – perfect for sipping a chilled Nile Special beer in the evening as you listen to the hippos 'honking' below. It's not unusual for them to wander right through some of the camps at night; carry a torch and keep well out of their way if you encounter one. Warthogs and baboons are also frequent visitors; for this reason, if you're staying under canvas, you should never store any food in your tent.
When to go to Murchison Falls National Park
Murchison Falls National Park is in Uganda's arid northeast region, and as such, rainfall rarely stops play. The wettest months in Uganda are March to May, with a shorter rainy season in October to November. Wildlife here is not migratory, and it tends to cluster around the River Nile rather than waterholes, so you'll enjoy a busy safari whichever time you come. During the rainier months, the falls may be fuller, but if you're trekking in Budongo Forest, or continuing south to track gorillas in Bwindi, the downpours and muddy trails can make the long rainforest treks tough.