Visit any one of Vietnam's cities, from Hanoi to Ho Chi Minh, and you're bound to get caught up in the general hubbub emanating from the fast-flowing streets where cyclos and scooters whizz by and hand-pushed food carts trundle past temple steps and corner shrines, cloaked in clouds of incense.
Although the cultural identity of many Vietnamese relates to the rhythm of the roads, it's the rural areas, the highlands, rivers, rice terraces and paddy fields, where you'll find hill tribes and other ethnic groups still living in much the same way as they always have, away from the modern world.
Hiking is an excellent excuse to escape the urban environments and head out into the countryside as you follow a local guide into all but inaccessible villages, where overnight stays reveal the quiet rural lifestyles and cultural customs that differ from one community to the next. Differences in dress, language, handicrafts and working practices change subtly depending on group beliefs and natural surroundings. Accommodation styles also differ; for example, stilt houses are built to protect occupants from potential flooding as well as to avoid incidents with lumbering cattle.

The Vietnamese government recognises 54 ethnic groups, each with its own unique cultural identity. The proximity to neighbouring countries also affects cultural beliefs within groups and sub-groups, as is the case for Vietnam's Hmong communities which originally came from China. The Tay people, who live in villages around Mai Chau and Pu Luong, are an ethnic minority originating from Thailand, while Vietnam's original inhabitants (known as Kinh people) are thought to have journeyed up from Indonesia, by way of Malaysia and Thailand.
Below is a brief introduction to the Vientmanese tribes and ethnic groups that you might be lucky enough to meet during your vacation. We've added in a few cultural travel tips to take into consideration when meeting local Vietnamese, although the best advice is always to smile, be polite and go with the flow – just as it is the world over.
Tay
As one of the country's oldest ethnicities, Tay people are the second largest group in Vietnam with several villages to be found within the mountain foothills and valleys north of Hanoi, close to the Chinese border. Fertile rice terraces form the basis for the working day with between 15 to 20 households occupying each village, often in houses built on stilts. Cultural traditions stem largely from Buddhism and Taoism. Music, dance and folklore play significant roles, too, with time spent in a Tay village bound to result in a rendition of a traditional song or poem, often accompanied by a two-stringed dan tinh instrument, which is similar to a lute.
Hmong
Hmong people, originally from China, are well-represented in northwest Vietnam's more mountainous regions, particularly around the market town of Sapa, where terraced rice fields melt over the mist-covered valleys and slopes surrounding Mount Fansipan. Hmong people make their own clothing, often out of hemp. Tribes will distinguish themselves with multicoloured headbands, tassels and sequins adorning traditional long dresses specific to sub-groups, which include Red, White, Black and the rainbow-coloured Flower tribe. Sapa's Bac Ha market on a Saturday is definitely the place to be as surrounding hill tribes bring handicrafts and freshly picked produce to sell in a whirl of colour and tribal custom.
Our top trip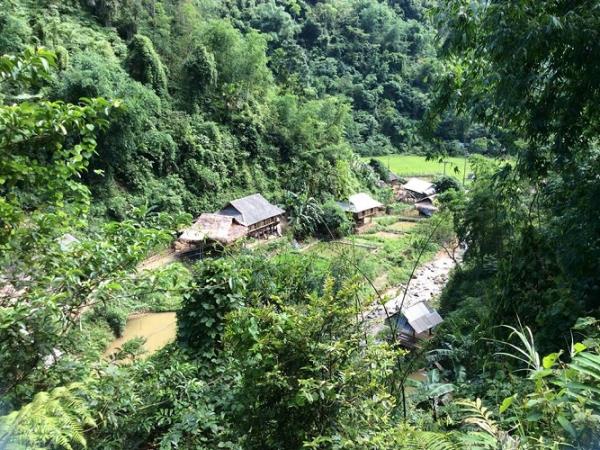 Get close to the remote 'hill-tribe' culture.
From
US $

2828
15 days
ex flights
Tailor made:
We offer a complete tailor made service and this suggested sampled itinerary can be tailor made to suit your requirements
If you'd like to chat about Vietnam or need help finding a vacation to suit you we're very happy to help.

Ethnic Thai
To the southwest of Hanoi, Pu Luong Nature Reserve provides a breathtaking backdrop to a hiking trip in Vietnam with ethnic Thai villages, such as Lak, Sai and Hang, inviting opportunities to stay overnight in stilt houses and find out more about the art of brocade weaving. Ethnic Thai tribes in Vietnam can often be recognised by their silk woven clothing and head scarves as well as their stilt houses. Plentiful streams and waterfalls make Pu Luong ideal for villagers wishing to remain relatively hidden from the outside world with sampans on the Ma River and hikes to nearby limestone caves adding to the excitement for travelers staying overnight in the jungle.
The Mekong Delta
The province of Vinh Long lies in the heart of the Mekong Delta, in southern Vietnam, with the Hau and Tien rivers providing local tribes with ample opportunities to fish and do business at the abundant floating markets. Cai Be is one such district that relies heavily on the Mekong to support cottage industries such as the production of rice paper, coconut sweets and sugar cane. Villages pepper the river banks as well as on some of the river islands where rustic guesthouses offer a chance to discover the lifestyles of the Mekong Delta where traditional wooden sampans were once all that was required to navigate the narrow canals and waterways en-route to market.
Vietnam culture dos & don'ts

Be friendly. We noticed that Europeans, especially, seem to be wary of encountering the very people they've come to meet. Talk to them, say please and thank you, and SMILE!

- Sandy Snyder, a traveler on one of our Vietnam vacations
No matter whether you're on the streets of Hanoi, in a remote mountain village in Pu Luong or on the river banks of the Mekong Delta, it's always a good idea to get to grips with a few cultural nuances. These top Vietnam culture tips will help you prepare for meeting local people.

It's quite natural for Vietnamese to ask strangers quite personal questions upon being introduced, such as How old are you? Are you married? What job do you do? etc. Don't be too defensive as you only need to answer if you feel comfortable doing so. This immediate openness also gives you the chance to ask similar questions in reverse. If you're a more mature traveler, don't be surprised if a younger Vietnamese offers you their seat on public transport or tries to take your arm when crossing a road. This is a sign of respect for your social status rather than implying you're incapable of surviving on your own. When traveling in Vietnam with kids, be prepared for anyone and everyone to make a fuss of your children and perhaps pat them on the head, especially blue-eyed blondes. This is pretty much standard across Southeast Asia and shows how much children are culturally revered. Learn how to say 'that's enough' or 'no thank you', if your child is getting too much attention for their, or your, liking. You won't cause offence if you're polite, yet firm, and smile. As you may have gathered, smiles play a big part in Vietnamese culture and will often be made in the event of an embarrassing mistake or as way of an apology. Smiles are made to cover up embarrassment, especially in the face of a tourist demanding something that's not understood or complaining about something that isn't immediately rectifiable. Try to remember this if something goes wrong and you receive a smile rather than an empathetic sad face as you try to remonstrate with a host or staff.
If you're explaining something or asking a question in English, Vietnamese won't always admit they don't understand, especially if you've repeated yourself. Try to read the signs and explain yourself more clearly as well as showing it's ok not to understand everything that's spoken in English and you're the one that needs to learn more Vietnamese. Staying within a local person's home might well lead to being presented with a few dishes or drinks that you're not entirely familiar with. Try to relax and politely decline, if you're not comfortable eating or drinking something, especially if you're vegetarian or not particularly up for testing the local hooch. Don't be surprised if you're given a cup of steaming tea as a welcome to someone's home, even on the hottest and most humid of days. Also, you might be invited to take a shower no sooner than you've set foot in the door. Both of these examples are just Vietnamese being hospitable so try to get used to what might be construed as something slightly out of the ordinary, particularly if you've only just arrived. If you're invited to a communal meal whilst staying in a village there's every chance that the rice whisky will be flowing freely and glasses will be regularly refilled until respectively told otherwise. This is also the case for food bowls; turning your bowl upside down, with chop sticks and spoon laid neatly by the side, politely signifies that you've had enough.