WHY SEE VIETNAM & CAMBODIA TOGETHER
Southeast Asia has long been a draw for travelers searching for that certain something, far removed from daily life home. Spirituality, relaxation, adventure; there are infinite reasons why heading east has become an experience not to be missed. Vietnam's snaking physical geography invites overland tours from north to south, but a further day's cruise along the Mekong to Phnom Den – or an hour's flight from Ho Chi Minh City to Siem Reap – takes you onward to Cambodia. While Vietnam boasts the multiple UNESCO sites and beautiful beaches, Angkor Wat, without question, is the number one reason to cross the border into Cambodia. However, combining both countries on the same tour is worthwhile for other reasons too.
A change of pace
Although there are lots of places where you can lose yourself in Vietnam and avoid the crowds, Cambodia is a lot less hectic. Journey down the Tonlé Sap River and you'll find floating villages; stroll around the Cambodian capital, Phnom Penh, and you'll see colonial architecture and the horrors of Tuol Sleng Prison; walk into the countryside or along the river banks of Battambang; there's a change of pace when you enter Cambodia from Vietnam. Tourism still feels like it's only just getting started.
Historical threads
Despite the Khmer Rouge falling on the side of the Vietnamese during the war with the USA, the neighbouring countries' historical threads haven't always knitted quite so amicably. Retracing the region's history on a guided tour of Vietnam and Cambodia is a fascinating prospect. From French colonialism and Japanese occupation to Ho Chi Minh and Pol Pot, the grim tales, on both sides of the border, really do need to be read, back to back.
Favourite flavours
From street food markets in Saigon to Khmer restaurants in Siem Reap, a bi-country tour provides a series of contrasting smells and tantalising tastes. Typical Thai ingredients, including a touch more spice, conjure up fish amok, sweet and sour soups, and stronger flavours in
Cambodian food
.
Vietnamese food
focuses on fresh veggies, seafood and herbs in rice paper wrapped rolls. Perhaps take a cooking class in Hoi An and Battambang to enliven the taste buds and expand your culinary repertoire once back home.
Angkor Wat
Yes, Vietnam, alongside Indonesia, has the most UNESCO World Heritage sites in Southeast Asia, including the historic cities of Hue and Hoi An, but it still can't match the might of Angkor Wat. The crumbling, creeper covered, Cambodian temple complex is just peerless. Flights from Saigon Airport to Siem Reap, just 20 minutes' drive from the temples, make Angkor unmissable, even if you're pushed for time.
Our top Vietnam Vacation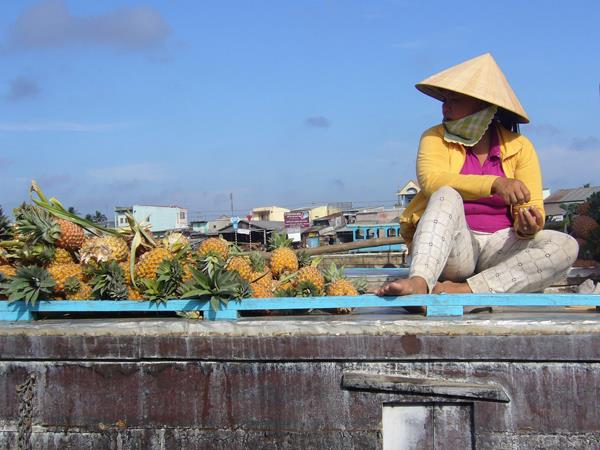 See two wonders of the world in just two weeks
From
£

2075
15 days
ex flights
Tailor made:
Everything is tweak-able, giving you the freedom to build a unique and personal trip for your chosen date. Upgrade your accommodation for all - or just part - of your trip, slow down the pace with few extra nights here and there or add a few more active adventures along the way.
If you'd like to chat about Vietnam or need help finding a vacation to suit you we're very happy to help.

The Mekong
There's something particularly magical about making your way from Vietnam into Cambodia by boat, along the Mekong. Arriving at the harbour of Phnom Penh, after passing riverside villages and visa controls along the way, is about as quintessential a Southeast Asian traveling experience as you could hope to imagine. Watching riverbanks along the Mekong morph from Vietnam into Cambodia is a rite of passage to remember.
What to expect on tour
Typically, combined Vietnam and Cambodia vacations will be for small groups (max 16 travelers) following a set itinerary. Traveling as part of a small group not only keeps costs down, in an already affordable region of Southeast Asia, but also includes an English speaking group leader. This ensures travel arrangements, border crossings and accommodation bookings are all taken care of. Tailor made tours are also available and can feature more or less time in different destinations as well as including guided tours and help with border crossings.
Transport in Vietnam is diverse, ranging from overnight sleeper trains and public buses to domestic flights and Mekong cruise boats. Transport in Cambodia, if you're not flying into Siem Reap, tends to be by private or public bus. Most two week itineraries will take in Hanoi, Halong Bay, Hue, Hoi An and Ho Chi Minh City, as well as the Mekong Delta, Phnom Penh, Siem Reap and Angkor Wat. This route can be taken in either direction. Crossing the border from Vietnam to Cambodia or vice versa can be undertaken by bus, by boat or by air from Ho Chi Minh to Siem Reap. It's about six hours' drive from Ho Chi Minh City to Phnom Penh.