Best time to visit Botswana

The heat peaks in October. If you can bear the temperatures, this is a great time to see wildlife as it clusters around the Okavango Delta.

August to October is often the best time to visit Botswana for first-time visitors. This is the dry winter season, when you're most likely to see huge herds of elephants bustling around waterholes and get unobstructed views across foliage-free plains. Just be prepared for hot days, chilly nights and busy lodges. Some of our local safari experts prefer the "green" season from November to March. Wildlife disperses and water levels drop in the Okavango Delta, but the climate is pleasant. Thunderstorms tend to occur in the late afternoon, dulling the heat yet leaving time for sunshine. Migratory birds and baby antelope are best seen then too.
When is the best time to go on safari in Botswana?
The best time for a safari in Botswana is often August to October, when the foliage dies back, the wildlife is concentrated around the few waterholes remaining, and the Okavango Delta is topped up with water. It is very hot, though, and thunderstorms start to rumble in the evenings. The green season (November-May) is great for seeing migratory birds and newborn antelopes against less parched landscapes… as well as the predators that stalk them.
A month by month guide on when to go to Botswana
January in Botswana
Green rainy season Newborn animals and migratory birds Southern Africa overland road trips
Travel to Botswana in January, and you'll arrive in the heat and rain of summer. The Kalahari is particularly stifling. However, there's plenty of greenery, as well as the chance to see newborn animals alongside an abundance of migratory birds. "The beauty of the rains in Botswana is that they're generally late afternoon thunderstorms that come rolling through then pass on," says Bruce Taylor, guide and founder of our partner Sunway Safaris. "You can still have gloriously sunny days."
February in Botswana
Often rainiest month Wildlife with young and zebra migration Great for Southern Africa road trips
Botswana in February is often Botswana at its rainiest. Showers persist for longer, with some tracks closed or bogged down. However, the clouds do create brilliantly moody backdrops for photographers. "The rain cools things down a bit," adds Bruce. "There are a lot of young animals around and all the migratory birds are in the Okavango Delta at this time – and they're spectacular." The zebra migration from the Boteti River to the Makgadikgadi and Nxai pans is a must-see.
March in Botswana
Green rainy season finishing Excellent bird watching Explore Southern Africa
The heat climbs down from the heights of summer in March, with temperatures in the 30°Cs and nights cooling. Botswana in March can be wet, although rainstorms are usually confined to afternoon showers that clear the air. Elephants appear in the Okavango Delta to hoover up dropped fruit, but water levels can be too low for mokoro canoe trips. Mosquitos and insects love March too; keep topping up your repellent and pack long-sleeved shirts and trousers.
April in Botswana
Camping safaris Increased wildlife viewings Cheaper shoulder season
Travel starts to pick up a little in Botswana in April. Camping safaris become more popular as drier, sunny days roll in. Temperatures hold steady at about 30°C although they can halve at night, lending a chill to morning wildlife viewings. You'll see more land mammals if the rains stay away, especially rhinos. The green scenery and sunshine in April are great for photographers seeking bright light. The rains start to trickle back into the Okavango Delta in April too.
May in Botswana
Start of dry season Okavango Delta wildlife perks up Peaceful lodges and campsites
May signals the start of the dry season, with clear skies and moderate temperatures. Botswana in May can be arid and extremely chilly at night, especially in the Kalahari; be prepared for some sub-zero nights. Elephants return to Chobe and Moremi national parks. The water is slowly moving through the Okavango Delta, so the north-west will have fuller rivers than the south-east – and the wildlife goes where the water does. This is a great time to expand your adventure to Victoria Falls, Namibia and Mozambique.
June in Botswana
Peak season begins Sunny with cold nights African wild dogs, lions and elephants
The number of visitors continues to climb. Lodges and campsites can get very busy from mid-June, when many schools break up in Southern Africa. Nights are cold across Botswana in June, but are especially biting in the Kalahari Desert. Wrap up for your morning game drives wherever you are. Daytimes, however, are a pleasant 20-25°C and even a little warmer in the north. Wildlife viewings increase as lions and elephants seek out waterholes.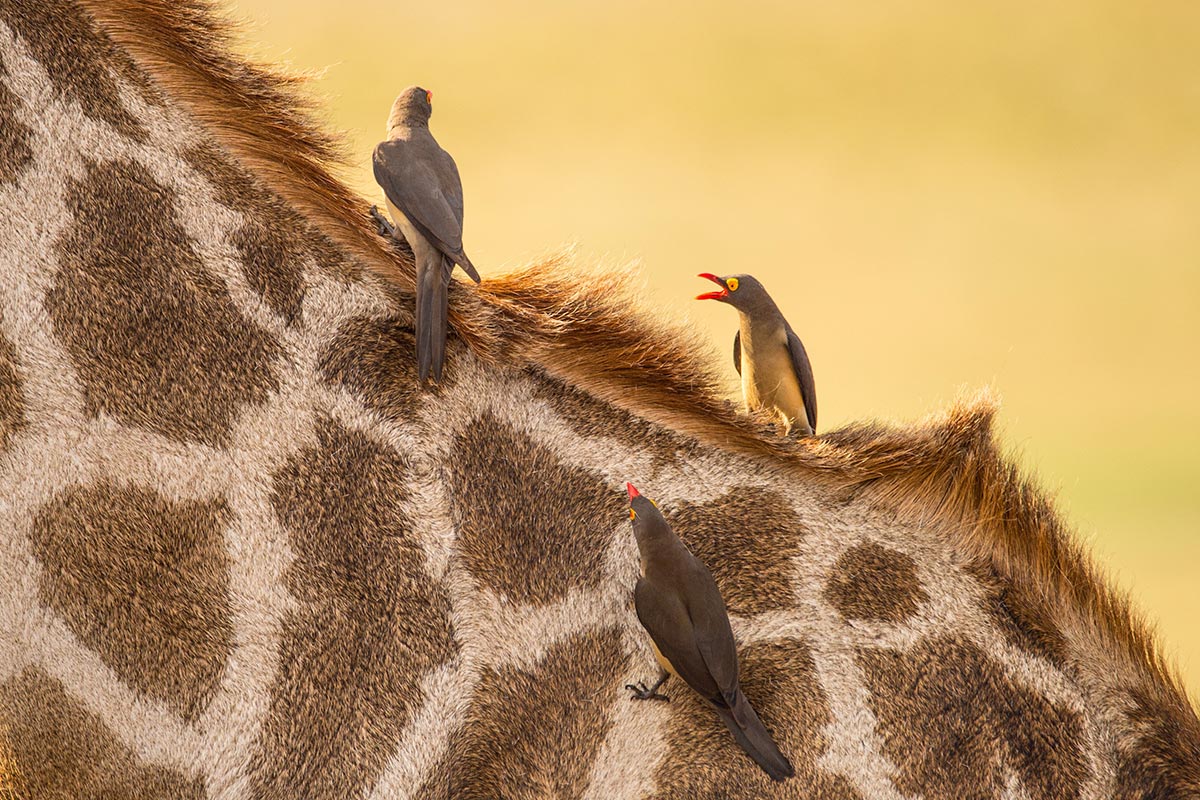 July in Botswana
Most popular month Family adventures Coolest month, but dry and sunny
Cooler, bone-dry weather, amazing wildlife viewings and school vacations combine to make July the most popular month to visit Botswana. You can take your pick of safaris in Botswana in July, from luxury fly-in experiences to camping and family-friendly lodges. You've just got to remember to book well in advance to nab a spot. Elephants, big cats and birds (and mokoro canoe trips) navigate the rising water levels in the Okavango Delta and crowd around ever-shrinking waterholes elsewhere.
July and August are great for a
Botswana camping safari
August in Botswana
Busy month Rising temperatures Peak wildlife viewing at the Okavango Delta
Increasingly sizzling days and cold nights don't put off visitors to Botswana in August. Book well in advance to get a spot at a lodge or campsite during this popular month. Water levels are at their highest in August in the Okavango Delta, drawing out the wildlife in droves. This is an excellent – if busy – time for canoe trips and safaris. Those with a couple of weeks to play with often choose to expand their explorations across Southern Africa in August.
September in Botswana
Camping safaris Fantastic wildlife viewing Hot, generally dry weather
Botswana in September is dry, hot and dusty, with not much in the way of bird watching but also not many mosquitoes and less vegetation. However, this lack of coverage means that September is often considered the best time to visit Botswana for big animals like hippos and black-maned lions. Wildlife clusters around diminished waterholes and rivers and there is little greenery to block fantastic scenes. Evenings start to warm up as winter wraps up and occasional thunderstorms rumble in the afternoons.
October in Botswana
Hottest month (too hot for some) Great for elephants and hippos Cooler in the Okavango Delta
The heat peaks in October, with cloudless skies providing little respite from the sun and temperatures that hover around the mid-30°Cs and can hit 40°C (and then some) in northern Botswana. The nights are warm too. The Okavango Delta offers more bearable temperatures in October, thanks to the full waterways. Enormous herds of elephants gather around the last waterholes all over Botswana in October. It's also a good month to see hippos soaking.
October and November are great for
pairing Namibia with Botswana
November in Botswana
Cheaper prices Baby antelopes and hunting lions Usually the beginning of rainy season
Spring has sprung in Botswana in November. That means more rain, but by no means lots of it. Look up for leopards – they'll be lazing along tree branches to escape the heat during the hot (35°C -40°C) days. The rainy season in Botswana doesn't always run to schedule, but often starts in November. When the clouds do arrive, though, the rain revives grasses for grazing antelope during calving season. Where there are baby antelopes, there are prowling big cats. Elephants and hippos spread out across Botswana as the water available increases.
December in Botswana
Rainy green season Excellent wildlife viewing in the north Explore Southern Africa
"I enjoy the green season from December to April, because there's no dust," says Bruce Taylor, guide and founder of our partner Sunway Safaris. Botswana in December also welcomes excellent wildlife viewing in the north as predators stalk newborn antelopes and migratory birds return. Hot, humid mornings trigger afternoon thunderstorms that cool temperatures a touch before the humid nights return. Photographers will appreciate the dramatic skies and blooming flora.
If you'd like to chat about Botswana or need help finding a vacation to suit you we're very happy to help.

Best times to visit Botswana for festivals & events
World Wetlands Day (2 February)
If anywhere has reason to celebrate its wetlands, it's Botswana. It's home to the Okavango Delta, one of the most important and wildlife-rich wetlands on Earth. World Wetlands Day falls on the date Botswana (among others) signed the Convention on Wetlands of International Importance. A free festival in Maun peppered with music and environmental talks celebrates the lifegiving delta, as well as educating attendees about our reliance on wetlands for the health of both us and the planet.


Maitisong Festival (April)
The Maitisong Festival is the biggest music and arts festival in Botswana, celebrated throughout April in Gaborone, the capital city of Botswana. Hip hop concerts, poetry jams, dance acts, comedians and theatre covering subjects as varied as lost languages and fantastical fairy tales are largely aimed at promoting Botswana's young artists.


President's Day (third Monday of July)
This two-day vacation was recently cut to a single day – but you wouldn't know it if you're in Botswana. Most places shut down for longer to give people the chance return to their hometowns to party with their families. Military parades honour the current and past presidents who have ruled Botswana since independence (there aren't as many as you'd think – only five since 1966).


Kuru Dance & Music Festival (August full moon)
Held each August outside Ghanzi, Kuru Dance and Music Festival stages the world's largest gathering of San dancers. Hundreds of San from across Botswana and Namibia share skills and knowledge, sell beaded bags and eggshell jewellery, and perform spiritual rituals before dancing until the early hours of the morning.


Botswana Day (30 September)
Botswana Day celebrates the moment the nation declared independence from Great Britain in 1966. The day kicks off with parades in the cooler morning sunshine, barbecues sizzle in back gardens all day long, and a huge firework show lights up the national stadium in Gaborone, which gets all dressed up in the blues, blacks and white of the Botswana flag.


The barbel run (September-October)
Each September and October, the receding waters of the Delta cause huge shoals of fish to swarm back to the Okavango River. This causes a feeding frenzy amongst the larger barbels (catfish) and tigerfish, which slap the water with their tails, terrorising the smaller fish out from the reeds and into their own mouths or the beaks of the stalking herons and eagles. It's a fly fisherman's dream – and a fascinating show even for those not armed with a rod.


Baby animals (November-February)
The green season brings new life to Savuti in Chobe National Park as herbivores, including impala and wildebeest, begin to calve. But it's not all cooing at wide-eyed babies. Vulnerable youngsters also trigger a thrilling increase in predators, creating plenty of action for those watching from hides.
When is the best time to visit Botswana & Victoria Falls?
May is usually the best times to see Botswana and Victoria Falls. The green season is over, so the waterfall will be at its most dramatic, boosted by rainwater. May is also the start of the dry season in Botswana, when wildlife makes predictable beelines for patchier water supplies and the Okavango Delta welcomes back wildlife as the waters rise.
What is the hottest month in Botswana?
Northern Botswana sizzles in September and October after a long dry season. Although the mercury might not be as high as later in the year, it feels much hotter because of the arid air. It's a tad cooler amongst the rivers and wetlands of the Okavango Delta, though. The summer "green season" from November to March brings a steadier kind of heat, with warm summer nights that sometimes don't climb down from around 20°C.
When is the rainy season in Botswana?
The rainy season – or "green season" – is in the summer, between November and March. Wildlife behaviour switches from gathering around rare waterholes to feeding on long grasses and giving birth through the spring and summer. You won't see large congregations of elephants and hippos, but you will spy more active predators and skies aflutter with migratory birds (although the growing greenery can obscure viewings somewhat).

The north and south-east are the rainiest parts of Botswana, with the capital city Gaborone going from near-zero rain in July and August to almost daily afternoon thunderstorms in January.
What is the best time of year to visit the Okavango Delta?
Visit the Okavango Delta in August for prime wildlife viewing time and high water levels that cool down the scorching temperatures you'll find elsewhere in Botswana. But really, any time from May to August is excellent in the Okavango Delta, with May-early June ideal for avoiding the school vacation crowds.
How cold does it get at night in Botswana?
It can get very cold at night in winter (May-August) in central and south Botswana. That's especially true of the Kalahari Desert and Gaborone, where evening temperatures hover around freezing point in June and July. (Don't worry, the daily averages are a much more welcome 15°C.) It rarely gets that cold in the Okavango Delta, with winter nights about 10°C.