A vast and varied wilderness, with a tiny human population of just over two million, Botswana offers some of the best safari experiences of any country in Africa. The huge Kalahari Desert covers much of it, and safaris take place mostly in the lush north, where wildlife thrives beside the rivers and marshes of Chobe and the iconic Okavango Delta.

Exceptionally large herds of elephants are a highlight and the Big Five roam freely here, as well as giraffe, hippo, wildebeest, wild dogs, zebras, crocodiles – and over 450 bird species. Specialist vehicles, bush camps, traditional dugout canoes and walking safaris bring you closer to the landscape and its inhabitants.
Botswana boasts an enviable conservation philosophy, which endorses low-volume, high-revenue tourism, with significant measurable benefits for local communities. Much of northern Botswana is divided into vast concessions. These private reserves are granted by lease to safari operators and local communities, with strict environmental standards enforced as part of each lease, creating a pristine safari environment.

This does mean that Botswana isn't a cheap safari destination, but it does offer a unique wildlife experience in a carefully managed environment. Lodges and bush camps are few and far between, so unlike many popular East African parks, once here, you can have the reserves almost entirely to yourself.
Why go on a safari in Botswana?
Botswana's wildlife is rich and diverse, and the country has a great conservation record, with many migration routes protected by vast, transfrontier parks. The Big Five are here, and Botswana is home to more elephants than anywhere else in Africa. It also has some of the highest concentrations of lion, giraffe, hippo, wildebeest and buffalo, too, as well as over 450 bird species. It's a veritable A-Z of wildlife, running from Aardvark to Zebra, so you can guarantee spectacular wildlife sightings.

While wildlife is abundant, visitors are few, making personal, peaceful wildlife encounters far more likely. Safaris in Kenya and northern Tanzania can involve numerous vehicles jockeying for a view of the animals – with safari trucks driving nose-to-tail to the Ngorongoro crater's floor each morning – but in Botswana you may be one of a tiny handful of visitors, which means you see animals behaving completely naturally. If you've already been to Kruger, the Serengeti or the Masai Mara, Botswana will bring an entirely new African experience – wilder, vaster and more remote.
There are a range of safari options available, too, including overland camping trips and longer tours which take in several southern African countries. Camping is at the more affordable end of the financial spectrum, but Botswana elegantly caters for those with deep pockets and is one of Africa's most exclusive destinations. Private reserves and superb, fly-in safari lodges, particularly around Chobe, are the last word in comfort, featuring rooms with air con, en suite bathrooms and balconies, with treats such as a pool, cocktail bar and health spa on site. Even well-developed Kenya struggles to compete with Botswana's unique
luxury
-in-the-wilderness offer.
If you prefer to get right off the beaten track, there is space to explore in this enormous country, too. Like barely developed southern Tanzania, Botswana has parks that lie well beyond its well-established vacation routes and famous reserves. The Central Kalahari Game Reserve (the largest, most remote reserve in Southern Africa) and the Kgalagadi Transfrontier Park, home of famous black-maned Kalahari lions, are rarely visited. If you want a genuine wilderness experience, with the chance to find yourself miles from any other humans, Botswana can deliver.
Safaris in Botswana also offer the chance to get out of a vehicle, too. Bush walks accompanied by an armed guide with a special walking licence bring you thrillingly close to wildlife. In the Okavango Delta, mokoro canoe rides glide you silently through the reed channels for a hippo's eye view of the wildlife. Elsewhere, night game drives and horse riding safaris are also available.

Spending time with the Maasai tribe brings a human dimension to safaris in Kenya and Tanzania, and in Botswana there's also the chance to meet and learn from local people. Walk with a Batswana guide around the Delta, or take a stroll through the Kalahari with San Bushmen for a glimpse into this ancient desert culture.
Why Botswana safaris aren't for everyone
Botswana's decision to focus on high-end tourism has kept numbers and development low, but it means prices are often high, with many lodges well beyond the budget of the average traveler. Its sheer size means flying is often the only way to travel internally, too, and this inflates vacation prices. In addition, airstrips are often rudimentary, and planes small and bouncy, so if you're a nervous flier, these internal flights can prove daunting.

On the plus side, light aircraft trips from the gateway towns of Maun and Kasane allow you to really understand the immensity of the Kalahari and the Okavango Delta.
Camping safaris are available, which involve traveling overland in a combination of safari truck and specialist 4x4 vehicles, camping out each night along the way. These are a more affordable way to explore this high-end destination, but involve a lot of driving – Botswana is almost twice the size of the UK and Ireland combined – on roads and tracks that are not exactly smooth or free from dust!

This explains why self-drive vacations to Botswana aren't hugely popular. The unpaved routes, treacherous sandy tracks, log bridges, long journey times and seemingly endless expanses of nothing mean that Botswana is not ideal for a self-drive trip, unless you're competent behind the wheel of a 4x4 and prepared to rough it for a couple of weeks. In which case, you can hire 4X4s with satellite phone, camping equipment and a two-man roof-tent. For the less intrepid, Namibia and South Africa are more suitable self-drive destinations.
When it comes to accommodation in Botswana, there simply isn't the range and choice that you find in South Africa's Kruger National Park or in Kenya, where everything from a tent in the wilderness to village stays with the Masaai, family-friendly lodges and luxury retreats are available. In Botswana, accommodation is limited. There are very few campsites in the national parks and they have to be booked far in advance, which makes traveling independently challenging. Organised tours, meanwhile, tend to be either bush camping or pure luxe, with not much in between.
Our top Botswana Vacation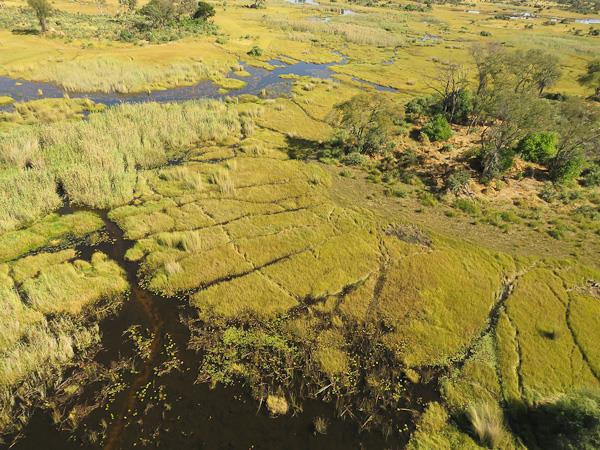 Botswana's premier game parks, Okavango Moremi Savuti Chobe
From
US $

2100
14 days
ex flights
Small group travel:
2023: 18 Jun, 9 Jul, 16 Jul, 10 Sep, 5 Nov, 12 Nov, 26 Nov, 3 Dec, 10 Dec, 17 Dec, 24 Dec
If you'd like to chat about Botswana or need help finding a vacation to suit you we're very happy to help.

Botswana & beyond
Many tours take in Botswana and its neighbouring countries to offer a rich and varied overview of southern Africa. An overland adventure might involve traveling by safari vehicle and camping along the way, taking in South Africa and Zimbabwe, as well as Botswana. Cape Town to Victoria Falls is a classic overland route, which typically includes the Namib Desert and Etosha National Park in Namibia and Botswana's Okavango Delta.
Traveling with children
Botswana isn't the most kid-friendly of safari destinations. Distances are long and temperatures are extreme, rising to the high 30s in October and dropping below zero at night in May and June, during the southern African winter. There are often age limits on game drives and bush walks, too. That said, it is possible to find operators that cater for families.

Be aware that some camps have family facilities but no dedicated activities aimed at youngsters, while others employ guides who are experienced at working with children and might offer special 'bush school' programmes. These include taking children on walks around the camp, showing them how to recognise animal spoor – tracks and droppings – as well as plants and small creatures. It's fun, very hands-on and totally safe. In the evening, there are games and colouring books for kids to enjoy, and they can even help cook camp meals with the chef.
Wheelchair accessible safaris
There's no reason why you can't enjoy the incredible experience of seeing the Big Five in Botswana if you're in a wheelchair. Accessible accommodations are available, and rangers are happy to help with getting into and out of safari vehicles. Your wheelchair will be safely looked after when not in use, and many lodges also offer massages in the evenings to help with tired muscles.