Traveling in Botswana with kids
Botswana is educational, interactive, and its well-equipped lodges offer family tents, activities and safe areas for children. However, check with your operator before traveling in Botswana with kids – and be sure to let them know how old your children are. Eight year olds can sometimes go on standard game drives, but bush walks and many water-based activities are only suitable for those aged 10 or even 12.

Realistically the older the child is, the more they will get out of traveling in Botswana.

Drives are long, hot and uncomfortable, and game viewing requires patience and silence – not skills younger children are likely to possess. Teenagers, however, can have a thrilling time, and you can travel during the school vacations – Apr-Nov are the best months to see wildlife. With any luck they'll be too distracted to realise there's no mobile phone signal or Internet!
Our Botswana family Vacations
Mini Ray Mears will enjoy taking a bushwalk with the San in the Kalahari. They can discover how to get water in the desert, what to eat, how to trap small animals and how to make fire – it's an absolutely brilliant, real-life survival course.
Louise de Waal, from our supplier Baobab Travel: "Some lodges offer special 'bush school' programmes for children. Guides are experienced in working with kids, and will show them how to recognise the spoor – tracks and droppings – as well as plants and small creatures. It's fun, very hands-on – and totally safe. Plus it gives parents the chance to enjoy their own game drives."
Land-based game drives, can be hot, dusty and uncomfortable, especially if wildlife is scarce. River cruises in Chobe National Park are a safe, fun way to see wildlife up close, including hippos, crocodiles and elephants – and the boat is a far more comfortable means of transport for wriggly, impatient explorers.
Our top Botswana family Vacation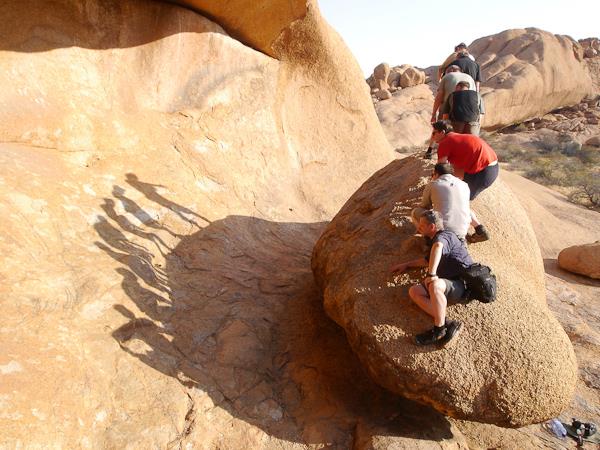 Classic route lodge safari to Namibia, Botswana & Zimbabwe
From
US $

3940
21 days
ex flights
Small group travel:
2023: 25 Oct, 22 Nov, 13 Dec, 20 Dec
2024: 10 Jan, 31 Jan, 7 Feb, 21 Feb, 13 Mar, 27 Mar, 10 Apr, 27 Apr, 15 May, 29 May, 12 Jun, 10 Jul, 24 Jul, 31 Jul, 7 Aug, 14 Aug, 28 Aug, 4 Sep, 11 Sep, 2 Oct, 23 Oct, 30 Oct, 20 Nov, 4 Dec, 11 Dec, 18 Dec
If you'd like to chat about Botswana or need help finding a vacation to suit you we're very happy to help.

Botswana travel advice for families
Arabella is a Botswana specialist for our supplier, Natural World Safaris. She has been to the country three times - here she shares her tips for those traveling in Botswana with kids:
"Make sure you book with an operator that has experience with family tours, as some camps have family facilities but no dedicated programmes. Others have guides who are trained to work with children, and there are safe walks around the camp. In the evening there are books they can colour in, and they can even help cook camp meals with the chef. It's the best outdoors education they can get."
Richard Madden, author of The Telegraph's Bush Telegraph column:
"Think carefully before traveling in Botswana with children.You should accurately assess whether your children are old enough to fully appreciate the experience. While some will be enchanted on each and every game drive, others lose interest very quickly. A bored and fractious child is not what you want when you've paid so much for the vacation of a lifetime."