Things to see & do in
Moremi Game Reserve, Botswana
Covering around 40 percent of the Okavango Delta, the Moremi Game Reserve is one of the great safari destinations in Botswana. Voted best game reserve in Africa in the past, Moremi was the first wildlife sanctuary to be created by an African tribe on their own lands. The BaTawana people, concerned about wildlife depletion, are now stewards of Moremi, and many trips here will focus on Chief's Island, which was once a favoured royal hunting ground.
What makes Moremi Game Reserve so special is the terrain – a mix of forests, floodplains, lagoons and waterways dotted with lilies. Dry and wetlands allow for stunning contrasts, and support a staggering diversity of wildlife: Cape wild dogs and buffalos, giraffes, hippos, zebras, impalas and antelopes, along with some 500 bird species and – since the successful reintroduction of rhinos – the Big Five. Safaris here take the form of 4x4 drives, guided walks and voyages in the traditional mokoro dugout canoes, poled skilfully along by your guides. Many canoes are now actually made of fibreglass, since the growth of demand for canoe tours has led to serious worries about the sustainability of chopping down so many trees.
Joanna Simmons
,
one of our expert travel writers, took an unforgettable family safari to Botswana in 2018 that visited Moremi Game Reserve:
"Moremi is just so beautiful. It's part of the Delta, so there are wetland areas, but there are also forests and grassy areas and it seems to constantly evolve as you drive through it. A very happy memory is quietly watching about 50 elephants wandering through the trees – babies, big females – grazing and moving, all around us. We also saw a leopard kill here. We just missed a lechwe (marsh antelope) being born and watched it take its first steps, then a female leopard shot out of the tall grass and took it. It probably lived for about six minutes. You want nature? Moremi delivers."
How to visit Moremi Game Reserve
Moremi is just under 5,000km2 in size, and borders another ace in the Botswana pack, Chobe National Park, at its northeastern edge. Access is usually from the nearby town of Maun, where large populations of wild donkeys, goats and the red lechwe graze by the river, but many lodges on Chief's Island have private airstrips, too. Some itineraries also explore private reserves outside Moremi.

Accommodation in Moremi ranges from fairly luxurious bush lodges, some of which feature en suite tents; to wild camping where you can expect pretty basic conditions, such as bucket showers, but also the thrill of nighttime wildlife visits. Only two areas of the reserve are above water level all year round: Chief's Island, which is the largest landmass in the delta and can only be reached by plane or boat, and the Mopane Tongue.
Chief's Island
Around 60km long and 10km wide, with a great diversity of terrain, Chief's Island possesses perhaps the highest density of animals in all of Southern Africa, offering them a valuable retreat when the waters rise. Historically an exclusive hunting area for the tribal chieftain, the island presents immensely exciting safaris by 4x4, or mokoro canoe when water levels allow. The environment is absolutely pristine, as there has never been permanent human settlement here.
Mopane Tongue
Jutting into the delta from the east, and connected to Chobe National Park by a corridor of land, the Mopane Tongue is a peninsula, much of it covered in mature mopane forest, which is used for housebuilding, musical instruments and decoration. Leopards and cheetahs can be seen here with a little luck, drawn by an abundance of antelopes, while the waterways of the Xakanaxa Lagoon at the tip of the tongue are renowned for their birdlife.
Our top Botswana Vacation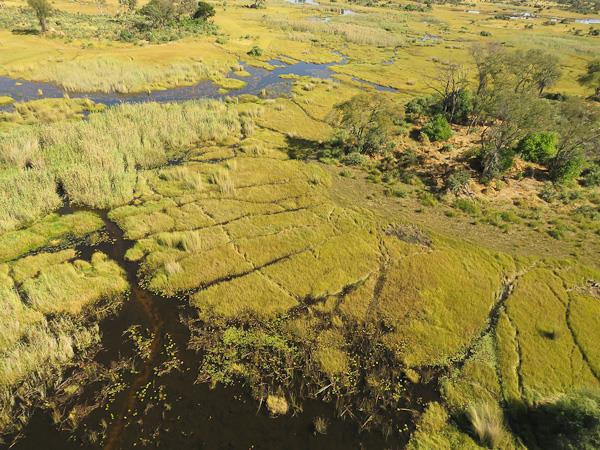 Botswana's premier game parks, Okavango Moremi Savuti Chobe
From
US $

2100
14 days
ex flights
Small group travel:
2023: 18 Jun, 9 Jul, 16 Jul, 10 Sep, 5 Nov, 12 Nov, 26 Nov, 3 Dec, 10 Dec, 17 Dec, 24 Dec
If you'd like to chat about Botswana or need help finding a vacation to suit you we're very happy to help.

Best time to visit Moremi Game Reserve
The best time to visit Moremi tends to be between July and October, when temperatures are more moderate. Many water sources dry up, so the wildlife concentrates around those that remain, inevitably leading to excellent viewing opportunities and conflict between predators and prey. During this dry season, vast herds of prey species make their way to the reserve from the Kalahari Desert in search of water, which – combined with the knowledge and experience of the guides here – should ensure very successful safaris.
October to April is the hot, wet season. Game viewing is trickier, as the vegetation is so thick and lush, but it's an exceptional time of year for bird watching, with January the main breeding season. The rains can make some parts of Moremi inaccessible, however; and many lodges close between December and February.