Describing the wildlife in Botswana inevitably involves big numbers and beefy superlatives. The country is home to some of the highest concentrations of lion, giraffe, hippo, wildebeest and buffalo in Africa, plus around 450 bird species. It boasts perhaps the world's largest elephants in definitely the world's largest herds, with total numbers estimated at up to 130,000 – more elephants than any other country in Africa. The Okavango Delta is home to some 200,000 large mammals during the dry season, while the Central Kalahari Game Reserve is the second largest wildlife reserve in the world.
These impressive figures are partly born of Botswana's size. It's a vast country – almost twice that of the UK and Ireland put together – with a huge mix of terrain, including marshes, rivers, salt pans, savannah, scrub and, of course, the flooded oasis of the Okavango Delta. It means a great variety of wildlife can happily live here for some or all of the year, and in large numbers. In addition to its private reserves and national parks, huge transfrontier parks exist that further support wildlife, such as the Kgalagadi Transfrontier Park shared by Botswana and South Africa, and designed to protect the migration routes of wildebeest and springboks.

Thanks to Botswana's emphasis on low visitor numbers and good conservation, animals here live largely untroubled by humans. For the few travelers lucky enough to enjoy a safari in Botswana, there is the chance to see animals behaving like, well, animals, without the distraction of tourist-packed jeeps and the chorus of 'coos' and camera shutters. So expect thrilling Botswana wildlife encounters, from lions hunting wildebeest and even elephants (unusual, but it does happen), to splayed-legged giraffes nervously drinking at waterholes and the sound of hippo grunts and distant roars that form the night-time soundtrack.
What to spot in Botswana
The Big Five – lion, leopard, elephant, black rhino and buffalo – live in Botswana, alongside a great array of other animals, including giraffe, antelopes, zebras, wildebeest and hippo, which can all be seen in abundance in Chobe National Park and Moremi Game Reserve. Nile crocodiles are threatened in other parts of southern Africa, but you'll find the waters of the Okavango Delta full of them. In the harsh Kalahari, desert-adapted creatures, including gemsbok (oryx), eland and the Kalahari lion thrive, while flamingos congregate on the salt pans of Makgadikgadi.
Botswana is also a bird-lover's paradise, with more than 400 species attracted here by the seasonal floods. While the big animals tend to steal the show, there is also a dizzying array of smaller, less show-stealing critters to spot. These include 72 species of snakes, such as the poisonous Mozambique spitting cobra and the black mamba, great quantities of lizards, including leguaans (water monitors) which can reach over two metres in length, frogs of every shape, size and colour and, in the Kalahari, nasty but fortunately not deadly scorpions.
Our top Botswana Vacation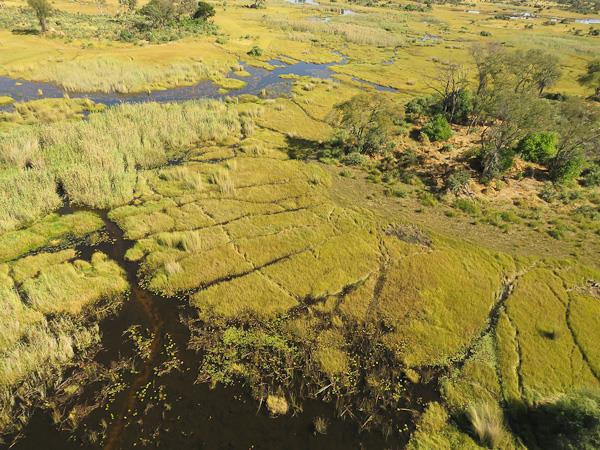 Botswana's premier game parks, Okavango Moremi Savuti Chobe
From
US $

2110
14 days
ex flights
Small group travel:
2024: 7 Jan, 21 Jan, 28 Jan, 11 Feb, 18 Feb, 25 Feb, 3 Mar, 10 Mar, 17 Mar, 24 Mar, 31 Mar, 7 Apr, 14 Apr, 21 Apr, 28 Apr, 5 May, 12 May, 26 May, 2 Jun, 9 Jun, 16 Jun, 30 Jun, 7 Jul, 14 Jul, 21 Jul, 28 Jul, 11 Aug, 25 Aug, 1 Sep, 8 Sep, 22 Sep, 29 Sep, 13 Oct, 27 Oct, 3 Nov, 10 Nov, 24 Nov, 1 Dec, 8 Dec, 15 Dec, 22 Dec, 29 Dec
If you'd like to chat about Botswana or need help finding a vacation to suit you we're very happy to help.

The best ways to see wildlife in Botswana
Botswana offers plenty of opportunities to ditch the safari vehicle and see the wildlife from a more personal perspective. Bushwalks with a local guide, who is armed and specially licensed, are possible in the Okavango, while mokoro boat trips here are a chance to glide along the reed-choked channels, spotting crocs, hippos, herons, frogs and more, up close. Some private reserves even offer horse riding excursions. All these experiences can be exciting, serene or both, depending on what you encounter, and all are guaranteed to get you close to the wild landscape for a deeper understanding of the animals' habits and lifestyle.
To record your sightings, take a camera with a good zoom so you're not tempted to get close to the wildlife. This can disrupt their natural behaviour and ruin any chance of capturing them at their most relaxed. Binoculars are also essential for bringing the huge tracts of land that Botswana is famed for into clearer focus.
Conservation stories
Botswana banned trophy hunting in 2014, although it legalised elephant hunting again in 2019, but overall a good record on conservation means many species are thriving, with a few the subject of concerted conservation work. The Khama Rhino Sanctuary was set up in 1992 to help save vanishing black and white rhino. This community-based wildlife project in the southeast of the country has around 8,585 hectares of Kalahari Sandveld, providing prime habitat for rhino as well as over 30 other species, including impala, jackal and ostrich. To date, it has relocated 16 rhinos to the wild, from a starter population of just four. Visitors can stay here in chalets or on the campsite and enjoy game drives and nature walks.