Best time to visit Central America

Watching turtles come up Nicaragua's La Flor Beach with the children at Christmas made us realise, on so many levels, that 'It's a Wonderful Life'

This tropical terrain has heat, humidity, heavy rain and high elevation 'hit or miss' weather. The dry season is generally the best time to visit Central America which, in most countries, is January-March (or November-April in Nicaragua, Panama and Honduras). In Nicaragua the rainy season means an hour of rain in the afternoon, and it's gorgeous at this time of year. Costa Rica is driest and sunniest late December-April, but clouds lift a little later from Belize and Panama, around February. And with any rainforests, come rain. When you least expect usually.
Central America, month by month
Mexico is mammoth, so the weather is as convoluted as a Mexican cocktail menu. End November until April on the coast is dry, hot and honeypots are buzzing. But in the northern mountainous regions, you'll hit snow December, January and February. The dry season is generally January, February and March (or November-April in Nicaragua, Panama and Honduras). Feb-mid April is peak season for cruise ships, which frequent the big ports of Mexico, Honduras, Costa Rica and the Panama Canal. Getting a tailor made package will stop you getting a bruising from the cruising. For whale watching in Baja, Mexico, during early February-end April the seas are, literally, singing. Calves join the chorus in February. The rainy season can actually be quite beautiful, with greener landscapes, lower prices and fewer tourists. However, September and October bring seriously heavy rain in some parts of Costa Rica, with roads and rivers often merging into one. Many businesses shut down during this time anyway. If you don't do mornings, don't do the rainy season. If you are an early riser, it is perfect in most Central American countries as the rain doesn't kick in until the afternoon. So get up early, hit the hills or the heritage sites, siesta in the afternoon, and fiesta at night. Although Costa Rica, Panama or Nicaragua hardly know what a hurricane is, Northern Central America has had its fair share of hurricanes, between June and November, with Honduras and Guatemala hit badly by Mitch in 1998. But note, they are not the norm. Late November to April is also not the best time to visit Central America if you are on a budget as prices get hiked up during peak season. If hiking in some of Central America's highlands, temperatures are defined by altitude rather than season. In Honduras, for example, the average annual temperature is 32°C but it can dip to 20°C in mountain areas. Costa Rica and Belize, in particular, pack out during US/European public and school vacations, in the honeypot areas. 4 July, Memorial Day at the end of May and Labor Day at the beginning of September are the biggies. Don't let them put you off though. Tailor made vacations are great for directing you off the beaten track during these times.
Our Central America Vacations
Our top Central America Vacation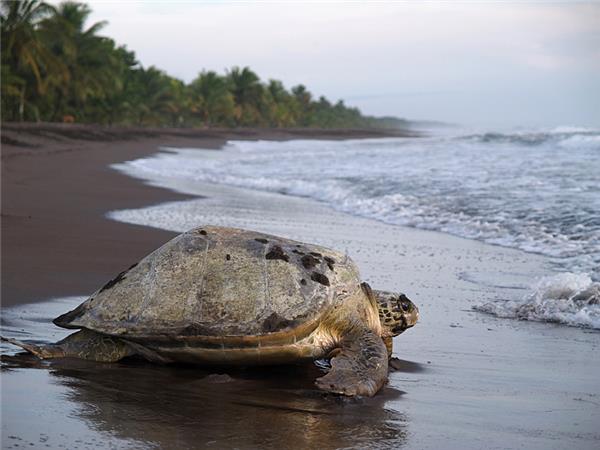 An amazing variety of Costa Rican wildlife
From US $5279 to US $5949 15 days ex flights
Small group travel:
2023: 22 Apr, 6 May, 20 May, 8 Jul, 22 Jul, 29 Jul, 5 Aug, 12 Aug, 19 Aug, 26 Aug, 2 Sep, 16 Sep, 30 Sep, 7 Oct, 14 Oct, 28 Oct, 2 Nov, 4 Nov, 7 Nov, 9 Nov, 11 Nov, 16 Nov, 18 Nov, 25 Nov, 16 Dec, 21 Dec
2024: 2 Jan, 4 Jan, 6 Jan, 11 Jan, 13 Jan, 18 Jan, 20 Jan, 25 Jan, 30 Jan, 1 Feb, 6 Feb, 17 Feb, 27 Feb, 29 Feb, 5 Mar, 12 Mar, 14 Mar, 16 Mar, 19 Mar, 21 Mar, 23 Mar, 27 Mar, 30 Mar, 6 Apr, 13 Apr, 20 Apr, 27 Apr, 4 May ...
If you'd like to chat about Central America or need help finding a vacation to suit you we're very happy to help.

Responsible Travel recommends
Jessica Schugel from our Nicaraguan specialist, Buen Viaje Tours:
"I think Nicaragua is great to visit all year because there is a festival or celebration almost every day. However, during the dry season, particularly March through May, it is very dry and isn't as pretty. The rainy season doesn't prevent you from doing anything, because the rains come in the afternoon, it pours for an hour to an hour and a half, and then it's over. Easter week gets very busy. However Nicaraguans all go to the water, so the towns empty out. Which, for some tourists, is perfect. Purisima, the celebration of the Immaculate Conception of Mary, at the beginning of December, is non-stop fireworks throughout the month. "
Scott Marquardt, tour leader with our supplier Tucan Travel tells us the best time to visit Central America: "Panama and Costa Rica in particular can get quite rainy from May to November, in fact "ticos" (Costa Ricans) call this their winter. Even so it's still a lovely time to visit with fewer crowds. In general November is a perfect time to visit Central America, with the rain tailing off and still not too many tourists, although there is the odd chance of a hurricane or two coming up the Caribbean Coast."
In Masaya, Nicaragua, every Sunday in October and November, dancers perform El Baile de Negras to celebrate the city's patron saint, San Jerónimo. Accompanied by traditional marimba musicians, they dance in the streets, in people's homes. They dance everywhere. Beautifully and skillfully. And masked. Which conceals the fact that they are all, in fact, men.
More about Central America