Things to see & do in Agra, India –
THE CITY OF THE TAJ MAHAL
Although a city in its own right, Agra is synonymous with the Taj Mahal, the 17th century marble mausoleum which would set the standard for romantic symbolism from here to eternity. Located 230km from Delhi in the state of Uttar Pradesh, Agra's architectural wonders are some of the finest in the world - unsurprising really, given that it was the capital of the Mughal Empire between 1526 and 1658 and is thought to date back to the 11th century.
Today this region sees floods of tourists, thanks to its three UNESCO World Heritage Sites, with the Taj on top - and Agra's infrastructure is starting to creak. The decline of the actual city can't be totally blamed on tourism, however. After building the Taj Mahal in memory of his wife, Mughal leader Shah Jahan moved the capital to Shahjehanabad, now known as Old Delhi, leaving Agra to decline. It was already suffering famine, said to be brought about by the massive amount of funds invested in building the Taj Mahal.
The decline of the Mughal Empire in India came quickly after that, although their legacy as magnificent architects still stands today, not only at the Taj Mahal but also Agra Fort and the nearby city ruins of Fatehpur Sikri.
Our India Golden Triangle Vacations
Taj Mahal
The name means 'crown of palaces' and there is no doubt that it is the jewel in the crown of all of India's palaces. Yes, you will get throngs coming to see it, yes you will get touts and hagglers trying to sell you this and that, and yes, you will be blown away. This immense mausoleum of white marble was built between 1631 and 1648 by Emperor Shah Jahan as a resting place for his wife Mumtaz Mahal. He was also buried here in 1666
It is important to remember that the
Taj Mahal
is a place of worship and working mosque, which is why it isn't open to public visits on a Friday. There are various ways to get to the Taj Mahal, which is only a two hour train journey from Delhi. Then there are various shuttles from the station to the Taj. Using a cycle rickshaw ridden by a local guide is a popular and pollution free way to get around.
Agra Fort
Also known as Lal Qila, Fort Rouge and Red Fort of Agra, it is not to be confused with the Red Fort in Delhi. This was the emperors' main residence during the years when Agra was capital city, and although it is often overlooked by the romance and reverie attached to the Taj Mahal, this is one extraordinary masterpiece. Just 2.5km from the Taj Mahal, like so many of India's forts, there is a whole city going on behind its impressive red sandstone walls. Built in 1573 under the reign of Akbar, it backs onto the River Yamuna and has four impressive gates, the main one being Delhi Gate which was the king's entrance when it was built. Perhaps he had planned that eventual move to Delhi all along.
Today, tourists can only gain access via the Amar Singh Gate. Once you have gained entrance there is an array of buildings and monuments to take in, highlights being Sheesh Mahal, a royal dressing room bedecked with mirror mosaics; the Khas Mahal white marble palace; the mosques; and Musamman Burj, a large, octagonal tower with a balcony overlooking Taj Mahal. It is said that the Shah Jahan spent his last few days in captivity here (by his own son), staring out at his Taj. For every building there is a wealth of stories in the Golden Triangle.
Our top India Golden Triangle Vacation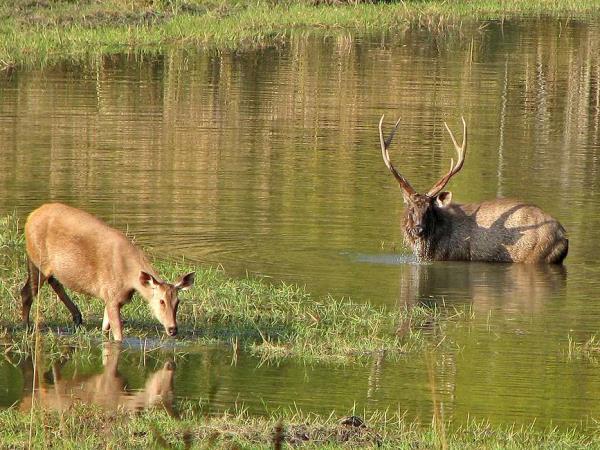 Brilliant experiences including Tigers and Temples
From
£

1199

to

£

1299
11 days
ex flights
Tailor made:
This trip can be tailor made throughout the year to suit your requirements
If you'd like to chat about India Golden Triangle or need help finding a vacation to suit you we're very happy to help.

Fatehpur Sikri
A fortified city 35km outside Agra, sometimes known as a 'ghost town', Fatehpur Sikri isn't actually spooky at all. It's just spectacular. Particularly at sunset when the red sandstone lights up with all the grandeur this architectural achievement merits. This UNESCO World Heritage Site was the Mughal capital from 1571 to 1585, before it moved to Agra. It still has a working mosque, Jama Masjid (one of India's largest, in fact), a bazaar and stunning gardens which are all full of life.
Other highlights include the 54m high gate, Buland Darwaza, said to be the largest of its kind in the world. Also the Diwan-i-Khas which was the Emperor Akbar's royal chamber, and the Panch Mahal, for the female members of the royal household. The mausoleum of Salim Chisti inside the main square also boasts some of the finest latticed marble carved screens in India. No ghosts spotted here either.
More about India Golden Triangle