Golden Triangle travel advice
What not to miss
Steph Millington from our supplier, Intrepid:
"In Delhi, don't miss a visit into the small narrow backstreets of Chandni Chowk and also see the magnificent Jama Masjid, Delhi's oldest mosque. In Jaipur, the Palace of the Winds and the Amber Fort are unforgettable and in Agra, well it has to be the one and only Taj Mahal."
Sanjay, from our supplier, Bespoke India:
"Do not miss Fatehpur Sikri nearby because architecturally it is a perfect mix of European, Jain, Rajput and Islamic influences. And although Agra is quite a difficult city, and not a very good representation of India, its buildings are definitely worth honouring."
Our India Golden Triangle Vacations
Transport tips
Steph Millington from Intrepid, our leading supplier of vacations in India's Golden Triangle:
"Try out Delhi's new, modern Metro, an iconic cycle rickshaw or even a hot air balloon ride over the pink city of Jaipur. Importantly, go with an open mind and be prepared to encounter hustle, bustle, excitement, noise and unusual smells!"
Tiger watching tips
Paul Goldstein , top tiger safari guide and expert at one of our leading suppliers, Exodus:
"Much like mountain gorillas, you have to be aware that this is a desperately endangered species, so please try and look beyond your camera. I have led countless tiger safaris in India, but probably only have half a dozen really good photos. So, particularly when you see your first one, put the camera away because, firstly, you might not see another one and also, it is a deeply emotive moment. The photo will probably be rubbish anyway as you will be sobbing or shaking, as you should be. "
Packing tips
Steph Millington:
"Take a scarf (or buy one there). It's a useful garment to cover up with because the heat can be searing, even when least expected, and if you're visiting religious sites it's appropriate to go with covered shoulders, so a scarf can come in very handy."
Packing tips
Shanane Davis, Director of our supplier, True Luxury Tours:
"Most travelers come in winter and the difference in temperature between morning and evening can be a lot. So pack a sweater and socks. Also a rain poncho, as umbrellas aren't practical here with the wind."
Food recommendations
Shanane Davis, Director of our supplier, True Luxury Tours:
"Do seek out Mughlai cuisine, which can be found in Old Delhi. It is a fusion of local with Persian cuisine and it is exceptional: complicated recipes with lots of different ingredients and very subtle spices. This is very different from what people expect of Indian cuisine which is more spicy and comes from Gujarat or Punjab. But these cuisines, that were in the different courts over time, are very sophisticated and very different. And most travelers don't realise that it is available."
Our top India Golden Triangle Vacation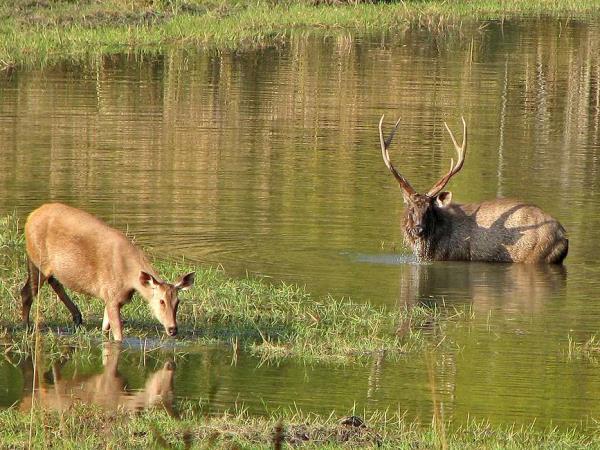 Brilliant experiences including Tigers and Temples
From
£

1199

to

£

1299
11 days
ex flights
Tailor made:
This trip can be tailor made throughout the year to suit your requirements
If you'd like to chat about India Golden Triangle or need help finding a vacation to suit you we're very happy to help.

Shopping tips
Golden Triangle travel advice from Shanane Davis, from our supplier, True Luxury Tours:
"There are two worlds for shopping in India. Most people just see the low quality handicrafts made for tourists. But there are also the places where Indians like to shop, which sell things handmade in India but very high quality – perfumes, handmade silks and delicate decorative arts such as the traditional and indigenous lacquer work. For high quality, genuine handicrafts in New Delhi, go to the state emporium called Baba Kharak Singh Marg in Connaught Place."
Andrew Appleyard from our supplier, Exodus:
"If you want to buy jewellery, head to Jaipur. But for gems, you really need to be with a reputable operator to make sure you are going somewhere where you will get a government certification, and that the operator or guide knows how to get recourse if you find out you have ended up with something that isn't right. We are lucky that we use guides that have been around for a very long time and really know the good, responsible places to go."
Delhi tips
Kate Zhukova, from our supplier Rickshaw Travel, shares her thoughts on India's capital city:
"Delhi can be quite overwhelming and the best survival advice that I can offer is to just go with the flow. Don't be scared. There are some beautiful places to explore that are really cool with vibrant food districts where there are loads of cafés and restaurants as well as plenty of street food stalls by the side of the road. Delhi has an excellent metro system and I'd definitely recommend taking a tuk tuk or rickshaw instead of a taxi or private car to get around the city."
Health & safety in the Golden Triangle
HEALTH
Visit your GP six to eight weeks before departure to ensure you are up to date with any necessary vaccinations., and take out comprehensive travel insurance which includes emergency repatriation.
Malaria is a risk in India, but the Golden Triangle is a low to no risk area.
For any medical emergencies, call 102.
Bring your own personal first aid kit, with basics and anything you might need for personal medical requirements. Many tour operators on small group tours cannot administer basic medications such as painkillers or anti inflammatory medication so do come prepared.
Be careful with drinking water, and this includes ice. Your tour operator should have large containers of water so that you can fill up a reusable bottle. It is worth considering investing in self-filtering water bottle, such as LifeStraw and cut out the use of plastic bottles altogether.
At meal times, and particularly when eating street food, hand sanitiser is recommended.
It is best to avoid stroking animals, and there are many stray cats and dogs, as rabies does exist.
Beware of meat or fish that looks a bit raw, and don't buy fruit that has already been peeled. Coconut water is one of the safest drinks around, as it has very hardy packaging that is difficult to tamper with. Plus it is great for rehydrating.
Learn this one in case of dehydration: 1 tsp salt/8 tsp sugar/1 litre of water ratio is the magic remedy.
Be wary of the humidity at certain times of year. In Delhi, July, August and September are the most humid months, when rain brings huge relief.
To avoid petty theft, padlock your luggage and keep valuables next to the skin. Women are advised to keep the body covered as much as possible, and not to walk alone in tourist cities at night, as sexual assaults have occurred. Also, women have been accosted during Indian vacations when street parties can become drunken chaos. Women are also advised to go with a companion if they are having a massage or spa treatment. It is normal to request a female massage therapist. Check with your tour operator about the reputation of the spa business. If traveling overnight on public transport, this is one time to follow your mother's advice and don't accept food from strangers. There have been incidents of criminals drugging tourists and then stealing their possessions. Common sense, really, but avoid isolated areas, including riverbanks, backstreets and parks at night. Avoid traveling alone on public transport, especially after dark. Tour operators usually organise your airport transfers for you, but if not, taxis from hotels or pre-paid ones at airports are best. Delhi does have some taxis that are driven by women for women.
At Responsible Travel, we think the best people to advise our travelers are often... other travelers. They always return from our tours with packing tips, weather reports, ideas about what to do - and opinions about what not to.
We have selected some of the most useful Golden Triangle travel advice that our guests have provided over the years to help you make the very most of your vacation.

Remember to change your rupees back before customs on the way home as it is illegal to take currency out of the country.

"We were really cautioned against using any form of elephant transport, because of the conditions that they are allegedly kept in. The tour leader was very geared up towards that." – Anne Steyn

"The most memorable part? Indian train travel. Sumptuous hotels. Beautiful new Delhi. But end of May in India is probably too hot." – Lydia Walton

"Take plenty of mossie spray and if you get a dodgy tum don't take Immodium - seek medical advice immediately to get the appropriate antibiotic." – Debbie Gilliland

"Being exposed to a completely different world that seems to follow a completely different logic than what I'm used to…Be prepared for the cold in January and make sure to have warm, functional clothes and a sleeping bag." – Judith Brockmann

"A mixture of cities and wildlife is good." – Stephen Pick

Ladies remember that bodies need to be covered a little bit more than maybe you're used to in the warm weather at home.

"Plan your vacation to include several 2 or 3 day stops in a tranquil location to relax and absorb your impressions." - Moyra Williams, on a tailor made vacation to the Golden Triangle

"The guide took all the hassle out of it. He gave us guidelines on costs, he showed us the best value for money places to eat in the location and doing activities as a group meant not only was it sociable, but we got good deals. We travelled at the end of the monsoon season so sometimes it was very wet and overcast, but the plus was that there were fewer tourists. You can opt out of activities so there was nothing I didn't enjoy." – Hazel Durbridge

"I really enjoyed the overnight train rides to and from Varanassi. It was great to take part in something that it so inherent to Indian life, we met some great people on the train and it was an excellent way to see the countryside." – Jerrine Barnett

"Ladies remember that bodies need to be covered a little bit more than maybe you're used to in the warm weather at home. We were surprised by how many women don't realise this. If the Indians think you're showing too much flesh at some sights you will be given shawls to cover your shoulders. Always travel with a sarong so you can cover up as the communal shawls have been well used!" - Lesley Craven
More about India Golden Triangle