Iceland photography vacations guide
Iceland couldn't be described as pretty; it's no pastoral idyll or gentle landscape of rolling hills and shady lanes. Iceland is the land of fire and ice, created by violent forces. It's the place where tectonic plates collide, ripping and wrenching the landscape.

Volcanoes, lava fields, geysers and hot springs continue to erupt, explode and encroach, making this country fascinating to visit, and even more fascinating to photograph.

Photography vacations in Iceland present the chance to capture sparkling fjords, dramatic volcanic peaks, floating blue ice, sheer sea cliffs, black sand beaches and thundering waterfalls. The long days of summer produce delicate, soft light, while on winter nights you can snap the Northern Lights rippling silently across the sky. Throughout, you'll receive guidance from a professional photography tutor, tuck into hearty local food, stay far off the tourist trail and gain a deeper understanding of this dynamic and dramatic little country. You'll head home a better photographer, too, with a bulging portfolio of remarkable, creative images, and a lot of great memories.
What do photography vacations in Iceland entail?
Pretty much from the moment you step off the plane, Iceland starts dishing up photographic opportunities. Even the bus ride from Keflavik airport to Reykjavik takes you through an otherworldly landscape of rocks and dense lichen. Since there's such an abundance of photographic subjects in this tiny country, photography vacations tend to be themed, to narrow things down. A tour might focus on the East Iceland fjords or the remote interior of the country; it might aim to capture orcas or the Northern Lights; or it might celebrate Iceland's coast and ice.

The focus of photography vacations in Iceland tends to be its landscapes and natural phenomena. Unlike some locations that offer up street scenes, architecture and portrait photo opportunities, Iceland is really all about wild landscapes and the Northern Lights. Wildlife features, too, from puffins and orcas (photographed from a boat), to seals and tough Icelandic ponies, and there may be the odd fishing village or remote church to point your lens at, too. In general, though, it's the glaciers, waterfalls and rugged coast that provide the inspiration.
Small group photography vacations
Photography vacations are usually small group trips, with a maximum of 10 or 12 participants, so you're each guaranteed plenty of one-to-one attention from the photography tutors and, as a group, will tread more lightly on the landscape. These vacations often attract solo travelers and frequently don't charge a single supplement – meaning you can have your own private room at no extra cost. Trips vary in length, from a week to 12 or 14 days, and typically, anyone can join, with tours designed to meet the needs of people with differing degrees of experience and commitment to photography.
Seasonal itineraries
If you're traveling in the colder months when there's a chance of seeing the Northern Lights (September and October, February and March) you'll be busy all day, catching the sunrise and making the most of the available light. During high summer, when the sun barely sets in Iceland, there are several hours of ambient light and long sunrises and sunsets, so it's a superb time to be photographing here.

There will be an itinerary, but there is always flexibility built in, and plans may change to make maximum use of the prevailing light and weather. Expect a few long drives when moving between bases, but the scenery unfolding will always be superb and there will be plenty of stops so you can photograph it.
Professional assistance
The best Iceland photography vacations are run by people who live on the island and know it inside out. They can lead you to unique, remote and photographically rewarding locations, sometimes only accessible by boat, as well as to its iconic highlights. They will also have long standing relationships with local people, who can guide you to secret spots. On this
summer photography vacation
, for instance, you visit Cape Ingólfshöfði, a headland that's home to thousands of nesting birds including puffins and great skuas, only reached with the help of a local farmer.
While you're out in the field, tutors work alongside you, offering technical and creative advice together with practical help and encouragement, so you create truly memorable images. After that, there's time to work on editing photos and evenings spent reviewing and critiquing each other's work.
Photography vacation practicalities
Accommodation is generally in hotels, which will be a comfortable, warm base where you can relax, work on the images you've taken that day, get helpful post-processing tuition and enjoy viewing the work of your fellow photographers. If your tour heads into the remote interior of Iceland, expect a few nights in a mountain chalet, too, which will be more basic but might have treats like a hot tub.

There's often some walking every day, usually on tracks but sometimes on uneven ground, so you'll need a decent level of fitness. If you come in winter, it's cold, with daytime temperatures of only a few degrees. Bring suitable cold weather clothing so you're comfortable working outdoors. Thermals are a must, especially gloves, when you're waiting to take aurora photos on icy nights.
If you're traveling in winter, be prepared to be extra flexible. The Icelandic weather may mean plans have to change and journey times are extended, but a local tour leader will be expert at finding alternative destinations if blizzards or blocked roads render some spots off limits. If weather is really extreme, you may even lose a day of photography. Go with the flow and use unexpected down time to recharge batteries, both camera and human, and edit photos.

"I loved the wildness of Iceland. The weather we encountered was raw. It snowed most of the week and sometimes the road was closed. The weather allowed us to see Iceland with few tourists around. It was great! You just don't get many people taking selfies in a blowing snow storm. Our guides were very gracious and knowledgeable. They kept up with the weather and planned our photography shoots accordingly. I sincerely appreciated their driving through all of the storms and getting us to our destinations safely. I also enjoyed meeting all of the others on the tour. They were just delightful." – Nancie Hardie in a review of her Northern Lights photography vacation
When to go on an Iceland photography vacation
You can travel to Iceland for a photography vacation in almost any month of the year, although the extremely dark months of December and January are not conducive to happy snapping and trips don't tend to run then. September, October, February and March are brilliant for capturing the Northern Lights, but if you prefer the ambient light of the midnight sun, come in June or July, when Iceland is light almost all day. If you want to travel into the remote, vast and uninhabited interior of Iceland, you'll need to come in high summer (July and August) as this extreme and magnificent landscape is only accessible by road for around two months of the year.
Our top Iceland Vacation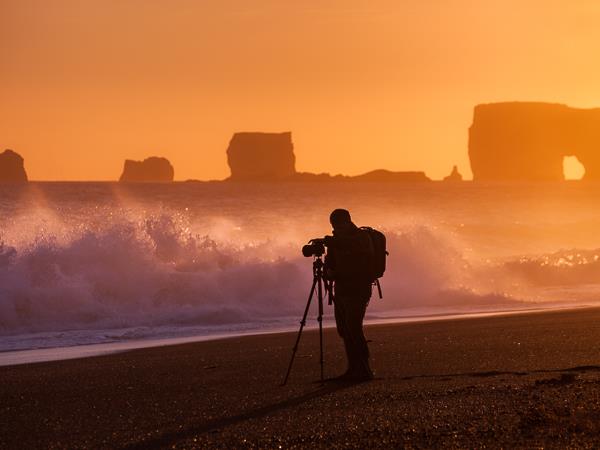 Photographic trip in the stunning west and southeast Iceland
From
£

3450

to

£

3750
10 days
ex flights
Small group travel:
2023: 29 Sep, 27 Oct
2024: 18 Feb, 27 Sep, 25 Oct
If you'd like to chat about Iceland or need help finding a vacation to suit you we're very happy to help.

Iceland photography vacation highlights
Bring plenty of memory cards and brief your friends and family that there will be a slide show once you get home – Iceland has so many stark, strange and stirring landscapes to photograph that you'll have to remind yourself to put the camera down sometimes and just take a breath.
East Iceland
When you discover that Egilsstaðir is one of East Iceland's larger towns with a population of around only 2,300 people, you realise how remote and quiet this region is. Abundant birdlife along its coast and inland in many lovely pools, is this region's calling card, with great skua, red throated divers and red necked phalaropes all waiting for their close up. The snow streaked Dryrfjöll Mountains shelter Stórurð, a little known and mystical place, where gigantic tuff boulders and green meadows surround turquoise pools.
The Golden Circle
Although firmly on the tourist trail, thanks to its relative proximity to Reykjavik, The Golden Circle is packed with photographic gems, including the regularly erupting geyser Geysir and the magnificent waterfall of Gullfoss, one of Iceland's 'big six'. It's also right on the edge of Iceland's Highlands, and a great place to stop off and snap on any trip heading deep into the interior.
The Highlands
Iceland's remote, vast and uninhabited interior can only be accessed by road during high summer, but this vast wilderness boasts awe-inspiring scenery. From the beautiful Goðafoss waterfall, to the huge, water filled caldera of Askja and the geothermal area around the Kerlingarfjöll Mountains where ice and fire meet, this landscape is so lunar, the Apollo astronauts trained here in 1965.
Snæfellsnes Peninsula, West Iceland
This peninsula juts out from the west of Iceland and once here, the Atlantic Ocean is never far away. The coastal scenery is wild, with black beaches, sea stacks, fjords and unusual shaped mountains such as Kirkjufell which rises elegantly from the bay in Grundarfjörður. Boat trips out into the bay provide the chance to see and photograph orca.
Southeast Iceland
This wilderness area is home to impressive mountains and some of the most spectacular ice and glacial phenomena in Europe. There are several glacial lagoons, of which the most iconic is Jökulsárlón, as well as Breiðamerkursandur black sand beach littered with sparkling sea washed ice, views of Iceland's highest mountain Hvannadalshnjúkur and Skaftafell National Park, home to the glacial tongue of Svínafellsjökull.
The Westfjords
Iceland's northwest corner is a relatively unspoiled wilderness, generally known as the Westfjords. Travel to its westernmost edge and you're also on the very western tip of Europe. It's remote and hard to reach, especially in winter, but once here photographers can enjoy shooting its wild black sand beaches, spectacular lava fields, volcanic craters and serene lakes. It's reached by ferry from Stykkishólmur on the Snæfellsnes Peninsula.