Searching for Northern Lights
The
Northern Lights
come imbued by ancient myth. Inuit thought they were souls of the dead, while Scandinavian folklore nailed it down specifically to the spirits of unmarried women. Science more prosaically cites whizzing solar particles arcing down Earth's polar magnetic fields and smashing into upper atmosphere atoms, sparking them into energised life as the aurora's green, violet and magenta hues.
And Iceland's winter landscape frames displays like nowhere else on Earth. Iconic mountains like Kirkjufell reach up to touch the shimmering celestial curtain, pitch black lava fields provide dramatic contrast, while dark fjords or glistening glaciers present mesmerising Icelandic mirrors to the sky show. The eastern beach at Grundarfjord is a favoured spot but any rural location will do. Peak sightings tend to occur in deep winter but displays can occur anytime from October to April.

You won't need filters or Photoshop to make Iceland look like nowhere else on Earth

Iceland is a photographic dreamscape, offering colour and contrast plus moody monochrome. Black lava fields highlight form and tone, while 'light on ice' means ethereal blue 'bergs in lonely fjords, spectacularly frozen winter waterfalls or sculpted translucent sea-ice on a dark Icelandic beach. On an
Iceland photography vacation
, you'll learn to frame aurora with a volcano in the foreground on winter nights, or catch sunlight on a traditional fishing village set beside a vast ocean.
Our top trip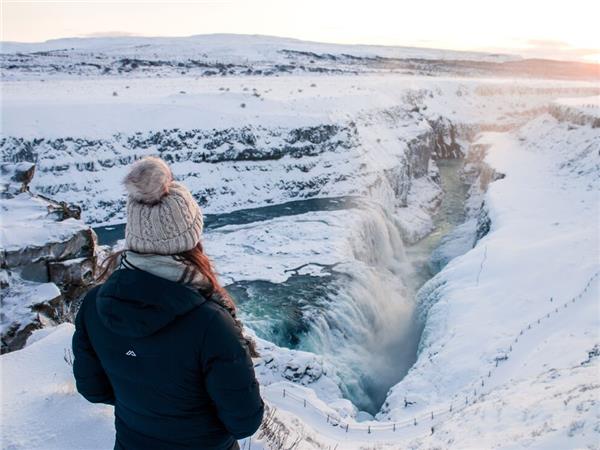 Springs, waterfalls, volcanoes and Europe's biggest glacier
From
US $

1849

to

US $

2760
6 days
ex flights
Small group travel:
2023: 13 Dec, 14 Dec, 15 Dec, 16 Dec, 19 Dec
2024: 3 Jan, 4 Jan, 6 Jan, 7 Jan, 9 Jan, 10 Jan, 11 Jan, 13 Jan, 14 Jan, 16 Jan, 20 Jan, 23 Jan, 30 Jan, 4 Feb, 9 Feb, 11 Feb, 13 Feb, 17 Feb, 18 Feb, 20 Feb, 22 Feb, 23 Feb, 24 Feb, 27 Feb, 1 Mar, 2 Mar, 3 Mar, 6 Mar, 7 Mar, 9 Mar, 10 Mar, 13 Mar, 15 Mar, 17 Mar, 20 Mar, 22 Mar, 24 Mar, 27 Mar, 30 Mar, 15 Oct, 19 Oct, 21 Oct, 23 Oct, 25 Oct, 27 Oct, 29 Oct, 30 Oct, 31 Oct ...
If you'd like to chat about Iceland or need help finding a vacation to suit you we're very happy to help.

Iceland is one of the world's most geologically active countries, defined by vast lava fields, rugged valleys and ranges that could double for Mordor, giant glaciers and berg-dotted fjords. Add volcanoes such as Hekla and ice-crowned Eyjafjallajökull that are as stunning when not erupting as when they are. Trek underground lava tubes - or see the fiery fissure in the Earth's crust where the North American and European tectonic plates are tearing themselves apart.
Geysir is the Icelandic word now used for all these quirky spouters, the best found in the so-called Golden Circle near Reykjavik – including the Great Geyser in the Haukadular valley, whose clockwork eruptions send steaming water jets 70 metres into the air. Geothermal pools beckon in gorgeous settings, offering the world's most idyllic bathing experiences.
Iceland has some of the world's most spectacular and easily accessed ice phenomena, from Europe's largest ice cap to unique black beaches decorated with glittering chunks of sea ice. Vik is particularly good for icy beach vistas plus dramatic sea stacks and basalt columns.

Iceland is a place where just sailing out to watch whales may help save them...

From May to September, the waters off Iceland's black beaches and traditional fishing hamlets attract two dozen whale species, including the blue whale – Earth's biggest animal. The best whale watching tours use quiet wooden boats to get close to these magnificent creatures, from orcas around Grundarfjordur and Snaefellsness to minke and humpbacks in Reykjavik's old harbour. And the more people watch whales, the less incentive to hunt them.