Best landscapes in Iceland

I had never known that it was possible to feel something of a spiritual connection to a landscape before, but I soon found an emotional and creative sanctuary amongst those mountains. Can you bond with a heavy sky over a glassy fjord, or northern lights, or a wind lifting snow from the ground? Perhaps it sounds quite mad, but I bonded with it all. I'm homesick for it, even when I'm there.

- Hannah Kent, award winning author of Burial Rites, a novel set in early 19th century Iceland
This sort of intensity is not uncommon when people talk or write about their experience of Iceland's wild landscapes. In many ways, it is hard to understand why such barren landscapes of grey, lava strewn plains, inaccessible mountain passes and icy cold calderas could possibly appeal. But, we love it. It's almost like a chemical reaction. And let's face it; Iceland is one giant case study of geochemistry. So, what is it that we love so much about Icelandic landscapes? What is it that is causing its very own explosion in the world of tourism right now?
Perhaps it is the unpredictability of Iceland that appeals so much. In a world where globalisation has galvanised destinations, where information overload has almost taken the fun out of the unexpected before we even get there – Iceland manages to constantly keep us guessing. It has 30 active volcanoes after all. It has glaciers such as Jokulsarlon that melt and calve into floe filled lagoons. You can stand here for 24 hours a day during the summer season when the sun doesn't set and watch Iceland float serenely past you. It has gushing geysers in the geothermal field of Haukadalur still doing their thing despite not actually being in a volcanic zone. Because everything, as its location for the latest Star Wars film proves, feels the force in Iceland.
But most of all Iceland has wilderness. And it really is not hard to get out there in the thick of it, because two out of three Icelanders live in and around Reykjavik and the majority of tourists stick around what is known as the Golden Circle in the south west of the island. This is a ravishing route that takes in stunners such as the famous Geysir, Gullfoss Waterfall, which tumbles 32m into Hvitargljufur Gorge and the great fissures of Thingvellir, superb for hiking but also snorkelling between tectonic plates. Yes, you read that right.
But to really experience that chemical reaction that Iceland offers, you need to really get away from the crowds. Get off the beaten track to discover a land of faults, fissures and fjords. Lava, lagoons and littoral legacies. Land that is moving, in all senses of the word. Try standing in the middle of nowhere, surrounded by lunar like lava fields, such as up by Lake Myvatn in the remote far north with one foot on either side of a fissure. Then remember that this whole island is located on a fault line where two tectonic plates are slowly separating, resulting in a country that is expanding by 1 cm every year. Go slightly further afield to the Mount Krafla caldera, 10km of active awesomeness, or the Leirhnjúkur's steaming, multi-coloured lava fields and you will start to have that inexplicable bonding moment that Hannah Kent describes so well above.
Our top trip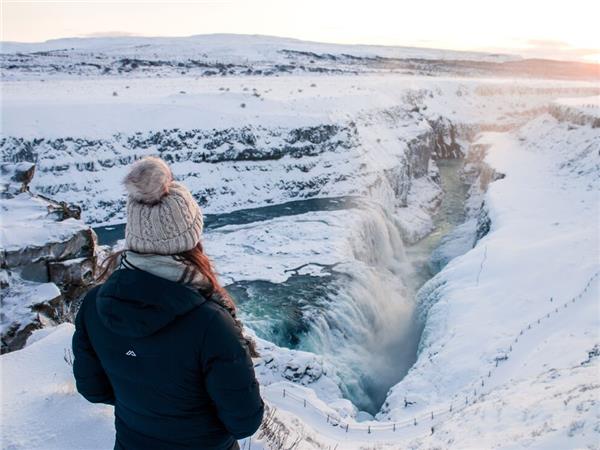 Springs, waterfalls, volcanoes and Europe's biggest glacier
From
US $

1849

to

US $

2760
6 days
ex flights
Small group travel:
2023: 8 Dec, 10 Dec, 12 Dec, 13 Dec, 14 Dec, 15 Dec, 16 Dec, 19 Dec
2024: 3 Jan, 4 Jan, 6 Jan, 7 Jan, 9 Jan, 10 Jan, 11 Jan, 13 Jan, 14 Jan, 16 Jan, 20 Jan, 23 Jan, 30 Jan, 4 Feb, 9 Feb, 11 Feb, 13 Feb, 16 Feb, 17 Feb, 18 Feb, 20 Feb, 22 Feb, 23 Feb, 24 Feb, 27 Feb, 1 Mar, 2 Mar, 3 Mar, 6 Mar, 7 Mar, 9 Mar, 10 Mar, 13 Mar, 15 Mar, 17 Mar, 20 Mar, 22 Mar, 24 Mar, 27 Mar, 30 Mar, 15 Oct, 19 Oct, 21 Oct, 23 Oct, 25 Oct ...
If you'd like to chat about Iceland or need help finding a vacation to suit you we're very happy to help.

Another place to feel this movement is on its vast, empty black sandy beaches, where Atlantic waves crash dramatically, where killer whales can be washed up out of the blue, where glacial movements can cause mini tsunamis and where tides must be strictly adhered to for fear of being pulled in by a fatal wave. Reynisfjara beach is notorious for that, and so read the signs and adhere to stringent safety precautions at all times. These spots are stunning, but they have been left wild for so many generations for a reason, remember.
In such volatile landscapes, the best way to explore is with an expert local guide, who understands both the risky and remarkable aspects of these natural spectacles. From walking vacations that take you along its famous Laugavegur long distance walking trail through the Landmannalaugar Mountains or into the uninhabited Hornstrandir Nature Reserve in the Westfjords region, where you can walk and wild camp for days and hardly meet a soul. You could wake up to rampant Atlantic waves one day and a serene volcanic lake the next, with looming, basalt mountains reflecting in its waters like nature's grand overseers. Or just go the whole hog and take on a two-week trip circumnavigating on foot, camping in some of its most mind expanding landscapes. Because all in all, Iceland is one intense trip.