Visa information
The visa application process to enter India for a vacation is pretty simple and inexpensive now. UK citizens are among one of 113 nationalities able to apply for the 'e-Visa'. Apply and pay online for vacations of 60 days max, make sure your passport has six months' validity from the date of your arrival in India, that it has at least two blank pages for stamping upon entry, and apply a minimum of four days before you travel. For more information,
see Indian Visa online website
.
Packing tips
Vishal Koshy, general manager of our supplier Kalypso Adventures:
"Don't forget a good pair of binoculars."

Rajat Kumar, Managing Director of our supplier ExplorIndya:
"Bring dark coloured cotton clothing to use during Ayurveda massage and therapy sessions. Given the oils and the fact that they get on clothes, dark colours for these situations are ideal."
Culture tips:
Vishal Koshy, general manager of our supplier Kalypso Adventures:
"Kerala is quite a conservative society, and so showing affection in public places is an issue for many people here, especially in rural areas."
Tips on tips
Rajat Kumar, Managing Director of our supplier ExplorIndya:
"I would ask that people do not tip excessively. There is nothing wrong in sharing the wealth, but money has a different value here and when you give excessively people start expecting things unreasonably. They start to believe that they deserve more than they are due, and this becomes a perverse culture in hospitality. So, people should be cognisant of the fact that just because the converted value of the service or product is far less than what it might be in your country, doesn't mean that it isn't in keeping with the standard of living here. So, just because a beer costs a tiny amount, doesn't mean you should have to pay four times amount just because you like the face of the person serving it. It creates a perverse culture in a tourist driven economy, with people becoming greedy, as the level of expectation gets raised across the board. We give our guests very detailed tipping guides, to help them tip responsibly."
Diana Syrett, Managing Director of one of our top suppliers, Kerala Connections:
"If you give a tip, don't expect a thank you. Sometimes our customers are worried that they haven't given enough, but it is not in Kerala culture to say thank you. The cultural thing is that the pleasure is for the person giving the gift, and so therefore you don't have to thank them. So, generally, thank yous are few and far between. So please don't think people are being rude, it is just their way."
Food tips
Diana Syrett, Managing Director of one of our top suppliers, Kerala Connections:
"My husband and I are both vegetarian and it is one of the reasons we love south India so much, as the food it is the easiest place on the planet to be vegetarian. You can get meat, and because they have about 25% Christians and 25% Muslims, there is a lot of fish eaten and also, interestingly, beef is eaten in Kerala, and is only one of two states in India that is licensed to eat it."
Vishal Koshy, general manager of our supplier Kalypso Adventures:
"One of the specialties from the backwaters, especially in an area called Kuttandad, where farming happens below sea level, is duck roast, prepared with local spices of course. This is a must."
Our top Kerala Vacation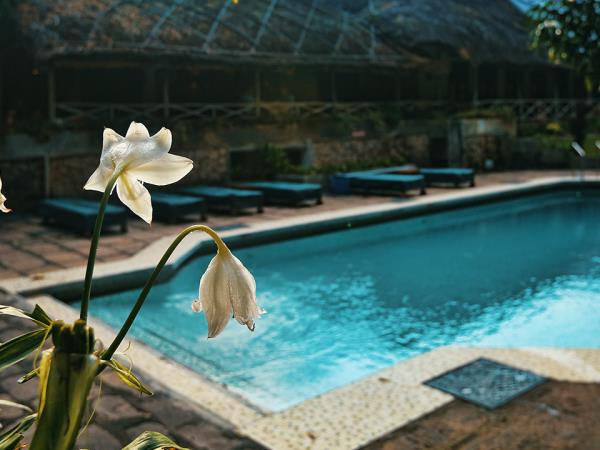 Revitalize in Kerala - A most wonderful and balanced trip
From
£

1349

to

£

1779
11 days
ex flights
Tailor made:
This trip can be tailor made throughout the year to suit your requirements
If you'd like to chat about Kerala or need help finding a vacation to suit you we're very happy to help.

Health & safety in Kerala
HEALTH
Kerala has a very advanced emergency medicine system. For an ambulance, call 108. Directorate of Health Services of Kerala (DHS Kerala)
Malaria is not a risk in Kerala. They have big mosquitoes, but you don't need medication according to our local suppliers. Also be aware that some anti-malaria tablets can bring on depression, which isn't a good start to your vacation. See NHS site Fit for Travel for more details.
Dengue fever is endemic to Kerala, particularly during monsoon season, so good precautions such as strong repellants and nets are vital.
Kerala is very humid, so keep hydrated. Two great local hydrating drinks are fresh coconut water and also sweet, milky tea or chai are both extremely safe and excellent against dehydration. Another option is Sharbath which is often found at roadside stalls, and is a syrupy lemon juice, mixed with a little salt.
Always travel with a basic medical kit, including Imodium for stomach upsets, although these are rare compared with other regions in India. Ensure to bring your own prescription medicines along with a copy of your prescription.
To avoid stomach upsets, steer clear of under-cooked fish or meat, salads which have been washed in unclean water, already peeled fruit and sometimes ice cream from street vendors.
Tap water is generally safe for drinking, though like all countries it takes getting used to, so it's a good idea to use a water filtering system such as LifeStraw.
SAFETY
If trying out street food, always stick to something that you can see being prepared in front of you. For adventure activities, make sure the provider is experienced, first aid experts, and that there are helmets and buoyancy aids available for water activities. There is still no organisation supervising safety standards on the water, so you need to do good research and use a responsible tour operator. Houseboats have a good safety track-record and all houseboats should have trained lifeguards. But the backwaters are deep, so be careful, especially if non swimmers are on board. Swimming is not recommended unless there are lifeguards present.
Kerala tips from our travelers
At Responsible Travel, we think the best people to advise our travelers are often... other travelers. They always return from our tours with packing tips, weather reports, ideas about what to do - and opinions about what not to.

We have selected some of the most useful Kerala travel tips that our guests have provided over the years to help you make the very most of your vacation - and the space inside your suitcase.

The mountains really get cold at night, so absolutely bring a warm sweater and long pants and a light warm hat.

"Go, be brave, leave the well- trodden tourist trail, go up the mountains ...live with the families...it's much more in tune with the pulse of the country. Trust people to plan for you.. it's India ..they will not betray your trust. Be sensitive, in your dress and demeanour, this is a culture with values. Enjoy its diversity...landscapes spiritual beliefs, culinary treats ..." – Mary Phillips

"Be prepared for cultural differences. For example, it appears to be polite for someone to watch you eat every mouthful, wait for feedback and be on hand to refill your plate immediately whereas in the UK we leave people to enjoy the meal in peace. Secondly, the Ayurvedic massages are nothing like a massage in UK. They are not soothing and do not use aromatherapy oils just lots of oil. They could be described as an intense rub down and invigorating, you are always naked and sometimes two masseuses work on you in tandem!" – Daphne Donkin

"Take plenty of hand sanitiser for when you are out and about and some toilet rolls too" – Gentian Bolt

"Plenty of warm clothes for the top of the mountain. A torch - and maybe a few games/cards, etc., When the sun sets and you are on top of a mountain, staying on a rice boat, or simply at a camp sight/homestay with no entertainment, you need to make your own" – Janice Eastman

If you have time, visit the area around Munnar. We stayed in a bungalow on a cardamom plantation. The views were stunning.