Spices & tea plantations in Kerala

Tea and spices thrive on the fertile slopes of the Western Ghats, and trade in this fragrant bounty has shaped Kerala for centuries.

The slopes of the Western Ghats in Kerala, drenched by monsoon rains off the Arabian Sea and warmed in the sun, are a fertile landscape where tea and spices thrive. This abundant and fragrant harvest has been used to flavour Keralan cuisine, famed for its mellow, warm flavours, and became the lucrative cargo of international trade, highly prized by merchants from Europe, China and the Arab world.
Pepper, often nicknamed black gold, is grown in abundance here, alongside highly prized cardamom, whose lemony aroma fills the air around the spice markets of Kochi. There are cloves and cinnamon, nutmeg and mace, ginger and vanilla, too – plenty to trade with for the Portuguese, then the Dutch and finally the British who colonised the state, leaving behind churches, synagogues and now-crumbling but still used godowns, or warehouses. The Brits also brought tea to the state, after first experimenting with growing it in northerly Assam and Darjeeling. The first plantations were created in the 1870s here, and today, many of Kerala's hills are a brilliant green blanket of tea bushes, all carefully plucked by hand.
India is the world's largest producer and exporter of spices, with the southern state of Kerala right at the heart of this spicy trade. Larger plantations within the state are often divided up, with different spices growing in their own separate area: vanilla, ginger, cardamom, clove and nutmeg. In smaller plantations and the rambling gardens surrounding homes and even hotels, you can find a more higgledy piggledy arrangement, with pepper plants climbing up trees and cardamom growing casually by the path. A visit to a spice plantation with a local naturalist is a wonderful way to discover the spices we love but typically only recognise when dried and packaged in a little glass jar. To see how pepper and cardamom actually grow is surprisingly fascinating.
Spices really are everywhere in Kerala's hill country and their harvest, processing and sale is a huge part of life for many Keralans. Up in the Ghats around Thekkady, close to Periyar National Park, you'll find hundreds of spice shops, selling bags of pepper and cardamom that are small enough to fit in your suitcase but large enough to last you six months. You may see great sheets laid out in the sun, covered with spices drying slowly. Down in Kochi on the coast, you can pop into the huge spice warehouses that pepper – sorry! – this historic port town, to see massive sacks bulging with their fragrant cargo. This was the center of the spice trade in Kerala and much of the trading still takes place in Dutch built warehouses dating from the 18th century – incredibly atmospheric.
Our top Kerala Vacation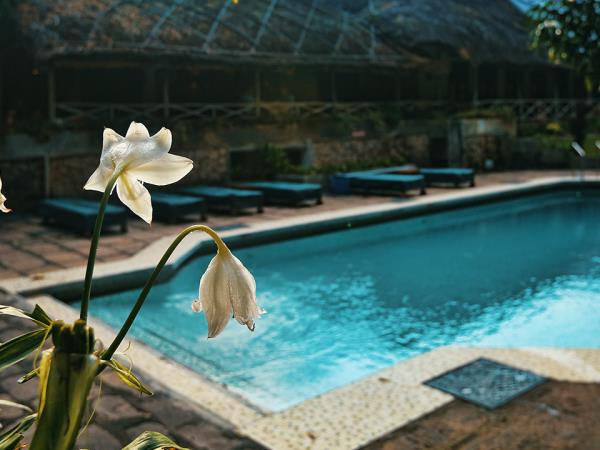 Revitalize in Kerala - A most wonderful and balanced trip
From
£

1349

to

£

1779
11 days
ex flights
Tailor made:
This trip can be tailor made throughout the year to suit your requirements
If you'd like to chat about Kerala or need help finding a vacation to suit you we're very happy to help.

Tea is native to India, and was sometimes used in cooking or for medicine, but its true value as a beverage wasn't exploited until the British arrived. Determined to overthrow China's monopoly of the global tea market, and encouraged by the presence of tea growing wild in India, the Brits formally introduced the plant, creating tea estates first in the north in Assam, and later in Kerala, too. The earliest record of commercial planting in Kerala is 1875.
The tea plant likes a warm and humid climate, with plenty of rain throughout the year and lots of sunshine, too. It gets all that in Kerala, on the slopes of the Western Ghats, where it grows at elevations from 300m to 2,300m. Kerala's tea plantations cover the undulating hills with blankets of well pruned green, divided by little paths threaded between the bushes where pickers walk, and broken up by patches of the original rain forest which still clings to some high and precipitous slopes.
Visiting a tea plantation is a lovely highlight of a vacation in Kerala. Typically, you'll have the chance to wander through the tea bushes – look out for birds and butterflies – to see how the young leaves are harvested by hand, and can then learn how they are processed to become the drink so many of us adore.
One of the best places to visit a tea plantation is Munnar, at the heart of Kerala's tea growing region. This beautiful hill station, established by the British as a summer retreat at a cool and pleasant 1,600m above sea level, is surrounded by lakes, reservoirs, forests and several tea estates, dating back to the 1880s. One of the most famous is the Tata Tea Estate, where you can also visit the Tata Tea Museum, to dive a little deeper into the history of tea in Kerala.
Taking tea & seeing spices
Almost all organised tours of Kerala take in the spice plantations and tea country of the Western Ghats. This region is also home to Periyar Wildlife Sanctuary, a must-visit destination for wildlife enthusiasts, so you can pick up some pepper and spot wild elephants in a single day here. Typically, short tours of spice gardens or larger plantations, and tours of tea plantations are included in both tailor made and small group vacations, often with a local expert or naturalist who can explain what you're seeing, how it grows and how it's harvested.

In addition, many of the hotels, lodges and homestays in the spice country will have gardens overflowing with spice plants, so you can sit surrounded by this lush abundance while supping a drink or having your breakfast. There will be time to shop in spice shops so you can replenish your spice rack, and it's often possible to buy spices and tea at the plantations, too. It might not be the cheapest way, but you'll be guaranteed superb quality.