PAINTED CHURCHES & MONASTERIES IN ROMANIA
Soaring Gothic spires, imposing Romanesque archways, ornate Baroque façades; across the world, fear, love and deep pockets have long helped places of worship to rise up to the heavens. Churches are not created to be ignored. Bells peel, stained glass enchants and lost souls seek solace in Sunday services. You don't have to be a believer in religion to realise the pull and power of the Church. Orthodox Christianity is no different. This is one of the oldest institutions in the world and it has helped to shape the cultural heritage of a region that bridges Europe and Asia.
Romania certainly holds the Orthodox Church at its very heart. As one of the EU's most devout countries, no vacation here would be complete without a visit to a city cathedral or rural wooden church. Some of Romania's most outstanding places of worship are the painted churches and monasteries of Bukovina,
which can be visited
on a vacation in the country. Beautiful Byzantine artwork adorns exteriors, and the depictions of saints, sinners and biblical scenes appeal to art aficionados as much as to churchgoers. To find out more about these buildings, a local guide will pave the way to enlightenment. You don't have to be religious to appreciate art and architecture, and happily Romania is absolutely blessed with both.
WHERE ARE THE PAINTED CHURCHES IN ROMANIA?
All eight of the UNESCO-listed painted churches and monasteries can be found in Bukovina, a region of Moldavia in northeastern Romania. The city of Suceava is at the center of the 'holy eight' with Arbore, Patrauti and Sucevita churches situated within 55km to the southeast. East of Suceava, Humor, Moldovita and Voronet churches are all within an hour's drive; which leaves Probota painted church, approximately 50km northwest of Suceava, and Saint John's Church, just a short stroll from Suceava city center. Each church is, or has been, a monastery and the UNESCO collective are also referred to as the Painted Monasteries of Moldavia. We've picked three of our favourites, below.
VORONET MONASTERY
Built in 1488 for Stephen III of Moldavia, aka Stephen the Great, to celebrate chasing the Turks from Wallachiia, Voronet Monastery is considered the jewel of Romania's painted church crown. Frescos feature the philosophers Aristotle and Plato, as well as apostles, evangelists, angels and demons as depicted in scenes from the bible including The Last Judgment and The Ladder of St. John. Voronet was once a center of calligraphy where priests and monks were taught how to translate and write religious text.
MOLDOVITA MONASTERY
Completed in 1537 at the bequest of military leader Petru Rares - the illegitimate son of Stephen the Great – Moldovita Monastery is certainly worth a visit in conjunction with Voronet. Exterior paintings are very well preserved with vivid blues and flashes of gold creating classic Christian Orthodox colouration across a cavalcade of haloed saints. Christ's Holy Family – in the Tree of Jesse – the Siege of Constantinople and the Last Judgment can all be viewed in the exterior frescos.
SUCEVITA MONASTERY
Sucevita Monastery was built in 1585 by the Moldavian princely grandsons of Petru Rares, Simion and Ieremia Movila. Scenes from both the Old and the New Testament feature on exterior and interior walls with some magnificent murals making Sucevita unmissable for cultural historians and art appreciators alike. The on-site museum is excellent and has several exhibits related to Sucevita's significance as a manuscript workshop and in later years, a center for print.
Our top trip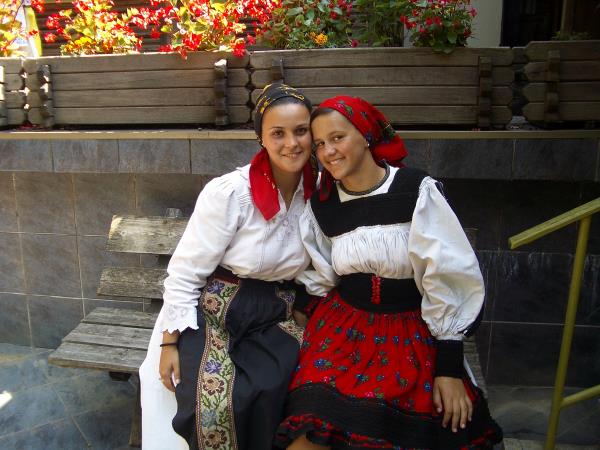 Small group tour to rediscover enchanting rural Romania
From
£

1975
12 days
ex flights
Small group travel:
2024: 6 Sep
2025: 4 Sep
If you'd like to chat about Romania or need help finding a vacation to suit you we're very happy to help.

HOW CAN I SEE PAINTED CHURCHES IN ROMANIA?
All of the monastic churches in Bukovina are open to the public throughout the week. Resident nuns dressed in black can often be seen tending the gardens, working in the on-site shops or museums, and offering guided tours of the frescos. These are not just tourist attractions; the churches are pilgrimage sites and you'll be expected to visit quietly and respectfully. Taking photos inside is prohibited.

During organised vacations in Romania, you can explore the painted churches as well as cultural and natural sites further afield, over the course of one or two weeks. For example, a cultural tour will also feature the regions of Maramures and Transylvania where everything from colourful tombs and wooden churches stand in contrast to Dracula's Bran Castle in the city of Brasov.
SMALL GROUP HOLIDAYS
Romania's painted churches often feature as part of a small group cultural history vacations with a couple of days in Bukovina included in the itineraries. Small group walking tours will spend more time hiking across the steep wooded hillsides of the Moldovita Valley and the foothills of the Moldavian Carpathians. One or two painted churches will be visited as part of day's walking schedule along the trails between rural guesthouses.
SELF DRIVE TOURS
This is a great option for anyone looking to really take their time when visiting the painted churches, as it's up to you how long you wish to spend in each place. You'll be given directions and route notes in English, and accommodation is all booked for you. You can drive into Bukovina from Maramures, via the Prislop Pass over the Rodna Mountains. Self drive tours of Romania put you in the driving seat, in every sense.
TAILOR MADE TOURS
If you're not too keen on tackling Romania's roads on your own, consider a tailor made tour with your own driver. Your driver will provide plenty of local information along the way as well as turning translator during your stay at rural lodgings, and you can factor in as much or as little time as you wish exploring the painted churches and monasteries.