Traveling in Romania with kids

Kids will be enchanted by Romania's jaw-dropping landscape, iconic predators, ancient ways and weave of legend

Visiting Romania can seem like entering a rose-tinted magical past world – dark woods stalked by fearsome beasts, giant ice caves colonied by bats, medieval walled cities and ruined castles shrouded by eerie myth.

It's also a place where your family can engage with timeless rural activities no longer seen at home – scything hay by hand to pile into vast stacks, getting from A to B by horse-drawn cart, milking cows and making cheese, carving wooden utensils or musical instruments. Or just enjoy the novelty of being invited by a friendly local into their home to share food and drink.
Our Romania family Vacations
Things to do in Romania with kids
Pitch in!
Kids will love getting stuck into Romania's rural lifestyle. Locals will gladly accept young helpers with tasks like hay-cutting or milking, while kids will love traveling round in horse-drawn carts – or sleighs in winter. And who wouldn't thrill to track wild bears or wolves in ancient woodland out of a Grimm fairytale?
Dracula
Many 'Dracula' experiences in Romania are hokum - but kids will probably still lap them up! So dive into Bran Castle, enjoy the creepy vibe (especially at Halloween) and buy ghoulish gifts. Then take them to places linked to real-life scary dude Vlad Tepes - and ask locals to share some of Romania's enduring vampire beliefs.
Head to the coast
Romania boasts nearly 200km of Black Sea coastline offering distinctive seaside frolics. There are lovely beaches at Sfantu Gheorghe and Mamaia, plus a chance to try marvellous mud bathing with health-giving goo at Eforie Nord! Mamaia also offers party possibilities, while chic Constanta has striking sights from derelict casinos to Romania's largest carpet at the Great Mosque.
Our top Romania family Vacation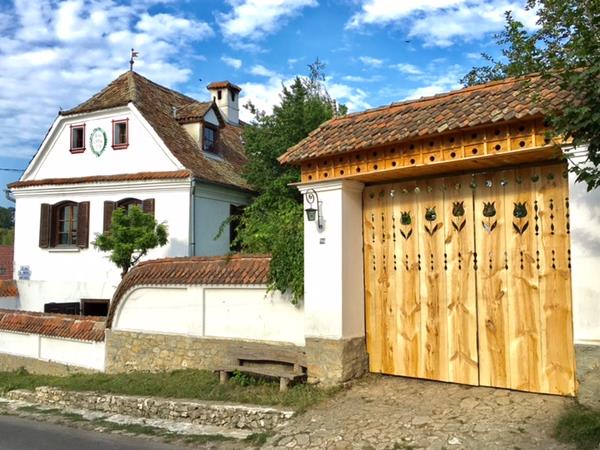 Stay at a Count's guesthouse
From
€

95

to

€

183
per person per night
Accommodation
If you'd like to chat about Romania or need help finding a vacation to suit you we're very happy to help.

Responsible Travel asks the experts
Mihai Olenici of our suppliers Eco Transylvania talks about some of the many pleasure about traveling in Romania for kids: "The meadows in the Apuseni Mountains are famous for their richness and diversity. The landscape is very accessible for children – they can do hiking, biking, alpine touring skiing and snow-shoeing no matter what their age or level of outdoor experience. They can do light wall climbing and caving too. And the landscape is a living outdoor laboratory where adults and children alike can learn about karstic systems – how they are formed, how they work.
"You can still experience authentic rural life too. One family had a whole day hiking through forests - soooo beautiful – and we arrived at our local guest house in a remote hamlet to find the host family in a nearby glade collecting dry hay and making hay stacks. Here, when there is hay time, everybody participates – old, young, relatives, neighbours. So my visitors asked for tools and started to help with. It was great - everybody enjoyed it a lot!"
Real-life Romanian aristocrat Count Tibor Kalnoky, owner of antique-filled guesthouses with our supplier Transylvania Vacation Accommodation, reveals some of the pleasures of traveling in Romania for kids: "Romania is certainly good for families. Kids love to explore the bat-caves with torch lights, go for a swim in the volcano crater lake and drive out into the hills on horse-drawn carts. Or they can follow the tracks of wild animals in the winter snow - bear, wolf, lynx, boar and deer. Plus they can help milk cows in the village or help the blacksmith in his forge! It's like living in a fairy tale."