Packing advice
Lara Paxton at our partners The Small Ship Cruise Collection shares some cruise tips:
"For the Polar Regions, you need to dress like an onion. It is all about layers. People always think of Antarctica, the Arctic and Alaska as being really freezing cold, but it isn't that bad. The wind will get to you, but it is no colder than winter can be in the UK, so it is just a case of layering up.
"The best trousers are lightweight, waterproof ski trousers, with leggings underneath, as you can get splashed on the zodiac boats when you go in for landings. Fishing trousers are pretty good too. A lot of the boat operators provide wellington boots and jackets, so you can just pack a good pair of walking shoes, waterproof being best. And then just have something comfy to wear on board."
Our Small ship cruising vacation Vacations
Colette Dubois, co-founder of our Scottish cruise specialists St. Hilda Sea Adventures, says:
"It is important not to forget your waterproofs. Some people think that they can manage without, and it is not because the weather is bad but because when you go in a dinghy you are close to the water, when you put the anchor up you can get wet at that time. They don't have to be fancy - cheap waterproofs which cost about £10 for the trousers are fine.

"We always ask people to bring clean shoes, because people think that it is OK to have dirty shoes to work on deck, but you can't, because you have all the working things on deck when you go sailing, such as the sails, and so it is important to keep the deck clean. And then also bring something comfortable to change into when you go inside the boat. Something to slip into rather than tie laces, particularly for young children. Crocs are fantastic."
Cruise tips for families
Colette Dubois, co-founder at our friends St. Hilda Sea Adventures in Scotland, says:
"I think it is perfect for families, because there is a lot to do on the boat. When we dock the boat, put a dinghy in to go and visit little beaches, go fishing or go and see the seals. So the children can learn a lot. But do remember to bring waterproofs. Sometimes, families bring a few waterproofs to share, and don't have enough for everyone. And so there is always somebody who is stuck without them! With children, we say a minimum age of seven, not because the boat is dangerous, but because they are so small. And so they cannot use the equipment so easily, such as the toilet, or the sinks."
Lara Paxton at our partners The Small Ship Cruise Collection shares her cruise tips:
"For families, small ship cruises are great because you only unpack once, and yet you still get to explore different places. But of course, these boats aren't adapted to have things like kids clubs and that kind of thing. The kids clubs are getting off the boat, exploring and seeing what's out there. The children can still go to onboard lectures, for example, there are no restrictions from that point of view, so they are treated more like adults than children, with no cuddly toys in sight. There are age restrictions with some boat operators, however, so we always check that."
Travel advice
Colette Dubois, co-founder at our Scotland cruise specialists St. Hilda Sea Adventures, says: "Do think about coming by train. A lot of people do, and they get a ticket on Scotrail that includes the ferry to Dunoon, and then we can organise a taxi to Holy Loch Marina, where we are moored. We are actually only an hour from Glasgow."
Accessible tourism tips
Lara Paxton, from our specialists The Small Ship Cruise Collection, says big cruise ships aren't the only accessible vessels: "Some of our boats are old Russian expedition ships and just don't have the access, but a lot of the newer ships do, so it is great that people with accessibility issues don't have to do the massive cruise liner thing. They want the different experience that we offer on small ship cruises, and to actually get off the boat and not just point to a destination from on board – which is completely what we don't agree with. The boat is just a means to get from A to B and it is all about exploring and getting off the boat, more than anything."
Our top Small ship cruising vacation Vacation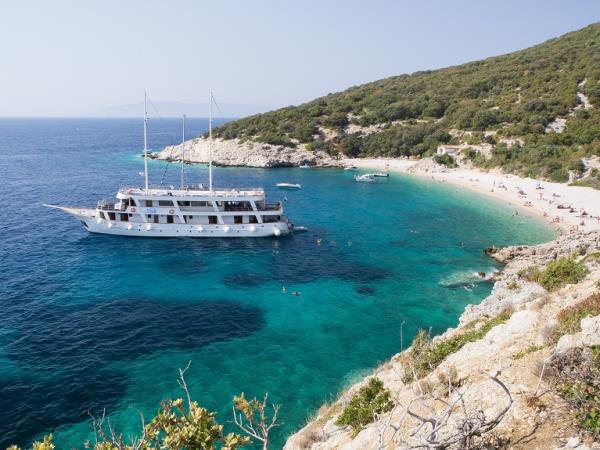 Cruise Croatia's beautiful islands on a small cruise ship
From
£

669

to

£

979
8 days
ex flights
Small group travel:
2023: 3 Jun, 10 Jun, 17 Jun, 24 Jun, 1 Jul, 8 Jul, 15 Jul, 22 Jul, 29 Jul, 5 Aug, 12 Aug, 19 Aug, 26 Aug, 2 Sep, 9 Sep, 16 Sep, 23 Sep, 30 Sep, 7 Oct, 14 Oct
If you'd like to chat about Small ship cruising vacation or need help finding a vacation to suit you we're very happy to help.

HEALTH
Ensure your travel insurance covers all activities you may be participating in (kayaking, diving, ice climbing) as well as emergency evacuation. Ships have basic medical care and a doctor or nurse, but any serious treatment will require evacuation.
Make sure you have all your medication with you, as you might be cruising in far flung destinations with no shops and certainly no chemists.
Bring good quality, protective sunglasses and sunscreen. Even if you are in a cold destination, the sun's rays are harsh on water, or around ice and snow.
Tour operators will provide detailed trip notes and packing lists. Follow them.
As you'll be spending several days at sea, seasickness is a possibility. Look into remedies before you depart – there are patches, wristbands, tablets and of course, good old ginger.
Antarctic and Arctic boats usually have an onboard doctor, who will have seasickness medication. So, if you are nervous of the Drake Passage across to the Antarctic, for example, they can issue strong medication that will more or less knock you out for the duration. It will feel like a very different trip altogether then!
Check with your tour operators about any mobility issues. Sometimes there might be narrow stairwells to negotiate on board. Boarding zodiacs or other landing vehicles down steep gangways can be physically challenging, and other activities such as kayaking, snowshoeing, hiking, cycling or swimming are much better enjoyed if you are fitter – so ensure you are fit before you travel.
On small ship cruises, the crew hangs out with you all the time, so always feel free to discuss any issues or concerns that you might have.
SAFETY
It is important to really listen to safety instructions from your skipper and crew when you board. On expeditions to the Antarctic there will be actual safety drills so that you know what to do in the event of an emergency.
There are, sadly, some no nos when it comes to small cruise ship destinations, due to pirate activity. Always check the FCO website for up to date information about the destination you are traveling to.
Be wary of wildlife and always do what your expert guide tells you. Photo opportunities should never come before safety. On Arctic cruises, for example, polar bears are one of the most dangerous animals on earth; in some areas you may not walk without an armed guard – the threat of an encounter is very real. Other wildlife, including walrus and musk ox, may not have the polar bear's fearsome reputation, but are still incredibly dangerous. The general rule of thumb is never approach any wildlife.
Small cruise tips from our travelers
At Responsible Travel, we think the best people to advise our travelers are often... other travelers. They always return from our tours with packing tips, weather reports, ideas about what to do - and opinions about what not to.

We have selected some of the most useful small cruise tips that our guests have provided over the years to help you make the very most of your vacation.

Don't take too many clothes - you just don't need them! Changes of swim suits are a must.

- Heather Daniel on our Maldives Dhoni Cruise vacation
"If you want warm water and better weather do not go in November. If the boat you booked does not have full wetsuits bring your own or else you could be too cold to enjoy snorkelling. Make sure you book a boat that has individual thermostats in each room. Get sea bands to stop motion impact on your body." - Matt Hayden on our Galapagos Cruises vacation

"First: TAKE THE TRIP TO ANTARCTICA. It is unforgettable….Be sure to bring the right clothing. Being out on the water or a hill is cold with the wrong clothes. Spend as much time on the bridge of the ship as possible. Go to all of the lectures. Meet new people." - Stephen Kohn on our Antarctica Cruises

"Take lots of layers but don't worry too much about buying lots of expensive technical clothing. An old pair of leggings or yoga gear may be a good alternative to buying the latest in thermal base layers. Some travelers held back from going on some of the hikes and zodiac trips. My advice is: don't - these things are too good to miss. Our guides were great at making sure they catered for everyone's abilities and the more able travelers seemed very happy to help those who needed a bit of support." - Christine Symes on an Arctic small cruise vacation

"The Bahama islands and waters are so beautiful making it an incredible place to adventure around on a sailboat. It was nice to get to know our fellow passengers and be a brief part of their lives…Know that you are living on a sailboat for the week and your sleeping accommodations are tight. This is not a problem at all as you are only in your room to sleep and get cleaned up for dinner. There is too much beauty above to spend any awake time in your room." - Janice Layne on our Bahamas Windjammer sailing vacation

Make sure you have excellent binoculars, a really powerful zoom on the camera, and are prepared to take literally thousands of photographs. Try to find wellies which you can wear comfortably for long walks.

- Justin Wattson on Arctic small cruise vacation
More about Small ship cruising vacation