Small ship cruises for families
Deep, dark oceans. Heavy, swooping booms. Tidal rivers, shark hangouts and icy poles. You might think that kids and cruises go together like oil and water – but you'd be wrong. Small ship cruises turn a regular old family vacation into an adventure. They take you out to sea without putting you all at sea. You just need to choose the right one for you and your brood – or use a responsible tour operator that's an expert at match-making.
You might end up gliding around Croatia on a boat suitable for children as young as five. (Safety nets included.) Learn how to sail as part of a flotilla alongside other families. Sail around the northern tip of Scotland, where puffins cling to sheer cliffs and orcas grace the seas in summer. This is a real adventure – and one that'll go down in history in terms of the memory books. Go for a tailor made trip, and your itinerary will be whittled to the abilities (and attention spans) of your family.
It's surprisingly easy, too. You can opt for a trip with a skipper – or if you're a qualified skipper, you can shove off on your own. Most food is included. Plus, despite moving onto a different mooring every day or two, you only have to unpack once. It's almost worth it for that alone.
Read on to discover what types of family cruises are out there and swot up on tips from our expert small ship cruise operators.
Our Small ship cruising vacation family Vacations
Some of the most popular small ship cruises for families are in fact
sailing vacations
. Croatia makes for easy (and impossibly scenic) sailing, thanks to its Venetian cities, islands trimmed with sandy beaches and clifftop restaurants. Many can be totally customised to your needs – look out for vacations with the 'tailor made' tag.
Sailing trips usually have a minimum age of four years, but that may be flexible depending on the ship's accessibility and whether you're heading for ocean or bays. Yachts often fit a maximum of eight people, so they're ideal if you want to invite the grandparents and cousins along, too. Suggested itineraries are just that – suggested. So you can let the tour operator know if you'd like extra days in Split or as few days at sea as possible.
You have another choice to make. Don't fancy sailing yourself? Then opt for a fully crewed sailing boat complete with an experienced skipper. All you have to do is kick back and let them take you from snorkelling spot to sail-in-only beach to taverna-topped fishing village. Or, if one of your crew has their Day Skipper qualification, you can get all hands on deck. Nothing says 'bonding moment' like sharing mile-wide grins over spotting dolphins off the bow.
Flotilla sailing is another family-friendly type of sailing. The element of adventure ratchets up a notch as you have a yacht just for your group, but sail as part of a – you guessed it – flotilla. You'll be among other boats following the same itinerary, but you can take things at your own speed. All you have to do is wind up at the meeting place at the end of the day. On-board instructor optional.
Destination-wise, you'll probably want to opt for somewhere with smooth seas and plenty to keep the kids interested. The islands of Croatia and Greece have glassy waters made for snorkelling; you can drop anchor and swim straight off the bow. Majorca, Grenada and the Seychelles add near-guaranteed idyllic weather for lounging around achingly beautiful beaches.
You'll usually see wildlife on any small ship cruise – but some actively go out and seek creatures out, with the help of on-board conservationists and lecturers. You could sail around the Galapagos, watching out for blue-footed boobies, marine iguanas and turtles. Day trips hike the still-smoking Sierra Negra volcano on Isabela.

A bit further north on the charts, family small ship cruises to Scotland take you to the Outer Hebrides and Shiant Isles. See your kids' faces smooth from amazement to surprise to glee as sea eagles soar overhead, rock pooling turns up fossils on the pale-sand beaches of Skye, and you peer up at the puffin cliffs and ruined castle of Canna. It's all wave-smashed coasts and tidal beaches here, so beach combing in Scotland can't be beat.
Showing your children another way of life doesn't mean tugging them around museums and losing them among people-packed capital cities. Cultural small ship cruises take an altogether different turn in Turkey, where you can join a small group cruise on a traditional two-masted gulet. You'll hop off along the Turquoise Coast – which does exactly what it says on the tin – for a wander through Roman ruins or across an uninhabited island where imaginations can run wild. Sunken ruins and night bazaars are other ways to guarantee both wide eyes and jaw-cracking smiles.

If your children are currently obsessed with the Ancient Egyptians, then give them a walk through history on a Nile cruise. You'll usually spend around a week on a felucca, a traditional white-sailed sailing boat. They'll soon learn that it's not all pyramids and papyrus, and gain a deeper understanding of lives still lived along the river.
Our top Small ship cruising vacation family Vacation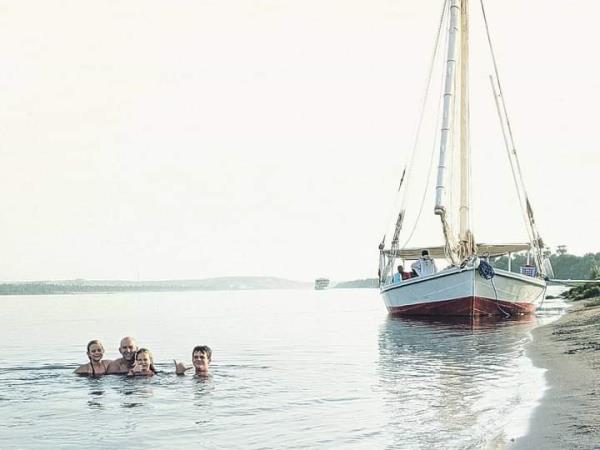 Enjoy a fabulous and relaxing felucca cruise .
From
US $

550

to

US $

750
4 days
ex flights
Tailor made:
This trip can be tailor made throughout the year to suit your requirements
If you'd like to chat about Small ship cruising vacation or need help finding a vacation to suit you we're very happy to help.

Family cruise vacation tips
Dianne Muldoon, from our small group adventure specialists Intrepid, says that children as young as five can go on a sailing vacation: "On our scheduled departures we have a minimum age of 15. However, we do run private sailing departures for families – either they book onto a scheduled departure and we close it off to other travelers, or we organise a one-off charter for them. For these trips we cap the minimum age at five, install safety netting around the boat and have child-sized life vests on board. Most kids love the water, and the chance to snorkel over coral reefs, swim with turtles and try their hand at kayaking or paddle boarding is a highlight. And when the kids are happy so are the parents!"
Lara Paxton, from our partners The Small Cruise Ship Collection, says:
"For families, places like the Galapagos are really good, because you don't want the kids to get bored. It is great that you only unpack once, and yet you still get to explore different places. But of course, these boats aren't adapted to have things like kids' clubs and that kind of thing. The kids' clubs are getting off the boat, exploring and seeing what's out there. On small ship cruises, the children can still go to the onboard lectures. There are no restrictions from that point of view, so they are treated more like adults than children, with no cuddly toys in sight."
Colette Dubois, from our Scottish cruise specialists St. Hilda Sea Adventures, says sailing with the children will give you a fresh perspective on the world.
Adventure ahoy
"I think it is perfect for families, because there is a lot to do on the boat. When we dock the boat, we put a dinghy in to go and visit little beaches or go and see the seals, so the children can learn a lot. They can catch fish for dinner. We say a minimum age of seven, not because the boat is dangerous, but because the children are so small. They cannot use the toilets or sinks so easily."
Fresh faced
"It is lovely to see young children on board, who are so fresh, enthusiastic and wanting to learn and anticipate. On a couple of occasions, we had teenagers on board who were about to choose their university degrees, and after discussing things with Michael, the skipper, they changed their minds and did something else! And they wrote to us later on to tell us, which was wonderful."
Waterproofs for all
"Do remember to bring waterproofs. Sometimes, families bring a few waterproofs to share, and don't have enough for everyone. And so there is always somebody who is stuck without them! And really, you can't go on a dinghy without your waterproofs."
There is usually a minimum age for pint-sized passengers – but it's probably much lower than you think. Many trips draw the line at five years old. Some can take that lower by putting up safety rails and tweaking the cabins to your needs. Sub-zero destinations like Antarctica will have higher minimum ages. Some will only accept teenagers, as children must be capable of fully understanding safety briefings and completing emergency procedures. Toddlers and polar bears don't make good bedfellows. Many families prefer tailor made vacations. That way, you can tweak the vacation duration, itinerary and budget to your brood's likes…and tolerance levels. Some family cruise vacations offer a pick of boats, even – like a tall ship or an 11-person ex-ferry. Small group vacations are great for solo parents or those who'd like to travel with other families. You'll travel to a set itinerary designed by small ship cruise experts. Most cruises have all-inclusive meal plans. That's less around-the-world buffets and more in the way of seafood barbecues and market vegetables.
More about Small ship cruising vacation