Wildlife small ship cruises
Wildlife cruises tend to steer towards the far ends of the earth. Arctic adventures crack out 130-passenger icebreakers with 360° observation decks and lecture rooms – plus a bar to defrost in at the end of the day. Yachts stocked with certified naturalists circuit the Galapagos Islands. And whales shadow ships in Alaska, Iceland and Canada.

Wildlife cruises have unpredictable itineraries that change with the movements and migrations of the animals. You go where they go.

That's why you need to travel with a small ship tour operator that knows their responsible tourism guidelines inside-out and back-to-front. They must know the international guidelines for sailing with whales and follow the strict codes of conduct that keep you and (most importantly) the animals safe. You're entering their realm, after all. You'll also have to fit into the animals' busy migratory diary.
It's not all about the wildlife, either. If you travel with the responsible wildlife companies that we work with, you'll get to meet the communities that live alongside the animals. You'll learn the difference between whale hunting in Alaska and Japan. (Subsistence is key.) And you'll learn to understand those who really do live on the edge.
Our Small ship cruising vacation Vacations
What can I see on a wildlife cruise?
Whales & orcas
There's nothing quite like sailing your way through the
Inside Passage
at the eye level of some of the biggest mammals on the planet. Go to
Alaska
, and you might travel on a 60-passenger yacht hewn from Pacific Northwest cedar. It'll be stocked with kayaks and Zodiacs, so you can paddle past icebergs and stop off at inaccessible beaches. Frederick Sound is a highlight, thanks to its helping of humpback whales that lunge feed and back flip against a mountainous backdrop. For ice-smashing bowhead whales, unicorn-horned narwhals and spirit-white belugas, you'll want to go for a Baffin Island cruise in the far north of
Canada
.
Whales also circle
Iceland
for its fish-rich waters. A cruise will get you into Husavik, where humpback and minke swim below and the Northern Lights dance above.
Norway
is another winner on the whale watching front. Stupendous shoals of herring around Tromsø and Alta reel in orca and humpbacks.
Don't fret, sun seekers – you don't have to venture to the icy extremes of the earth to see whales. Some wildlife cruises in Mexico swing by the Baja California Peninsula, where huge numbers of grey whales converge in the Sea of Cortez to breed between January and March.
Bears
Let's start with the bear you're really after – the mighty
polar bear
. Spend a week on an ice-strengthened ship in
Spitsbergen and Svalbard
, and you've got an excellent chance of spotting the true king in the north. Sightings are never guaranteed, thanks to the bears' vast, ever-changing territory – but they are likely. You just need patience and persistence, and an expert at the helm. Polar bear cruises will give you just that, along with daily talks about the deceptively bleak tundra you're in.
Wildlife cruises in Canada and Alaska, meanwhile, don't exactly aim for bears – but there's a big likelihood you'll see them, especially during the summer salmon run. Sail around Vancouver Island, and you'll bounce between bays where brown and black bears rummage through a bottomless buffet of clams. Bears usually share space with whales, orca, seals and reindeer, so watch out for those too.
Birds
Cruises that explore the
Falkland Islands, South Georgia and Antarctica
take you to meet one of the most characterful birds on the planet: the peerless penguin. Gentoos far outnumber scientists on the South Orkney Islands; kings share space with honking elephant seals and giant petrels in Fortuna Bay on South Georgia; Adélies perch on Paulet Island near the Antarctic Peninsula.
Galapagos
cruises sail a tad further north. You're unlikely to see many birds at sea, but day hikes will take you over footpaths where blue-footed boobies nest, past doves with electric blue eyeliner, around flocks of pretty flamingos, and – if you're really lucky – beneath the man-sized wings of a waved albatross.
The
South Pacific islands
of New Zealand are designed for birdwatchers. Seabirds come to breed here, so a small ship cruise might reveal anything from penguins warming eggs to albatross fledglings taking their first wobbly steps. (Spoiler alert: they don't get any less awkward as they grow up.)
Think you'll find absolute peace in
Scotland
? No chance. You'll find chaotic, chattering bird colonies instead. Kittiwakes, gannets, puffins and skuas make themselves at home along the whole length of the country, including the wave-broken islands of the Outer Hebrides. Plus, it's the land of
Ring of Bright Water
– AKA otter country.
Our top Small ship cruising vacation Vacation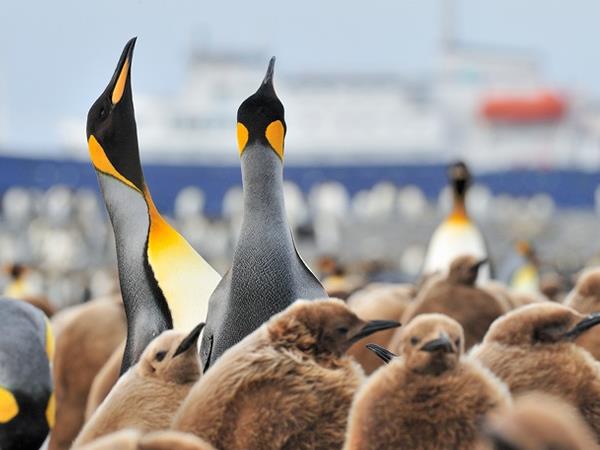 The Ultimate Antarctica Experience!
From
€

11500

to

€

14000
21 days
ex flights
Small group travel:
2023: 24 Oct, 23 Nov, 17 Dec
2024: 4 Jan, 16 Jan, 1 Feb, 2 Feb, 18 Oct, 21 Oct, 6 Dec, 10 Dec, 17 Dec
2025: 4 Jan, 16 Jan, 1 Feb
If you'd like to chat about Small ship cruising vacation or need help finding a vacation to suit you we're very happy to help.

Lara Paxton, from our partners The Small Cruise Ship Collection, says that you're in the hands of experts on a wildlife cruise.
Wildlife pros
"On board you have expedition crew who are amazing, and all have different areas of expertise. So if it is a wildlife cruise, you will have onboard lectures and they will tell you the guidelines, such as how far away you can be from a penguin in Antarctica."
Flexible itineraries
"The itineraries are very flexible, as they are all weather dependent. So if they see a polar bear somewhere, they will change course and go and see the polar bear, and not just ignore it because the itinerary says you have to be somewhere else. On larger boats you sometimes don't see anything, as they don't have that inside communication and they just stick to a set itinerary."
Alaska & Spitsbergen
"Alaska is great...because there is so much wildlife with bears, whales and so on. Every day is changing, and the different seasons offer something new, so a lot of people will do the same trip in the Inside Passage and it will be completely different going in May compared to going in September. Spitsbergen was the first small ship cruise that I ever did and it is always amazing. The wildlife is just wonderful, and you learn so much too, so you come back feeling really knowledgeable about the area."
Colette Dubois, co-founder of our Scottish cruise specialists St. Hilda Sea Adventures, shares her favourite bird watching spot – and explains why you need to source your fish supper carefully.
Kyles of Bute
"One place where we always go once, and where I love to be, is the Kyles of Bute. There is a lovely anchorage near the Bird Islands. These islands are bird and seal colonies and no one is allowed to land on the islands, so it is magic. There are so many birds, and when you anchor, they come towards us, you feel as if you are just among the birds...it is just a delight."
Trawl off
"The biggest issue we have on the boat is a problem with overfishing. To catch six or eight mackerel for dinner has become almost an impossible task, whereas before we were able to do it easily. And the mackerel we catch now are absolutely tiny. I tell people that they really need to be careful what fish they buy, and even to be careful with sustainable fish, because you can buy sustainable fish that has still been caught by trawling, which destroys the environment."
No fishing zones
"If fishing keeps going like this, the seals and the birdlife won't manage anymore. In the last few years, we have noticed that there are fewer birds on the islands, and we are seeing this change in front of our eyes, and it is happening very, very fast. We should also fight for these marine reserves that the government is creating around the UK where fishing will not be allowed."
More about Small ship cruising vacation