It's a bit of a case of how long is a piece of string. Small ship cruises really just feature boats that don't fall into the XXL category. So the
behemoths
topped with a rollercoaster, water park, cavernous dining rooms and razzmatazz theatres are out. Read on to find out which type of small ship goes with which type of vacation – from bareboat yachts to ice-strengthened ships stocked with sea kayaks and winter gear.
Our Small ship cruising vacation Vacations
Small ships (2-30 passengers)
The smallest ships usually aim for the smallest bays – so the littlest islands in Greece and the empty blue bays of the Caribbean. These are the yachts that can sail up to places like the Moken community in Myanmar without causing a ripple in the villagers' day-to-day life – and in fact, offer extra income to remote communities that don't usually benefit from tourism.
Just one thing: you have to be comfortable living shoulder-to-shoulder with your shipmates. Things are often pretty cosy below decks. Great if you're in the British Virgin Islands, where you can spend plenty of time sunning yourself on deck. But if you're in Alaska, where the weather can turn upon a dime, do consider whether you're comfortable with close quarters when the rains arrive.
Most
sailing vacations
– say, bareboat and flotilla trips – use small yachts. You could earn a sailing qualification, wrangle the family onto a small group flotilla trip, or charter a boat (and skipper, if necessary) for a solo voyage. For obvious reasons,
river cruise
ships also tend to be on the smaller end of the sliding scale.
Medium ships (30-100 passengers)
You'll often find that the cooler the temperatures and the longer the distances, the bigger the ship needed. You might sail on a 45m yacht through the whale-wild Pacific. Or you might join a birdwatching cruise that uses an old Scottish lifeboat or tugboat to chug through the waves. These recycled ships give you a peek into life on the edge of the coast that goes beyond the passing scenery.
These bigger ships might squeeze in a few luxury extras – a writing desk, wardrobe and private washbasin, perhaps. Room options will be more varied, too. Suite rooms with large lounge areas and picture windows are great for long days at sea – or inviting your new shipmates around for a tot of rum.
These bigger boats are also often used for wildlife cruises that need to be loaded with kayaks, paddleboards and Zodiac boats that get you closer to the bays where the polar bears roam and whales surf.
Large ships (100+ passengers)
Don't panic. With small ship cruising, large ships are all relative. We mean ships fitting 100-200 passengers – not the 5,000-person floating hotels that (
occasionally, literally
) ram into Venice. These larger ships tend to take on
Antarctic and Arctic
routes that require strengthened hulls for long sea crossings, thick ice and sub-zero temperatures.
There'll likely be an observation deck and bar, plus a lecture room featuring a revolving door of cultural and wildlife experts. Some have shops with the stuff you might've forgotten to pack. Not 'I love Mykonos' tees, but polarised sunglasses, binoculars, cameras and high-SPF sun cream.
Larger ships are great for those who'd like more of a choice of rooms. Cabins might range from singles to quads – great for solo travelers who don't fancy sharing a cabin, or for families who'd like to bunk together. You might also get a choice to upgrade to a luxury suite.
Our top Small ship cruising vacation Vacation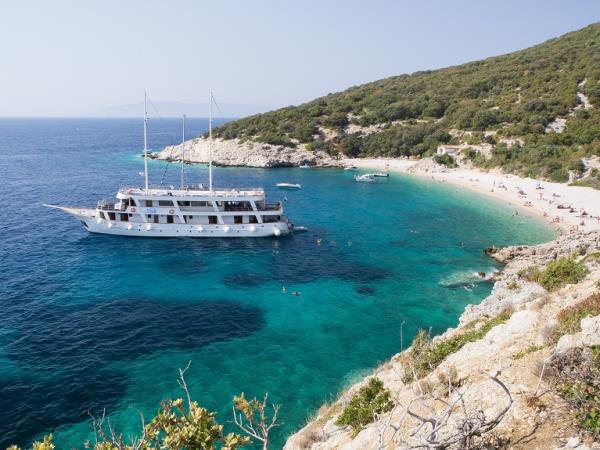 Cruise Croatia's beautiful islands on a small cruise ship
From
£

669

to

£

979
8 days
ex flights
Small group travel:
2023: 10 Jun, 17 Jun, 24 Jun, 1 Jul, 8 Jul, 15 Jul, 22 Jul, 29 Jul, 5 Aug, 12 Aug, 19 Aug, 26 Aug, 2 Sep, 9 Sep, 16 Sep, 23 Sep, 30 Sep, 7 Oct, 14 Oct
If you'd like to chat about Small ship cruising vacation or need help finding a vacation to suit you we're very happy to help.

Small ship cruise vacation advice
We spoke to Lara Paxton, from our cruise specialists The Small Cruise Ship Collection, about what a difference a small ship makes.
Small means small
"I do sometimes wish there was another word for these cruises, because people do misunderstand small cruise ship vacations. Some people think that a small ship cruise is 1,500 people, and they really don't get the idea. And then I tell them that our smallest ship is six people and then they start to see that it is a completely different world to the giant cruise ship one."
A personal privilege
"It feels like a privilege to go to these special areas. They are also so personal – there were about 30 of us on our Antarctic trip, from all over the world, but everyone is still in touch now that we are back. And we are even talking about a reunion trip. I love that you get that on board, because it is a really bonding experience going somewhere like that."
More about Small ship cruising vacation