How to choose a small ship cruise
You could go to almost any corner of the earth. Bay-hop around the Greek Islands or seek out the emptiest beaches in Belize. Watch for dolphins in the Aegean, whales in Mexico, penguins in the Antarctic, or narwhals around Baffin Island. Cruise rivers, canals or oceans. Get stuck into unfurling sails and cooking, or let the experts do the hard work while you concentrate on the on-board lectures and what's over the horizon.

So how on earth do you choose the right small ship cruise for you? Here are some things to keep in mind.
Our Small ship cruising vacation Vacations
No one knows better than a sailor that paths plotted are totally dependent on the whims of the weather and waves. Saying that, some things can be guaranteed. Scotland isn't exactly going to promise you hot and sunny weather like the Caribbean might. You can depend on it not being dependable, in fact; it's a four-seasons-in-a-day kind of place. To travel here you have to be open-minded about an itinerary that flexes with the rains and suns – and you have to not mind waterproofs.
It's a similar story in the polar regions. To go on a cruise to either end of the earth, you have to be the sort of person who doesn't mind dressing for weather – i.e. like an onion, with lots of layers. You also have to be prepared for the possibility of sea sickness. Are you ready to brace yourself for the shake-rattle-and-roll of the Drake Passage? Or would you rather dip in and out of the still bays of Croatia?
Are you only available at a certain time of the year? Then that will affect what type of cruise you go on, too. Caribbean sailings generally shove off between December and April to avoid the hurricane season. If you're after the midnight sun in Svalbard, then you'll have to go in July. If you're after the Northern Lights, then winter is your best bet. Read more about
when to go on a small ship cruise
.
All small ships are clean, well organised and comfortable, but some have more mod-cons than others. Smaller ships will have shared toilets; expedition ships often have private bathrooms. Looking for Wi-Fi signal on a tiny yacht? You'll have more luck looking out for a mermaid. It might exist on bigger ships, although signal will be wobbly in remote regions. Let the tour operator know your comfort zone before booking (Instagram or incommunicado?), so that you're not caught unawares.
Have a think about what you want from the itinerary. Do days at sea fill you with dread? Then an Antarctic cruise probably isn't for you – it takes two days to voyage from the tip of South America to the Antarctic Peninsula. (Although it might well change your perspective on what days at sea are like – think albatross, whales and Arctic terns.) Also keep an eye on activities. Do you want to snowshoe powder-soft fjords or hike island volcanoes? Meet isolated river communities or see nothing but whales for days? Some cruises specialise in a theme – say, polar bear watching or a river cruise down the Congo.
Our top Small ship cruising vacation Vacation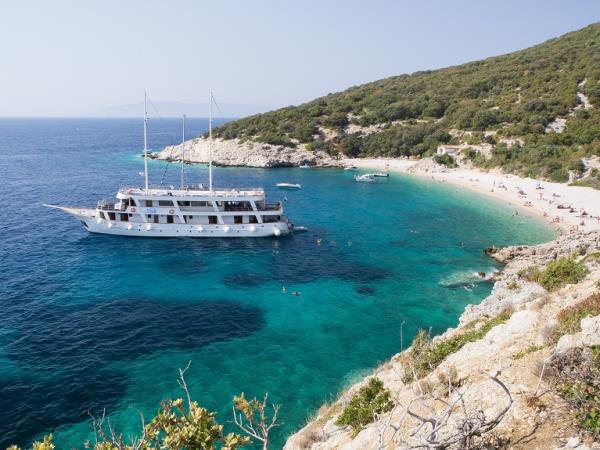 Cruise Croatia's beautiful islands on a small cruise ship
From
£

669

to

£

979
8 days
ex flights
Small group travel:
2023: 3 Jun, 10 Jun, 17 Jun, 24 Jun, 1 Jul, 8 Jul, 15 Jul, 22 Jul, 29 Jul, 5 Aug, 12 Aug, 19 Aug, 26 Aug, 2 Sep, 9 Sep, 16 Sep, 23 Sep, 30 Sep, 7 Oct, 14 Oct
If you'd like to chat about Small ship cruising vacation or need help finding a vacation to suit you we're very happy to help.

Some cruises are better for families than others. Larger ships offer extra-large or adjoining cabins for families, as well as bigger menus for picky eaters. The itineraries will make a difference, too. Kids will lap up Nile River cruises through the land of the Pharaohs or an Icelandic adventure through whale waters. Check out our
family guide
for more about small ship cruises for sprogs.
Your small ship cruise doesn't have to be carbon heavy. You can catch the train to many ports in Europe and North America. And if you're really keen to minimise your carbon emissions, consider traveling on a ship with sails. These (often vintage) vessels rely on motors to get out of port, but once they're set loose in the ocean they'll glide along using the trade winds whenever possible. This vastly reduces the amount of planet-warming carbon crunched. Read more about
how to reduce your carbon use
while on vacation.
It all depends on your accessibility needs, from mobility or cognitive to hearing or sight. A specialist tour operator will be able to root out the cruise that matches your abilities, whether that's a
wheelchair accessible Nile cruise
or an
Antarctic expedition
. Sadly, choice is sorely lacking. With narrow gangways and ladders, small ships can be inaccessible by nature and very few are designed from the hull up with accessibility in mind. Read our in-depth guide to find out more about
accessible travel
.
Lara Paxton, from our specialists The Small Cruise Ship Collection, says:
"Some of our boats are old Russian expeditions ships and just don't have the access, but a lot of the newer ships do have access, and so it is really good to see that this is available for some people, especially if they don't want to do the massive cruise liner thing."
More about Small ship cruising vacation