Things to see & do in
the Galapagos Islands
It's not just the sheer quantity of wildlife that astounds travelers to the Galapagos Islands, but its boldness and fearlessness in the face of visitors. You won't be snapping a photo of an indistinct something camouflaged in the bushes on Darwin's islands - instead marine iguanas sunbathe atop rocks like amphibious movie stars, giant Galapagos tortoises barely look up from their lunch as you wander past and playful sea lions delight in sharing the water with you as you snorkel and dive.
Historically, vacations to the Galapagos were all about life at sea, with a flotilla of small cruise ships – from modern catamarans to traditional tall ships – sailing a variety of routes between the islands. And while cruising is still a popular way to explore here, a growing network of small hotels and guesthouses make land-based vacations an alternative, and often more affordable, option for Galapagos Islands adventures.
Our South America Vacations
What wildlife will I see?
Perhaps not the biggest, but certainly some of the brightest and boldest creatures call the Galapagos Islands home. Most famous are the 15 species of giant tortoises, which reside on seven of the islands in populations recovering from decimation at the hands of European settlers. Visit the Giant Tortoise Breeding Centre on San Cristobal or the Charles Darwin Research Station on Santa Cruz to see an array of tortoises in all stages of life, from hatchlings to whopping 200kg adults. Alternatively head up into the highlands of Santa Cruz or Isabela for a good chance to spot them in the wild.
Birdlife is prolific on the islands. Blue-footed boobies waddle on their oversized, sky-blue feet, Galapagos waved albatross launch themselves off the cliffs of Española Island and enormous frigate birds with red balloon-like necks are your constant airborne companion. Most surreal, perhaps, are the Galapagos penguins, the only species to exist outside the southern hemisphere. The cold Humboldt current washing along the South American coastline keeps the water cool enough for them.
The Galapagos Islands' underwater worlds are perhaps even more spectacular than its volcanic dry land. Snorkelling around the Los Túneles lava tubes off Isabela Island has been described as like swimming in an aquarium, with seahorses, manta rays, sea turtles, white-tip and hammerhead sharks, blue-and-red Sally Lightfoot crabs and schools of vibrantly coloured fish all sharing the crystalline water. Sea lions play with swimmers around the coasts of San Cristobal and Floreana Islands, among others, while black-and-red-scaled marine iguanas, the only ocean-going reptile in the world, warm up in their thousands on rocks at the Tintoreras Islets off Isabela.
San Cristobal Island
The easternmost of the islands, San Cristobal is home to one of the archipelago's two airports, a Giant Tortoise breeding center as well as an excellent place to watch blue and red-footed boobies waddle their mating dance. The white sands of La Loberia beach are laden with sea lions while, offshore, snorkelling and diving around the dramatic Kicker Rock reveals turtles, rays, Galapagos sharks and even Hammerhead sharks.
Floreana Island
One of the first inhabited islands in the Galapagos, Floreana reveals the human history of the islands – one colourfully shaped by pirates, shipwrecks, murders and mysterious disappearances. Descendants of those first pioneers still call Floreana home, as do giant tortoises, sea lions, frigatebirds, Darwin's finches and petrels. For up-close marine encounters you can kayak, snorkel or SUP your way around its secluded bays.
Isabela Island
The largest of the Galapagos Islands, and thanks to its six active volcanoes, still under construction. The lunar-esque lava landscape offers spectacular hiking, while its mangrove-lined coast hosts flocks of flamingos, flightless cormorants, penguins and Sally Lightfoot crabs. Head offshore to the Tintoreras Islets for an abundance of marine iguanas, or to Los Túneles for spectacular snorkelling around lava tunnels.
Santa Cruz Island
The tourism hub of the Galapagos, Santa Cruz is close to the Baltra airport and home to the islands' largest town, Puerto Ayora. Land-based tours will almost certainly spend time here, enjoying a buzzing mix of markets, bars and restaurants. But this is no urban jungle – giant tortoises roam the highlands, the idyllic sands of Tortuga Bay are a short stroll from town and the Charles Darwin Research Centre offers an insight into Galapagos conservation.
Bartolomé Island
At just 1km2, tiny Bartolomé is famed for its population of Galapagos penguins - the only penguins to live north of the Equator - and its other-worldly volcanic rock formations. Climb the cacti-lined board walk for panoramic views across the eastern Galapagos Islands, or swim with the penguins, sea lions and white-tipped reef sharks which play in the wonderfully clear water around the base of Pinnacle Rock.
Española (Hood) Island
Enormous waved albatross line up at tiny Española's "albatross airport" ready to launch themselves at full pace off its steep cliffs. But gigantic birds aren't the only highlight of the Galapagos' most southerly, and oldest, island. Its 4km2 is also home to hordes of red and turquoise-splashed marine iguanas, and the lovely Gardner Bay, a secluded stretch of impossibly white sand where you can snorkel and swim with sea lions.
What does a Galapagos cruise vacation entail?
A typical action-packed week-long itinerary visits a different island each day, with plenty of time built in for swimming or snorkelling, hiking and wildlife watching. You'll be sleeping and eating on board, but you'll be spending by far the majority of your time off the ship exploring.
Shore landings are usually made by Zodiac – easily manoeuvrable rigid inflatables which allow you access to some of the Galapagos' tiniest coves - although sometimes you'll just be jumping right in off the boat, making good use of the on-board snorkelling equipment. All ships in the Galapagos must carry a qualified naturalist guide, trained and certified by the Galapagos National Park, who will accompany you on your excursions. Some cruises will have other on-board experts too, offering insights into marine biology, ecology and conservation.
The boats themselves range from tiny ships carrying as few as 12 passengers to spacious catamarans – although sun decks, a lounge and dining areas come as standard on all. More luxurious vessels may also offer cabins with private balconies, hot tubs, a library and gourmet dining with extensive wine lists.
Our top South America Vacation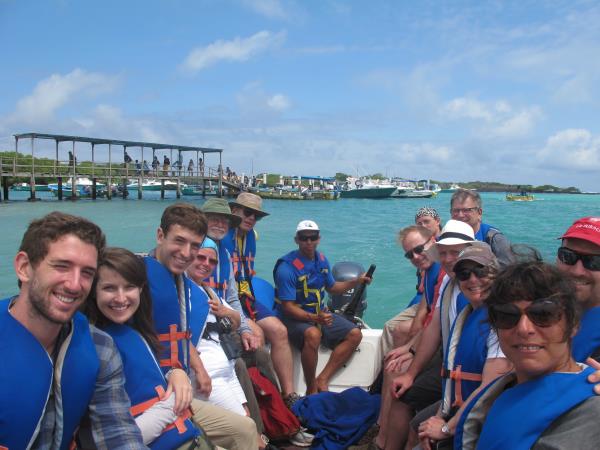 Sail in a charming red schooner
From
US $

3300
8 days
ex flights
Tailor made:
Daily departures throughout the year.
If you'd like to chat about South America or need help finding a vacation to suit you we're very happy to help.

Land-based Galapagos Islands vacations
Often a more affordable alternative to a cruise,
Galapagos Islands land-based tours
utilise the network of local guesthouses and hotels, markets and restaurants across the inhabited islands of San Cristobal , Santa Cruz, Isabela and Floreana, with day trips out to some of the Galapagos' more remote, wild islands such as Bartolomé and North Seymour for snorkelling, diving and hiking. With more freedom, and less time cooped up on board a boat, land-based tours are an excellent option for wildlife-loving families.
The other benefit of a land-based tour – avoiding sea-sickness aside – is that your money goes directly to the local people, Galapagueños, who own and run businesses on the islands. Plus of course you'll have more chance to soak up the local atmosphere once the cruising crowds have dispersed.
Best time to visit the Galapagos Islands
Wildlife in the Galapagos can be seen year-round – so you'll be guaranteed to find something special whenever you travel. Behaviours vary at different times of year, so if you want to see baby sea lions, witness green turtles laying their eggs or watch blue-footed boobies engage in their charming courtship ritual, you'll need to choose your travel dates accordingly.
In general, the hot and wet season from
December to June
is the
best time to visit
for warmer, calmer seas and good underwater visibility. Showers tend to be short, so you'll still have ample opportunity to enjoy the beach or your boat's sun deck.
February to April
is also breeding and nesting season for many of the Galapagos animals.
The cool, dry season from June to November brings rougher seas, but an abundance of plankton which fuels the islands' penguins and albatrosses and an explosion of underwater life - a real treat for divers who are happy to brave the colder water.