Seeing the Northern Lights in Sweden
Swedish Lapland is blessed with one of the darkest skies in the world, thanks to long winter nights and virtually no light pollution, making it the perfect place for stargazing - and for observing the aurora borealis as they flicker above. You'll have to get out of town to take them in to the fullest extent, perhaps traveling out by husky sled, snowmobile or on snowshoes; and watching the lights dance above a frozen landscape of lakes and taiga forests - with utter silence other than the breathing of your travel companions or the rustle of a herd of nearby moose or reindeer - is an incredible experience not to be forgotten. Read on to find out how to see the Northern Lights in Sweden.
What do Northern Lights vacations
in Sweden entail?
All of our
Northern Lights vacations in Sweden
are small group trips and last between five and nine days. Some vacations include Northern Lights viewing on a longer, action-packed itinerary; others have it as their main focus and will give you as many opportunities as possible to see the elusive auroras.
Northern Lights chasing is a full-on experience, so you'll be out every night – whether that's going for a sleigh ride at midnight, following the lights on snowshoes or wrangling your own team of huskies to take you far into the wilderness. You could also ride out to cabins that are in prime position for gazing up at the sky.
Several of our breaks are timed to coincide with winter celebrations. You'll head for the wilderness area of Laponia and enjoy Christmas or New Year's Eve dinner by the fire, taking it in turns to go outside and watch for the lightshow, and capping it all off with celebratory hot drinks around an outdoor fireplace by a frozen lake.
Additional activities
Yes, you're here to see the aurora borealis but they only put in an appearance at night, so you'll need to fill your days with alternative wintery fun – for example, mushing huskies over frozen rivers, ice fishing on a lake, cross country skiing through fairytale forests or honing your photography skills as herds of moose and reindeer gather in the valleys. You could also choose a tour that takes in the frozen wilds of Finland and Norway, too.
Accommodation
Depending on which Northern Lights vacation you choose, you might stay in a wilderness log cabin, a traditional clapboard cottage or at the famous Icehotel in Jukkasjärvi. Often, the reception staff will offer you a buzzer that'll wake you up if there's auroral activity in the night.

You could also combine viewing the Northern Lights with learning about the life and culture of the local Sámi communities in Swedish Lapland. Visit a reindeer herder at a Sámi camp, eat traditional food and hear myths and legends about the significance of the Northern Lights to the Sámi people.
Our top trip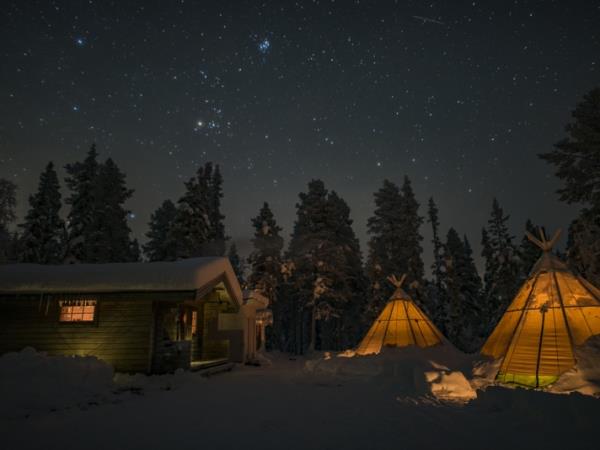 Winter glamping, wildlife, dogsledding and Northern Lights!
From
€

3050
8 days
ex flights
Small group travel:
2023: 25 Dec
If you'd like to chat about Sweden or need help finding a vacation to suit you we're very happy to help.

Best time to see the Northern Lights
The best time to see the Northern Lights in Swedish Lapland is between September and March – although they're sometimes visible as early as late August. Even though the lights are there 24/7, you can only see them from earth when the skies are dark and clear. If you're dreaming of a dramatic white, snowy background, with the lights dancing overhead, the long crisp nights of December and January might be the best time, though there's still no guarantee that you will see them. Northern Lights safaris are often postponed because of cloudy skies or poor weather. Ask your tour operator if you can go aurora chasing as early in the vacation as possible, to leave you plenty of room for rescheduled trips.
To get to Swedish Lapland and your Northern Lights adventure you'll fly either to Kiruna or Luleå, which are both a short hop from Stockholm, from where you'll then be transferred by road to your remote accommodation. Alternatively, you could get the night train from Stockholm, arriving in the town of Jokkmokk the next morning - an excellent base for all your wintery aurora borealis needs.

If you're going to be standing around watching the Northern Lights then you'll need to be suitably wrapped up, and most operators can provide you with warm winter outerwear for the occasion, just check with them before departure. You'll need to bring plenty of warm base layers and good winter boots, and think about bringing a balaclava or other face covering if you're going to be waiting around outside for long periods of time.