Winter vacations in Sweden
There's no need to head to the Alps for your snow-fix - Sweden can more than satisfy your needs. Our winter vacations take place in Swedish Lapland, up in the country's frozen north, where the air is fresh, the skies are bright and the mountains thick with pristine snow. These vacations are all about wildlife, local culture and making the most of the spectacular natural environment through a plethora of winter activities - as well as opportunities to lock eyes on those spectacular Northern Lights.

There are no big downhill ski resorts here, so if you do strap on a pair of skis it will be to whisk across the raw landscape cross-country. Small group trips will make sure you make the most of the mountains and stay safe along the way, with routes and activities adjusted according to weather conditions.
What do winter vacations in Sweden entail?
Our winter vacations in Sweden last between four and nine days and are either tailor made or small group tours. Tailor made vacations allow you to tweak your itinerary as you see fit, perhaps adding extra days and locations. Small group tours on the other hand have fixed departures and itineraries, and you'll be traveling with a group of around 12 to 16 like minded travelers, with an expert tour leader to provide insight and assistance along the way. You'll either be based at the same hotel for the entire vacation, or, in the case of some of our small group tours, move on to a new destination every couple of days.
Almost all our of winter breaks take place in
Swedish Lapland
, though you can choose a tour which visits Finnish and Norwegian Lapland on the same trip.
Wildlife watching
Huskies aren't the only animals you can see in Swedish Lapland (though being pulled across the frozen landscape by a team of massive dogs is often a highlight of a vacation). Some of the largest, oldest and wildest national parks in northern Europe are located here, and during the winter, reindeer gather in the valleys in search for food, allowing you the chance to watch and photograph these animals in a winter landscape.

On some our winter vacations in Sweden, watching wildlife is just a sideshow, while on others it's the main attraction. You could, for example, spend your days tracking the largest moose in Europe across sheltered valleys with the help of a local wildlife guide, or work with Sámi herders to spot lynx footprints, snow grouse or Arctic hares, while staying in remote cabins and traditional tented camps.
Cultural encounters
The Sámi are Scandinavia's only indigenous people and they inhabit areas around the Arctic Circle in Finland, Norway, Russia and Sweden, a region whose traditional name is actually Sápmi. On our winter vacations in Sweden you'll get to meet with Sámi people to learn about their fascinating culture and traditions. You can spend time at working reindeer farms and vibrant festivals in the Sámi capital Jokkmokk and try indigenous foodie treats such as elk or reindeer in rich cloudberry sauce. To delve a little deeper, you could learn to track animals on skis or discover the secrets of local wood and textile crafts.
Quirky sleeps
If you're choosing an out-of-the-ordinary winter break you may as well go large on the accommodation too, and Swedish Lapland is happy to oblige. Fancy sleeping amongst the branches? You could opt for a super swish tree hotel, with floor to ceiling windows and outstanding forest views. Want a more traditional experience? An off-grid Sámi tented camp deep in the wilderness might be just the ticket. Something a little more romantic? How about a clapboard loggers cabin for two that's the epitome of winter charm. And then there's the famous Ice Hotel, which is painstakingly rebuilt every year in Jukkasjärvi, near Kiruna. You'll bed down in polar sleeping bags under reindeer furs, but you can always warm up in the onsite sauna.
Our top Sweden Vacation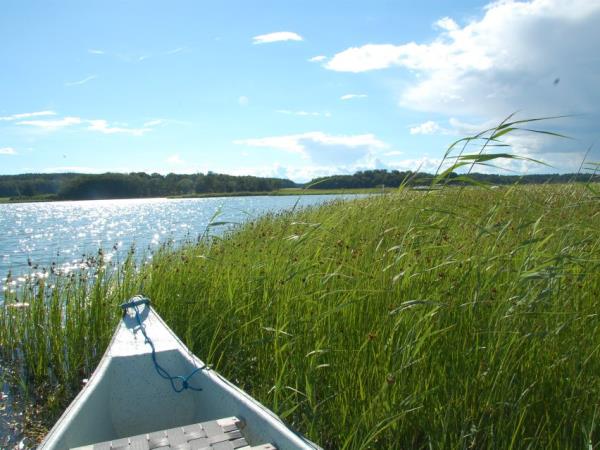 Multi-activity tour in Stockholm's picturesque countryside
From
SKr

10500
7 days
ex flights
Small group travel:

If you'd like to chat about Sweden or need help finding a vacation to suit you we're very happy to help.

Northern Lights
With little in the way of light pollution and calm weather, northern Sweden offers perfect conditions to catch the
Northern Lights
shimmering above pristine snow fields or gorgeous reflective lakes. Nights spent in wilderness cabins are the best way to witness this extraordinary natural phenomenon, and most itineraries will include an evening or a stay in a remote area to maximise your chances of seeing them. Bear in mind, though, that everything depends on the weather and the level of solar activity, so catching them is never guaranteed. If at all possible schedule a viewing for the start of your vacation. That way if you don't see them, there's always another opportunity.
Activity breaks
Sweden winter vacations are all about getting active and you'll unleash your inner adventurer in no time. Dog sledding is often on the agenda on our winter vacations, and along with meeting and feeding reindeer is a popular activity for families. You could also strap on a pair of show shoes or cross-country skis for guided jaunts through northern forests, cut a hole in lake ice to fish for pike and perch, or hone your photography skills while taking in the Northern Lights, with tripod and SLR camera and lots of helpful tips provided.
Festive breaks
Santa Claus may hail from Finland, but Swedish Lapland provides more than enough magical festive fun, – snowy forests, log cabins, reindeer and all. Spending the day on a husky drawn sled could be a Christmas highlight for years to come, or, you could opt for an alternative New Year break, but with hot chocolate around the campfire instead of cocktails and the aurora borealis lighting up the night sky in the place of fireworks.
The best time for a winter vacation in Sweden is from December to March, when conditions for traditional winter activities such as snowshoeing and sledging with huskies are at their best. Christmas and New Year tend to be the busier times to go, while March is much quieter. Temperatures this far north can drop from -2°C to -35°C in a single week in midwinter, and tour operators will often equip you with Arctic outer gear - make sure you check with them beforehand to save buying and packing a lot of stuff you won't actually need. And ensure that you bring lots of thermal base layers and good winter boots. If you're going dog sledding, a pair of ski goggles will also come in very handy.

Winter vacations in Sweden usually begin either in Kiruna, which is home to the famous Ice Hotel, or Luleĺ, gateway to the picturesque Bay of Bothnia. Both towns have airports with regular connecting flights to Stockholm.