Covering an area twice the size of Britain, a list of places to visit in Sweden combines unforgettable nature with unique human imprints. In the north, Lapland's fascinating Sami culture vies with Arctic wilderness lit by unending summer sun or auroral winter darkness. Central Sweden is a fairytale heartland of vast forests teeming with bears and elk, broken by clearings dotted with pretty wooden cottages. Coasts come dotted with fishing hamlets facing enchanting archipelagos: historic Ostgota, beach-fringed Oland, lushly wooded Lulea. Rich history is everywhere: ancient stone circles, majestic medieval towns, rock art as old as the Pyramids.
1. Bergslagen
2. Bohuslan Coast
3. Dalarna
4. Gotland and Faro
5. Hoga Kuste
6. Jamtland
7. Kungsleden (King's Trail)
8. Lulea archipelago
9. Ostergota archipelago
10. Osterlen
11. Smaland
12. The Wilderness Way

1. Bergslagen
This mineral-rich region north of Lake Malaren has been mined since before Christ - a history chronicled amid 750 km2 of wilderness by the world's largest open-air museum. Come today for wildlife riches amid vast forests dotted with lakes: seek out plentiful moose and beaver; listen for wolves; watch osprey pluck fish from secluded waters, while red squirrels enjoy arboreal heaven.
2. Bohuslan Coast
One of the world's most stunning shorelines stretches north of Gothenburg – vast seal-draped monochrome rocks lit up by dazzling clapboard cottages in dreamy villages like Fjallbacka (Ingrid Bergman's summer haunt) and Smogen. Islands include artists' favourite Tjorn with its superb gallery, linked to lushly wooded Orust, alive with fishing and boat-building bustle. As Sweden's seafood epicenter, Bohuslan is a gourmand paradise too.
3. Dalarna
Along with snowy northern vistas and island-fronted rocky shores, Swedes consider this central province another of their most archetypal landscapes – a pine-forested swathe leavened by lakes, rolling hills and flower meadows scattered with pretty wood cabins. In case you think it's all too picture-postcard, note the fiercely independent Darlaners were the first Swedes to rise against Danish occupation in the 16th century.
4. Gotland and Faro
Gotland is queen of Sweden's islands, a natural wonderland covered in cultural treasure. Medieval eminence fills the walled capital Visby, alongside Europe's largest cluster of medieval churches (over 90), standing stones and Bronze Age relics. Surreal rock stacks (rauk) rise from secluded beaches, while Gotland woods offer truffles as well as trees. Film buffs come to visit little sister island Faro, long-time home of director Ingmar Bergman.
5. Hoga Kuste
Reached by one of the longest suspension bridges in Europe, the 'High Coast' is where pine-crested cliffs dive into an ocean dotted with pretty islands like Hogbonden, Ulvon and Trysunda. 16th century Harnosand provides a picturesque slice of civilisation, complemented by fishing villages like Ornskoldsvik. The coast's rocky facade is capped by twisty roads and a 130km hiking trail.
6. Jamtland
Nestled below Lapland, the liquid heart of this region is Lake Storsjon, ringed with watercourses and rich farmland - and reputedly home to Sweden's take on the Loch Ness monster. Go in search aboard an 1870s wooden steamship from charming lakeside town of Ostersund after visiting its excellent Jamtli history museum. In winter, skiers flock to Are, while July offers a truly bizarre nude fiddlers contest in Hackas!
Kungsleden (King's Trail)
7. Kungsleden (King's Trail)
Sweden's top hiking and skiing route runs 450km across Lappland from Abisko to Hemavan, with free huts (no electricity) every 10-20km over the first half. The most popular section is the 86km traverse (allow 5-6 days) of the Abisko National Park - Sweden's driest area – from pretty Lake Tornetrask to Nikkaluokta, taking in Sweden's highest mountain (the 2,100m Kebnekaise). In summer, you'll probably bump into Sami reindeer herders.
8. Lulea archipelago
Stockholm may have a larger island retinue but Lulea's 'mere' 1700 offer seclusion far from the capital's tourist throngs and R&R-ing city slickers. In summer, islands like Sandon, Junkon and Kluntarna have mainland ferry links, otherwise get paddling! Forage or fish, camp wild or cosy up in a clapboard cottage, swim or kayak, watch birds or just hang with the fishing folk on Hinderson.
9. Ostergota archipelago
Stretching from Bråviken in the north to Slätbaken in the south, this island phalanx splits into distinctive areas. Gryt has the Östgötaleden walking trail, with sea views through the Kvädö, Åsvik and Torrö nature reserves. The Sankt Anna islands, meanwhile, are picturesque repositories of history, their bays cradling lonely chapels and ruins like the 14th century royal castle at Stegeborg.
10. Osterlen
Surrounding the Stenshuvud National Park, this south coast enclave majors on bucolic meadows, coastal marshes, dune-backed beaches, Bronze Age cairns and headlands topped by enigmatic standing stones. Rather than the north's lonely elk-filled woods, here you peer for Nordic orchids and tree frogs. Crime fans should head for nearby Ystad to scout the picture-postcard setting for Henning Mankell's acclaimed Wallander yarns.
11. Smaland
This woody lake-filled province has been Sweden's 'Glass Kingdom' since the 18th century. Major glass works such as Kosta and Orrefors are complemented by a dazzling glass museum in Vaxjo - also home to an Emigration Museum about the million-plus Swedes who left for America between 1850-1930. Hike and kayak, then dine on Hyttsill – Smaland nosh cooked in cooling glass ovens.
12. The Wilderness Way
The 360km Vildmarksvagen – Wilderness Way – links the tiny settlement of Stromsund to Vilhelmina, cutting through virgin forest, around beach-fringed lakes, through mountains and across the memorably desolate Stekenjokk plateau (NB: this section only open June-Oct). Along the way, skinny dip, marvel at tiny forgotten villages and soak up a wilderness containing Sweden's highest concentration of bears.
Our top Sweden Vacation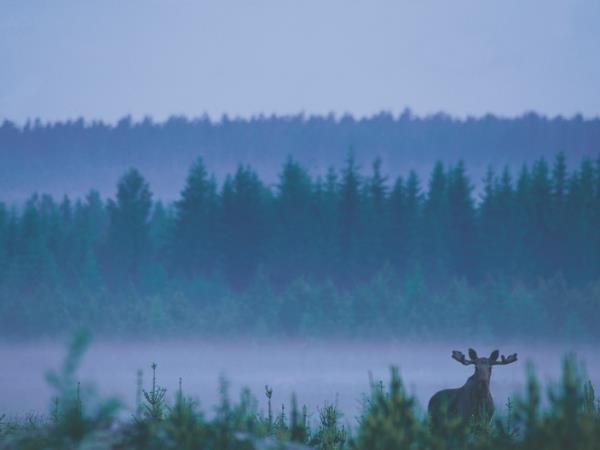 Wildlife vacation in Sweden with full focus on large mammals.
From
£

1250
5 days
ex flights
Small group travel:
2019: 8 Jul, 15 Jul, 29 Jul, 12 Aug, 2 Sep
If you'd like to chat about Sweden or need help finding a vacation to suit you we're very happy to help.
Stockholm - Gothenburg: 3 hours by train Stockholm – Kiruna: 16 hours by overnight sleeper train Stockholm – Harnosand ('High Coast'): 4 ½ hours by train Arsta – Uto: 35 minutes by ferry Vaxholm – Finnhamm: 2 ½ hours by ferry
Convert currencies