Advice on traveling with kids
Chloe Knott, from our supplier, Exodus, shares her advice on traveling in France with kids:
"Before you book a French family vacation, ask yourself how far you're prepared to walk each day, research what types of bikes are offered for children and whether they have those connecting bikes where kids can ride behind their parents, and ask your tour operator if the routes covered are on busy roads. For kids, food is often a big thing too, so ask about the catering facilities and whether the area provides children's menus. In the Dordogne, the campsites are very much tailored for families and most of the local restaurants cater for possibly more picky children, but up in the Alps, you're going to be offered hardier mountain food, which isn't necessarily tailored for kids."
Advice on refuge trekking
Robert Mason, from our supplier Mountainbug, shares his advice on refuge trekking:
"Refuge trekking along the high Pyrenees and Alps is a great way to explore some paths that are completely wild. Between points you stay in refuges, which are like small mountain hostels, a bit like a youth hostel in that it's very communal with communal bunks, but in which you get a really good cooked meal and the chance to meet some interesting people. From mid-July, you can do high-level refuge trekking trips that can last for up to 40 days and travel right the way across the mountains. That's a perfect time to come because the snow has melted and you can access high areas without crampons, ice axes and all the specialist gear. People worry that summer is too hot to trek in, but it's not, for every 100m you travel up, you lose a degree in heat, so August is comfortable too – say you're in the Pyrenees at 1,300m, while it's 30 degrees down in Toulouse, you'll be walking in the far more temperate 20s."
Advice on choosing the right gite
Chloe Knott, from our supplier, Exodus, shares her advice on choosing the right gite:
"If you're doing a walking trip between gites in France, there are specific gites that have specific accreditation for cleanliness and fantastic food; all have something a bit unique about them, perhaps baking their own bread, or making their own beer. There is a definite call for that now - people are looking for a higher standard of hut than perhaps the hardier walker of days gone by, so the accommodation has improved in line with that demand. A few years ago, most walking accommodation comprised one bug bunk bed where you all slept side by side, but we have a lot of trips where the bunk beds are now single as this seems to be more important to people. Understandably so too – sleeping in a row and being lumbered with the snorer in the group next to you can't be fun! It's a good thing to check before you go."
Advice on getting off the beaten track
Sally Guillaume, from our supplier, Undiscovered Alps, shares her advice for getting off the beaten track in the mountains:
"The Valgaudemar Valley is a big, austere, narrow Alpine valley with glaciers and peaks of over 3,000m on either side and was discovered by famous Alpinist, Edward Whimper, but has never gained the reputation of say the Barre des Ecrins because the summit is a little bit lower, so it doesn't hold the same kudos as doing a 4,000m peak. The advantage in terms of mountaineering is it's totally off the beaten track, so you're not going to be sharing a refuge with 200 other people and treading on their poo and rubbish outside. It's feels how Alpinism was when Alpinism first started; fewer crowds and a fantastic climbing experience that makes you feel on top of the world, but with the advantage of being away from the honeypot."
Our top trip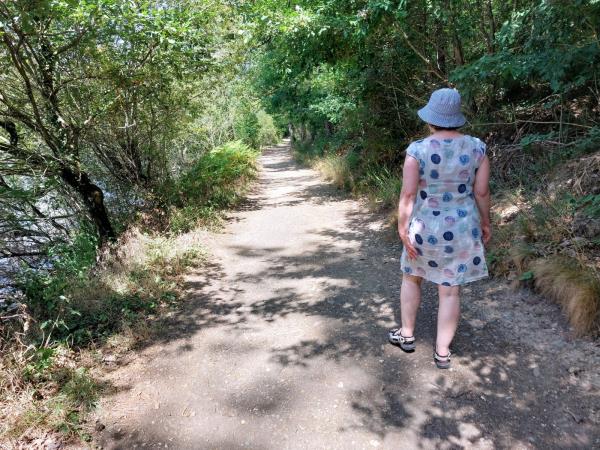 Idyllic walking in France with great food and wine included
From
€

1550
6 days
ex flights
Tailor made:
This trip can be tailor made throughout the year to suit your requirements
If you'd like to chat about France or need help finding a vacation to suit you we're very happy to help.

Health & safety in France
FCO advice for France
Most visits are trouble free, however terrorism is sadly a reality of traveling in these times. France has suffered at the hands of terrorists' activities, such as the coordinated attacks at the Stade de France and the Bataclan Theatre, as well as at cafes and restaurants in November 2015, when 130 people were killed. And then on the streets of Nice when a truck was deliberately driven into crowds in July 2016. The organisation Daesh (formerly referred to as ISIL), claimed responsibility for the attacks and a state of emergency is in place until July 2017. There have been several terrorist attacks on police and soldiers over the last few years too.
The French government has launched an app to alert users about security incidents, called SAIP, or Système d'alerte et d'information des populations, in English and French. Always get up to date information at the
Foreign and Commonwealth Office (FCO)
travel advisory department before traveling to France.
HEALTH
Generally, France is a picture of health: the tap water is safe to drink, and there are no nasty diseases lurking about. You don't NEED vaccinations to visit, although the WHO does recommend that all travelers to every destination be covered for diphtheria, tetanus, measles, mumps, rubella and polio.
Sunburn, blisters and headaches from one vino too many are likely to be your biggest concerns, so make sure you slather on the sun cream, pack some plasters and maybe some painkillers too.
The French healthcare system is one of the best in the world though all services, including doctors' consultations, prescribed medicines, hospital stays and ambulance call-outs, incur a charge which you have to pay upfront. The standard rate for a consultation is between £19.50 - £31.50.
Comprehensive travel insurance to cover medical problems is highly recommended, but some policies exclude 'dangerous' activities such as diving, skiing and trekking, so make sure you read the small print.
Holding a European Health Insurance Card (EHIC) will ensure reduced-cost state-provided healthcare cover for any medical treatment that you may need in France, but each family member will need a separate card. Since Brexit, UK citizens needing to replace their existing EHIC card or needing coverage for the first time, must instead apply for the Global Health Insurance Card (GHIC) which is more or less the same as the EHIC. UK residents with rights after the Brexit withdrawal agreement can still apply for an EHIC. You can download an application form for either here.
SAFETY
As well as terrorism issues mentioned above, petty crime does happen in cities and on beaches specifically, so it makes sense to act mindfully: don't flash your cash, don't leave valuables in view or unattended, and, on trains and at train stations specifically, carry bags close to you.
If you have some free time and find yourself wandering near any signage saying 'chasseurs', or chasse gardee', wander right back to where you came from – this indicates a hunting area and 25 French hunters die each year after being shot by other hunters.
Drunkenness in public is punishable by a monetary fine, so enjoy the vineyards, but remember to try to spit out at least some of the wine you taste.
The rainbow flag flies high and proud in France's more cosmopolitan cities, though attitudes towards homosexuality in more rural areas are slightly more conservative. All couples should act with a normal level of discretion when showing affection in public.
For further information on health and safety in France, please visit the
FCO
or the
CDC
websites.
Tips from our travelers in France
At Responsible Travel, we think the best people to advise our travelers are often... other travelers. They always return from our tours with packing tips, weather reports, ideas about what to do - and opinions about what not to.

We have selected some of the most useful France travel tips that our guests have provided over the years to help you make the very most of your vacation - and the space inside your suitcase.

Take binoculars, the wildlife is fascinating. You have to have a reasonable level of fitness, the Alp slopes are steep!

Book the Provence cooking and walking vacation. The local tours are great with good food - Alison Mott

Just enjoy what the hosts have organised for you as it is all very carefully thought out. We have been independent travelers for a long time and wanted to rush around and do so many other things but were glad we let everything be taken care for us! - Tammy Railton

If you plan only to hike and do not have a car, you should be able to work with the provided maps to work out possible alternative hikes. Your hosts will also help with alternative hikes and local detail. If you bike there are even more possibilities - Katherine Layton

Go with an open mind, and don't be afraid to ask questions (however many you have) before you go - Catherine Fish

Despite reading reviews about how well equipped our self-catering cottage in the Loire Valley was for families with young children, I still over packed

If you like moderately strenuous walking, good company, excellent food and clean, tidy but informal "within a family home" accommodation, I'd strongly recommend guided walking in the Pyrenees. Go in late May/early June for maximum wildflower impact! - Caroline Rae

Do some hilly walks in preparation; take clothes for cool and wet, or hot and humid, or in-between weather; then just go for it, and enjoy the experience - H M Gill

We expected our young children to grumble about the hiking but in fact they exceeded all expectations and walked 5 steep miles per day for 3 days in a row. It's easy to under-estimate what your kids (and you) can do - Alison Godfrey